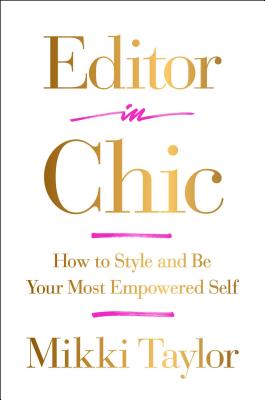 Editor in Chic (Hardcover)
How to Style and Be Your Most Empowered Self
Atria Books, 9781501111518, 304pp.
Publication Date: May 1, 2018
Other Editions of This Title:
Compact Disc (2/26/2019)
Paperback (3/3/2020)
* Individual store prices may vary.
Description
"First Lady of Beauty" and trusted lifestyle expert Mikki Taylor shares uplifting advice for women who want to cultivate their beauty both inside and out.

Mikki is that girlfriend-in-the-know who you wish you could take everywhere you go—and now you can! Written in her signature, no-nonsense style, Editor in Chic delivers fabulous advice that will give you the confidence to be your best self every single day.

From dress code to life code, Mikki shares hundreds of her favorite secrets, including the five products you need to perfect your complexion; the genius ingredient for living comfortably in heels; how to define a bankable wardrobe, be frugal, and look fabulous; unexpected drugstore buys that will give your everyday look a wake-up call; rules for mastering eye-catching makeup and the perfect red lip; ruminations on the challenges of hair loss and effective solutions; what really has the power to motivate or defeat you; why being "risk adverse" is to be "success adverse"; and much more. Whether you're standing in front of the mirror debating what to wear to a last-minute event or trying to hold your peace in the middle of a confrontation, Editor in Chic gives you the necessary tools to stay affirmed, informed, and inspired in all aspects of your life.
About the Author
Mikki Taylor is a popular writer, motivational speaker, and TV personality, and is known as the country's leading authority on beauty and style for women of color. A media veteran of more than three decades, Taylor is editor-at-large for Essence magazine and the president of Mikki Taylor Enterprises, LLC, a strategic branding, consulting, and communications company. She is author of the critically acclaimed books Self-Seduction and Commander in Chic.
Praise For Editor in Chic: How to Style and Be Your Most Empowered Self…
"What can I say about the absolute fabulousness that is Mikki Taylor? Editor in Chic is a master class on beauty, wellness, purpose, and what it means to live in your power zone! Own it!"— Gabrielle Union, actress and New York Times bestselling author of We're Going to Need More Wine

"I have always admired the style, class and inspiring warmth of Mikki Taylor. And now we all get a chance to experience the wisdom of her soul as well as her sophisticated savvy. You can literally dress your way to a better day. Thank you, Mikki, for showing us how to do everything with style and grace."— Yolanda Adams, Grammy Award-winning gospel singer, producer, and actress

"Oxford defines elegant as pleasingly graceful and stylish in appearance and or manner. Odyssey Media defines elegant as the one and only Mikki Taylor! Congratulations to the ultimate, friend, role model, speaker, style icon, and author on Editor in Chic!"—Linda Spradley Dunn, CEO and founder of Odyssey Media

"I have been a long-time admirer of Mikki Taylor, not only for her impeccable style and beauty, but also to watch her as a woman in power giving her clarion call to women to be bold and courageous. Every woman needs to read Editor in Chic to empower them on their journey to success."— Debra Lee, chairman and CEO of BET

"Mikki Taylor is like that trusted friend who has to remind you of the power that was on you all along. From life-affirming lessons, to beauty, style, and insider secrets every woman will treasure—Editor in Chic is gold!"—Tina Knowles-Lawson, Designer/Author/Philanthropist/Co-Founder of WACO Theater



"Editor in Chic brims with substance that helps us both inform and inspire our life. Each page encourages us to fight our fears and prepare ourselves to step into the future feeling whole and looking great."— Essence Magazine