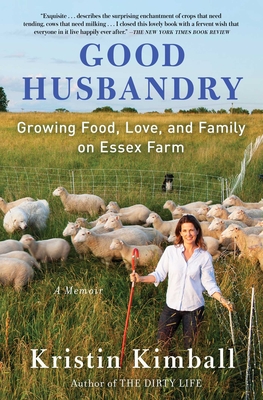 Good Husbandry (Paperback)
A Memoir
Scribner, 9781501111655, 304pp.
Publication Date: May 12, 2020
Other Editions of This Title:
Hardcover (10/15/2019)
Compact Disc (10/15/2019)
Library Binding, Large Print (3/1/2020)
* Individual store prices may vary.
About the Author
Kristin Kimball is a farmer and a writer living in northern New York. Prior to farming, Kimball worked as a freelance writer, writing teacher, and as an assistant to a literary agent in New York City. A graduate of Harvard University and the author of The Dirty Life and Good Husbandry, she and her husband Mark have run Essex Farm since 2003, where they live with their two daughters.
Praise For Good Husbandry: A Memoir…
"Kimball's recounting of how she left the glamour of New York City for the back-breaking -- and very dirty -- work of farming is exquisite and inspiring, filled with insight."
—Minneapolis Star Tribune

"In her beguiling memoir, Kimball describes the complex truth about the simple life in prose that is observant and lyrical, yet tempered by a farmer's lack of sentimentality."
—Elle Magazine

"In this "know your farmer" era, [Kimball] doesn't sugarcoat or skirt around the challenges and hardships that organic farmers face.That's part of what makes her memoir so memorable."
—Associated Press

"Kimball writes about all this in vivid but unsentimental language, equal parts dirt and poetry."
—Burlington Free Press

"The Dirty Life is a wonderfully told tale of one of the most interesting farms in the country. If you want to understand the heart and soul of the new/old movement towards local food, this is the book you need. It's the voice of what comes next in this land, of the generation unleashed by Wendell Berry to do something really grand."
—Bill McKibben, author of Eaarth: Making a Life on a Tough New Planet

"The Dirty Life is a delightful, tumultuous, and tender story of the author's love affair with the man who becomes her husband and the farm they work together to restore. With wisdom and humor, Kristin Kimball describes how she abandoned her career in New York City, leaving behind everything she thought was important for a hard, distinctly unglamorous existence that turns out to be the most fulfilling thing she's ever done."
—Jeannette Walls, author of The Glass Castle and Half Broke Horses

"As Kimball chronicles that first year in supple prose, the farm takes on vivid form, with the frustrations balancing the satisfactions and the dark complementing the light. Throughout the book, the author ably describes the various trials and tribulations involved... A hearty, chromatic account of a meaningful accomplishment in farming."
—Kirkus Reviews

"In this poignant, candid chronicle by season, Kimball writes how she and Mark infused new life into Essex Farm, and lost their hearts to it… (there was) no end to the dirty, hard, fiercely satisfying tasks, winningly depicted by Kimball."
—Publishers Weekly

"Kimball has a gift for throwing into high relief contemporary Americans' disconnect between farm-life realities and city ambitions."
—Booklist