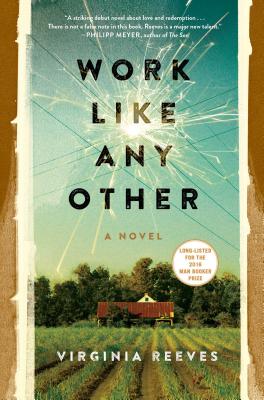 Work Like Any Other (Hardcover)
A Novel
Scribner, 9781501112492, 272pp.
Publication Date: March 1, 2016
Other Editions of This Title:
Paperback (3/14/2017)
Compact Disc (3/1/2016)
Compact Disc (3/1/2016)
Hardcover (4/7/2016)
Pre-Recorded Audio Player (3/1/2016)
MP3 CD (3/1/2016)
* Individual store prices may vary.
Description
LONGLISTED FOR THE MAN BOOKER PRIZE

In this astonishingly accomplished, morally complicated, "exceptional and starkly beautiful debut" (Kevin Powers, National Book Award–nominated author of The Yellow Birds), a prideful electrician in 1920s rural Alabama struggles to overcome past sins and find peace after being sent to prison for manslaughter.

Roscoe T Martin set his sights on a new type of power spreading at the start of the twentieth century: electricity. It became his training, his life's work. But when his wife, Marie, inherits her father's failing farm, Roscoe has to give up his livelihood, with great cost to his sense of self, his marriage, and his family. Realizing he might lose them all if he doesn't do something, he begins to use his skills as an electrician to siphon energy from the state, ushering in a period of bounty and happiness. Even the love of Marie and their child seem back within Roscoe's grasp.

Then a young man working for the state power company stumbles on Roscoe's illegal lines and is electrocuted, and everything changes: Roscoe is arrested; the farm once more starts to deteriorate; and Marie abandons her husband, leaving him to face his twenty-year sentence alone. Now an unmoored Roscoe must carve out a place at Kilby Prison. Climbing the ranks of the incarcerated from dairy hand to librarian to "dog boy," an inmate who helps the guards track down escapees, he is ultimately forced to ask himself once more if his work is just that, or if the price of his crimes—for him and his family—is greater than he ever let himself believe.

Gorgeously spare and brilliantly insightful, Work Like Any Other is "a striking debut about love and redemption, the heavy burdens of family and guilt, and learning how to escape them…Virginia Reeves is a major new talent" (Philipp Meyer, New York Times bestselling author of The Son).
About the Author
Virginia Reeves is a graduate of the Michener Center for Writers at the University of Texas at Austin. Her debut novel, Work Like Any Other, was longlisted for the Man Booker Prize and the Center for Fiction's First Novel Prize, and Booklist named it to their Top 10 First Novels of 2016. Virginia lives with her husband and daughters in Helena, Montana, where she teaches writing and speech at Helena College. The Behavior of Love is her second novel.
Praise For Work Like Any Other: A Novel…
"A striking debut about love and redemption, the heavy burdens of family and guilt and learning how to escape them. Powerfully told and lyrically written, there is not a false note in this book. Reeves is a major new talent."
— Philipp Meyer, author of The Son

"Work Like Any Other is an exceptional novel told in clear, direct, and starkly beautiful language. Virginia Reeves has a gift for bringing to life all the tensions that emerge wherever people, place, and progress collide. I absolutely loved it."
— Kevin Powers, author of The Yellow Birds

"How brilliantly Virginia Reeves brings to life her protagonist, Roscoe T Martin, with his hatred of farming, his love of electricity and his long struggle to make amends to himself, his family and his friends. Work Like Any Other is a novel of fierce beauty and hard-won redemption. A wonderful debut."
— Margot Livesey, author of The Flight of Gemma Hardy

"This is a consummately well-written, deeply affecting, thought-provoking American historical novel of hard labor, broken dreams, moral dilemmas, violence, racism, and the intricacies of marriage, parenthood, and friendship. Hope is found in reading, compassion, forgiveness, and good, honest work, whatever form it takes. Reeves' gripping, dynamically plotted, and profound novel will resonate on different frequencies for men and women and spark soul-searching and heated discussion."

"The world of this exquisite novel – 1920s Alabama – hasn't let go of me since I finished it. It's gorgeous, painful, original, and so true in all its details. Reeves writes with incredibly intelligent compassion, and in Roscoe Martin has created an extraordinary man who more than earns his place among the complicated population of the literary South. Thick with dread and beauty, this is a stunning chronicle of a time, a place, and a mind."
— Fiona McFarlane, author of The Night Guest

"Virginia Reeves' assured and absorbing debut novel is a potent mix of icy honesty and heart-wrenching tenderness; it is certainly a Work Unlike Any Other, in that its humanity and optimism are salvaged from the darkest of places, from prison cells, from mining shafts, from decomposing marriages, and from the unforgiving workings of the land."
— Jim Crace, author of Harvest and Being Dead

"Work Like Any Other is a beautifully accomplished first novel. She draws the reader in with such ease, and plumbs the depths of her characters with such acuteness and care, I was totally won over."
— James Magnuson, author of The Hounds of Winter

"A riveting debut that oscillates between past and present, between the high price of hope and the betrayals of progress. Both an intimate family saga and a heartbreaking cautionary tale, Work Like Any Other is, above all, a starkly beautiful novel."
— Cristina Garcia, author of Dreaming in Cuban

"Virginia Reeves has built her first novel with the craft and seriousness of purpose of a master carpenter. When the pieces come together, you're astonished at what a thing of beauty has appeared before your eyes."
— Anthony Giardina, author of Norumbega Park

"Eloquent and acutely self-aware… Prose so lovely that it strains credulity… Elegant."

"Thoughtful, absorbing... In this engrossing, vividly drawn debut, Reeves delivers a dazzlingly authentic portrait of a restless, remorseful mind."

"Work Like Any Other" is addictive when it focuses on Roscoe's life behind bars, and the perils he suffers, a good man you can't help but have sympathy for, but one earmarked for suffering. . . . A book worth reading."

"A morally complicated ode to Alabama."

"Author Virginia Reeves has delivered a commanding, dramatic novel of life in 1920s Alabama, inside a family torn apart my anger, resentment, shame, guilt, and desire. This is a deeply gripping portrayal of Americana in the Deep South, replete with racism, violence, and heartbreak. Astonishingly well-written."

"[An] inventive, beautiful and deceptively morally complex novel."

"The novel's great strength is that in showing so much in terms of race, our prison system, forgiveness and labor, it never is heavy-handed. . . . Reeves' nuance for these people and this story is, indeed, quite powerful."

"A slow-burning pleasure... Wonderful... Brutal, beautiful, and, to some significant extent, redemptive."

"[An] engrossing debut novel . . . . A vivid, suspenseful tale of guilt and redemption."

"Beautifully written, this is an unusual and moving debut."

"With lyrical and sparse language, Reeves has created a very striking debut novel. Themes of guilt, compassion, forgiveness and broken dreams will resonate with the reader on so many levels."
or
Not Currently Available for Direct Purchase