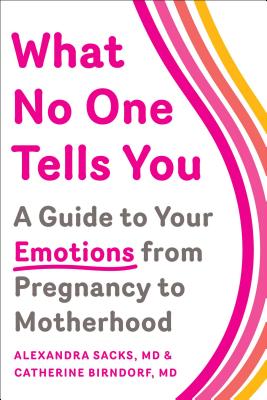 What No One Tells You
A Guide to Your Emotions from Pregnancy to Motherhood
Paperback

* Individual store prices may vary.
Other Editions of This Title:
Digital Audiobook (4/22/2019)
Paperback, Chinese (1/6/2021)
Description
Your guide to the emotions of pregnancy and early motherhood, from two of America's top reproductive psychiatrists.

When you are pregnant, you get plenty of advice about your growing body and developing baby. Yet so much about motherhood happens in your head. What everyone really wants to know: Is this normal?

-Even after months of trying, is it normal to panic after finding out you're pregnant?
-Is it normal not to feel love at first sight for your baby?
-Is it normal to fight with your parents and partner?
-Is it normal to feel like a breastfeeding failure?
-Is it normal to be zonked by "mommy brain?"

In What No One Tells You, two of America's top reproductive psychiatrists reassure you that the answer is yes. With thirty years of combined experience counseling new and expectant mothers, they provide a psychological and hormonal backstory to the complicated emotions that women experience, and show why it's natural for "matrescence"—the birth of a mother—to be as stressful and transformative a period as adolescence.

Here, finally, is the first-ever practical guide to help new mothers feel less guilt and more self-esteem, less isolation and more kinship, less resentment and more intimacy, less exhaustion and more pleasure, and learn other tips to navigate the ups and downs of this exciting, demanding time
Praise For What No One Tells You: A Guide to Your Emotions from Pregnancy to Motherhood…
"'No one ever told me about this!' is said by almost every woman during the often confusing experiences of pregnancy, birth, and the first year of motherhood. In this reassuring, accessible, and comprehensive guide, Drs. Sacks and Birndorf tackle common fears and questions—in particular, those that people may be embarrassed or afraid to mention. This is an indispensable resource for anyone who wants information that's both authoritative and comforting."
—Gretchen Rubin, New York Times bestselling author of The Happiness Project

"Though it's written by medical professionals, the book reads like a reality check from a calm friend. It doesn't shy away from the hard stuff, either… From the outset, the authors break through what they call the 'bliss myth': the fiction that motherhood is all joy, all the time. In the process, What No One Tells You makes room for something better — acknowledgment of the complexity and reality of motherhood. There's no one way to become a mother, the authors suggest — and that's just fine."
—The Washington Post

"Becoming a mom is magical. But it can also bring concerns and stress. In their loving and practical book, Drs. Sacks and Birndorf will be your trusted guides through this wonder-filled—yet sometimes bewildering—experience."
—Harvey Karp, MD, New York Times bestselling author of The Happiest Baby on the Block

"This book teaches mothers how to best care for themselves psychologically. I can't think of another book like it: written by experts who are both caring and authoritative and who can prepare new mothers for this tremendous identity shift and all the emotional changes that come up along the way. I wish I had a book like this when I was going through pregnancy and new motherhood."
—Christy Turlington Burns, founder & CEO of Every Mother Counts

"Too often women imagine pregnancy, childbirth, and the first year of parenthood through rose-colored glasses. Reproductive psychiatrists Sacks and Birndorf reassuringly talk about why these experiences can be stressful. They call pregnancy early motherhood 'matrescence,' which fittingly sounds like adolescence, 'another time when bodies morph and hormones surge'…. A good guide to mental health issues faced by new parents."
—Booklist
Simon & Schuster, 9781501112560, 400pp.
Publication Date: April 23, 2019
About the Author
Alexandra Sacks, MD, is a reproductive psychiatrist affiliated with the Women's Program at the Columbia University Medical Center and a candidate at the Columbia University Psychoanalytic Center for Training and Research. A leading expert in "matrescence," she is known for popularizing the concept in her TED talk with more than one million views worldwide, and in her New York Times article "The Birth of a Mother," the number-one most read piece of 2017 for the "Well Family" section, where she is a regular contributor. Dr. Sacks was a scholar at the DeWitt Wallace Institute for the History of Psychiatry and serves on the American Psychoanalytic Association advisory board for media education. Her work on matrescence and "mommy brain" has been featured in TIME magazine, The Washington Post, The Boston Globe, and on NPR. Dr. Sacks hosts a motherhood podcast from Gimlet Media and is the author, with Catherine Birndorf, of What No One Tells You. Learn more at AlexandraSacksMD.com and @AlexandraSacksMD.

Catherine Birndorf, MD, is a reproductive psychiatrist and clinical associate professor of psychiatry at New York-Presbyterian/Weill Cornell Medical Center, where she founded the Payne Whitney Women's Program. She is currently the co-founder and medical director of The Motherhood Center, a treatment center in New York City for pregnant and new moms experiencing anxiety and depression. Dr. Birndorf is a board member of Postpartum Support International, a nonprofit organization for awareness, prevention, and treatment of maternal mental health worldwide. For ten years, Dr. Birndorf was a regular mental health columnist for Self magazine and has appeared on numerous television programs including the TODAY show, Good Morning America, CBS Evening News, and CNN. She is the author, with Alexandra Sacks, of What No One Tells You and of the New York Times bestseller The Nine Rooms of Happiness, co-authored with Lucy Danziger. Learn more at DrCatherineBirndorf.com and TheMotherhoodCenter.com.