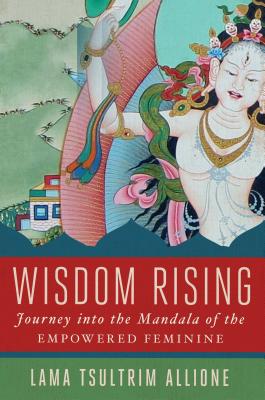 Wisdom Rising
Journey into the Mandala of the Empowered Feminine
Hardcover

* Individual store prices may vary.
Other Editions of This Title:
Paperback (12/31/2050)
Description
Through her own story of loss and spiritual seeking, paired with mandala meditations and rituals, bestselling author of Feeding Your Demons Lama Tsultrium Allione teaches you how to embody the enlightened, fierce power of the sacred feminine—the tantric dakinis.

Ordained as one of the first Western Buddhist nuns and recognized as a reincarnation of a renowned eleventh century Tibetan yogini, Lama Tsultrim nonetheless yearned to become a mother, ultimately renouncing her vows so she could marry and have children. When she subsequently lost a child to SIDS, she found courage again in female Buddhist role models, and discovered a way to transform her pain into a path forward. Through Lama Tsultrim's story of loss and spiritual seeking, paired with her many years of expertise in mandala meditation, you will learn how to strengthen yourself by following this experiential journey to Tantric Buddhist practice.

The mandala was developed as a tool for spiritual transformation, and as you harness its power, it can serve as a guide to wholeness. With knowledge of the mandala of the five dakinis (female Buddhist deities who embody wisdom), you'll understand how to embrace the distinct energies of your own nature.

In Wisdom Rising, Lama Tsultrim shares from a deep trove of personal experiences as well as decades of sacred knowledge to invite you to explore an ancient yet accessible path to the ability to shift your emotional challenges into empowerment. Her unique perspective on female strength and enlightenment will guide you as you restore your inner spirit, leading you toward the change you aspire to create in the world.
Praise For Wisdom Rising: Journey into the Mandala of the Empowered Feminine…
"Wisdom Rising speaks to the sacred feminine in all of us."
— Deepak Chopra

"Wisdom Rising is a stunning call to women to trust our bodies and beings to manifest the energy, vision, and spirit to heal and transform these terrible times. A book full of wisdom, experience, stories, dakinis, mandalas, practices, and possibility."
— Eve Ensler, activist, playwright, and author of The Vagina Monologues

"In this accessible, deeply researched book, Allione invites Buddhist novices and practitioners to learn how meditating on the Mandala of the Five Dakinis can be used to renew energy and restore inner feminine strength and wisdom….[Wisdom Rising] encourage[s] women to integrate mandala practice with all aspects of life, including relationships, sexuality, and motherhood. With clear instruction, Allione explains breathing techniques and meditation and shares numerous inspirational anecdotes from her own life and from the many holy people she met and prayed with."
— Publishers Weekly

"In this magnificent teaching memoir, Lama Tsultrim writes: 'We must learn to leave something when we take something.' Lama Tsultrim has taken gems from her long immersion in the Tibetan Buddhist tradition, and leaves us this guide for spiritual life, emotional healing, and—if we follow her fierce, feminine lead—restoration of Mother Earth."
— Elizabeth Lesser, cofounder of Omega Institute, author of Broken Open and Marrow

"Wisdom Rising is a fascinating insight into the divine feminine . This book made me realize how undervalued the feminine perception has been and how women can contribute their uniqueness substantially more than they currently are to the institutions of the culture.
— Ram Dass, author of Be Here Now

"Drawing on Tibetan teachings, Wisdom Rising transmits the potential and power of feminine wholeness. Lama Tsultrim Allione uses life stories, her own and others, to demonstrate that this potency is alive in the contemporary scene. The overall effect is a highly practical and usable guide, one broad in scope and deep in understanding.Those who adopt the practices offered here, women and men alike, may indeed feel their wisdom rising and act as forces for healing in the world."
— Sharon Salzberg, New York Times bestselling author of Real Happiness

"The degradation of women, domination of marginalized populations, and destruction of the natural world cannot be separated: Our most essential work is awakening the sacred feminine. In her timely and groundbreaking book, Lama Tsultrim shows us a pathway that transforms emotions into illuminating wisdom, and empowers us to bring healing to our world. These teachings are medicine for our times—please read and let them free your heart."
— Tara Brach, author of Radical Acceptance and True Refuge

"BREATHE THIS BOOK IN! Lama Tsultrim shares her personal inner search and journey of healing and realization in this amazing teaching: true strength is not aggressive, true wisdom is not manipulative. To recognize our true nature is to honor the sacred feminine and the sacred masculine within and without. One without the other is not gonna do it."
— Krishna Das

"Tsultrim Allione, one of our wisest Western Lamas, offers a powerful gateway of awakening for men and women alike into the deep feminine through the Tibetan teachings of Dakini Wisdom and the Mandala Principle. Wisdom Rising is a great contribution."
— Jack Kornfield author of A Path With Heart

"Wisdom Rising is a treasure for all women as it illuminates the path of healing, awakening, and empowerment in a way that is deeply personal, practical, holistic, and profound. Lama Tsultrim is one of the most important master teachers of our time and she brings forth the deep lineage of the sacred feminine, offering the heart of wisdom teachings for all to benefit at this turning point in our collective destiny."
— Shiva Rea, yogini, author of Tending the Heart Fire

"Lama Tsultrim Allione skilfully elucidates how these Buddha families encompass both our habitual neuroses and the method to transform these negative emotions into their corresponding wisdom energies. She supplies clear guidance on the practice of the Wisdom Dakinis along with heartfelt advice on how to practice for maximum effect. We should be deeply grateful that these traditional Tibetan methods are now presented in a creative manner that can be fully utilized by those coming from a non-Himalayan background. This book is a valuable contribution."
— Jetsunma Tenzin Palmo, author, teacher, and founder of the Dongyu Gatsal Ling Nunnery

"What a timely message of empowerment and hope! Lama Tsultrim Allione, one of the foremost pioneers of bringing Buddhism to the West, guides us on an inspiring journey into the heart of Tibetan Buddhism – the sacred principle of the awakened feminine. Allione masterfully shows us the secret to harnessing the energy of the dakini within, through contemporary stories, personal experience, and age-old wisdom."
— Michaela Haas, PhD, author of Dakini Power and Bouncing Forward

"Lama Tsultrim Allione is a pioneer, a serious seeker of wisdom, and a teacher who has had a tremendous influence on Western Vajrayana Buddhism. As a mother, long-time practitioner, and someone who has studied under some of the most realized contemporary masters of the Vajrayana tradition, she has a lot to share with us. In her new book, Wisdom Rising, she presents the wisdom of the mandala principle in a personal, earthy, and authentic way. I think that you will find the stories and instruction in this book deeply inspiring, transformative, and practical."
— Elizabeth Namgyel, author of The Logic of Faith

"The empowered feminine is fully and deeply revealed in this powerful and revelatory book, a book whose time has come, and yet born of years of practice and deep inquiry by its author the beloved teacher Lama Tsultrim Allione."
— Roshi Joan Halifax, abbot of Upaya Zen Center

"In Wisdom Rising, Tsultrim Allione draws on her spiritual depths to distil profound Tibetan wisdom into user-friendly practices well-suited for our times and lives."
— Daniel Goleman, author of Emotional Intelligence

"Lama Tsultrim Allione is generously offering a feast of wisdom nectar and enjoyment as she weaves together the prose of a great life story with the truth of the Buddhadharma that she has internalized over her lifetime. Her unique ability to bridge the gap between East and West has caused the profound path of Chöd, Severance, to come alive in the minds of countless practitioners. Now, Lama Tsultrim has illuminated the outer, inner and essential meaning of the sacred configurations of mandalas, providing an accessible and useful guide for transformation and wisdom. May there be great benefit for all who read this!"
— Sangye Khandro, teacher, translator

"A calm, serious, yet buoyant New England practicality glows up out of this transcendent work by the extraordinary Lama Tsultrim Allione...Even as she has mastered and distilled the most complex and subtle of esoteric Buddhist concepts, she brings her own deep moral feminist courage and that of her stalwart ancestors to her teaching and writing, and to this powerful call for the re-emergence of the sacred Dakini principle in all of us. We, and our troubled world, need this journey-map to healing and evolution."
— Diana Rowan Rockefeller, trustee at The Authors Guild Foundation, former editor at The Atlantic Magazine

"This beautiful book is composed of three distinct elements. First, it's an immensely rich and insightful body of tantric teachings for working with emotional energies, one which I'll return to again and again as both student and teacher. Second, it's a moving memoir, recounting the journey of one of the most compelling Buddhist teachers in the West. Third—and perhaps most importantly for our moment—it is a treatise on the ways patriarchy has biased and corrupted Buddhism as it expands globally in the 21st century. The patriarchy truly must be smashed, with clarity and without aggression, and Lama Tsultrim Allione's wonderful book helps prepare the ground to do just that."
— Ethan Nichtern, author of The Road Home: A Contemporary Exploration of the Buddhist Path

"In this book Lama Tsultrim breathes life into esoteric aspects of the Tibetan Buddhist tradition—dakini visualizations, mandalas, and shrines—by intertwining lucid Buddhist teachings with profound stories from her rich life experiences, all the while demonstrating the importance of Buddhist wisdom for our challenging times."
— Sarah Jacoby, PhD, author of Love and Liberation
Atria/Enliven Books, 9781501115035, 368pp.
Publication Date: May 1, 2018
About the Author
Lama Tsultrim Allione is founder and resident teacher of Tara Mandala, a retreat center located outside Pagosa Springs, Colorado. She is author of Women of Wisdom and Feeding Your Demons. Born in New England, she traveled to Asia in her late teens and at the age of twenty-two became the first American woman to be ordained as a Tibetan Buddhist nun. Recognized in Tibet as the reincarnation of a renowned eleventh-century Tibetan yogini, she is one of the only female lamas in the world today. She has been awarded the international recognition of "Outstanding Woman in Buddhism" by a panel of distinguished scholars and practitioners in Bangkok, Thailand. Between teaching internationally, she enjoys time with her three children and six grandchildren.