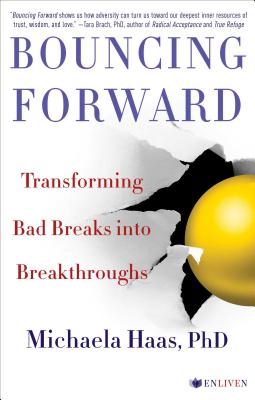 Bouncing Forward (Hardcover)
Transforming Bad Breaks Into Breakthroughs
Atria Books, 9781501115127, 400pp.
Publication Date: October 6, 2015
* Individual store prices may vary.
Description
Deeply personal interviews and time-tested, empathetic heartfelt advice for finding healing and new resilience after setbacks: a cutting-edge look at the uplifting discovery of how we can thrive in the face of challenges. Bouncing Forward: Transforming Bad Breaks into Breakthroughs radically shifts our perspective on adversity. Author Michaela Haas, PhD, explores the new science of posttraumatic growth through her moving personal story, encounters with survivors from all walks of life--from soldiers to surfers--and a practical take on the latest scientific research. Filled with powerful insights and more than 60 tried-and-true methods to grow in five areas of your life, this treasury of wisdom will shine a light when life seems overwhelming. Michaela Haas presents twelve inspiring stories from survivors of cancer, addiction, PTSD, the Holocaust, loss of mobility, loss of a loved one, and childhood abuse to show how to transform pain into a journey to wisdom, love, and purpose. This book will help you become more resilient, stronger, and happier in the face of life's inevitable setbacks. The author immersed herself into her subjects's lives, and even interviewed the late Dr. Maya Angelou, who shares with us how her childhood trauma led her into a passionate life of meaning; ex-POW Rhonda Cornum, who found a new purpose after being captured in Iraq; renowned autistic pioneer Temple Grandin, who overcame crippling panic attacks; and famed jazz guitarist Coco Schumann, who played for his life in Auschwitz. In Bouncing Forward, Michaela Haas draws upon powerful storytelling, psychology, history, and twenty years of Buddhist practice to reshape the way we think of crisis. You'll walk away with a deep understanding of the strength of your spirit and five powerful practices to transform your own life. It's also a great gift for friends who are going through a rough time. "One of the most inspirational books of 2015" --Cyrus Webb, Conversations Book Club "So beautiful The world needed that " --Jenny McCarthy, Sirius XM "A great message of hope." --Claire Fordham, The Huffington Post "Some of the most interesting research I ve ever read. I don't think this has ever been done before." --Sheila Hamilton, Kink FM Radio "This book is phenomenal " --Allen Cordoza, Answers for the Family LA Talk Radio.
or
Not Currently Available for Direct Purchase