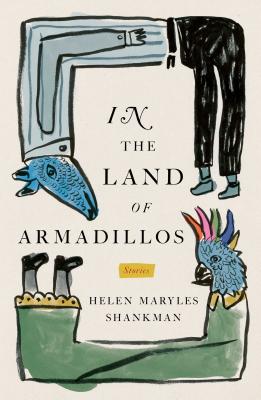 In the Land of Armadillos
Stories
Hardcover

* Individual store prices may vary.
Other Editions of This Title:
Compact Disc (3/29/2016)
MP3 CD (3/29/2016)
MP3 CD (3/29/2016)
Compact Disc (3/29/2016)
Description
A radiant debut collection of linked stories from a two-time Pushcart Prize nominee, set in a German-occupied town in Poland, where tales of myth and folklore meet the real-life monsters of the Nazi invasion.

1942. With the Nazi Party at the height of its power, the occupying army empties Poland's towns and cities of their Jewish populations. As neighbor turns on neighbor and survival often demands unthinkable choices, Poland has become a moral quagmire—a place of shifting truths and blinding ambiguities.

Blending folklore and fact, Helen Maryles Shankman shows us the people of Wlodawa, a remote Polish town: we meet a cold-blooded SS officer dedicated to rescuing the creator of his son's favorite picture book, even as he helps exterminate the artist's friends and family; a Messiah who appears in a little boy's bedroom to announce that he is quitting; a young Jewish girl who is hidden by the town's most outspoken anti-Semite—and his talking dog. And walking among these tales are two unforgettable figures: the enigmatic and silver-tongued Willy Reinhart, Commandant of the forced labor camp who has grand schemes to protect "his" Jews, and Soroka, the Jewish saddlemaker and his family, struggling to survive.

Channeling the mythic magic of classic storytellers like Sholem Aleichem and Isaac Bashevis Singer and the psychological acuity of modern-day masters like Nicole Krauss and Nathan Englander, In the Land of Armadillos is a testament to the persistence of humanity in the most inhuman conditions.
Praise For In the Land of Armadillos: Stories…
"One of the most original and consistently captivating short story collections to have appeared in recent years…Experienced together, the collection reads as a sophisticated orchestration. So tightly interwoven are its themes, characters, and grim events that it is hard to imagine any one apart from the others…An absolutely dazzling triumph…Shankman's skill for description paints the setting in brilliant detail…Many stories reward with ironic twists and indelible surprises…In the Land of Armadillos is a singularly inventive collection of chilling stark realism enhanced by the hallucinatory ingredient of top-drawer magical realism, interrogating the value of art, storytelling, and dreams in a time of peril and presenting hard truths with wisdom, magic, and grace."

"Moving and unsettling…Like Joyce's Dubliners, this book circles the same streets and encounters the same people as it depicts the horrors of Germany's invasion of Poland through the microcosm of one village…Shankman's prose is inventive and taut…Her writing is simple and matter-of-fact, never maudlin or sentimental…A deeply humane demonstration of wringing art from catastrophe."

"Richly rendered...Well-shaped and often word-perfect, boasting a clear narrative structure and a sure, signature voice…"

"In the Land of Armadillos has the magical elements its title suggests…The title story, with its sense of detached irony, mixed with tragedy and fantasy, simply takes your breath away…The collection ends on a positive note that succeeds in being hopeful without sentimentality. These are beautifully crafted, moving stories, haunting in the dark complexities they portray."

"This is a book lover's book, filled with beautiful language and textured scenes…There's no forgiveness in these stories, but explorations of human nature. With bold originality, Shankman has created her own literary blend of history, folklore, fantasy, myth, spirituality and truth."

"Every story in this remarkable collection reveals Helen Maryles Shankman's talent for surprising, disturbing and enlightening her readers. Blending the horrors of war with the supernatural, she creates a literary landscape that is strangely mythical and distinctively her own. These stories haunted me for days after I finished reading them."
— Sarai Walker, author of Dietland

"Following in the footsteps of Isaac Bashevis Singer and Shalom Aleichem, Helen Maryles Shankman is an exquisite storyteller of early 20th century Eastern European Jewish life...Readers of In the Land of Armadillos will encounter vibrant tales of extraordinary people, good and evil, in a twisted, macabre life. Here, the old rules are no longer valid. Subjected to inhumane conditions, with brutality and death around every turn, Shankman's characters alternately perpetrate and combat hatred while sliding inexorably toward a dark and surreptitious future."


"What might otherwise have been an unbearable recounting of inhuman atrocities Shankman transforms through a prism that is by turns forthright and tender, oblique and intimate, brutal and ethereal…Though each story stands beautifully on its own, it is the completed tapestry of interwoven details that finally reveals the entire picture and provides the full emotional depth of the collected stories; the sum is unquestionably greater than the parts…The author's greatest accomplishment is in leaving the horror to speak for itself, and instead giving voice to the enchantment."

"With unflinching prose and flashes of poetry Helen Maryles Shankman spirits her readers back through history to the Polish hamlet of Wlodawa during the dark days of Nazi occupation. Horrific reality and soaring fantasy meld in serial stories that include an avenging golem, an anti-Semite who shelters a Jewish child, brutal SS officers who lay claim to 'their own Jews' and an unlikely messiah "whose breath smelled of oranges and cinnamon." That scent will linger in the memory of readers as will the haunting stories in which barbaric hatred is mitigated by the reflection of a survivor who reflects that "love is a kind of magic." There is, in fact, literary magic in these well told tales."
— Gloria Goldreich, author of The Bridal Chair

"Populated with monsters and heroes [human and perhaps not], but mostly with ordinary people caught up in horrific events they neither understood nor controlled - this series of intersecting stories drew me in completely, making me read them again to find all the connections I missed the first time. The writing is fantastic, and I marvel at Shankman's literary skills."

— Maggie Anton, author of the bestselling Rashi's Daughters trilogy

"In The Land of the Armadillos is a moving collection of beautifully written short stories that readers of Jewish fiction will celebrate. Not to be missed."

— Naomi Ragen, author of The Sisters Weiss

"Shankman presents a typical German-occupied Jewish town in an atypical way: through the lens of several non-Jews and their individual transformations, or lack thereof. We come away with something new in literature—a full portrait of a war-torn Jewish town, where a nimble application of the magical gently veils the harsh realities."
Scribner, 9781501115196, 304pp.
Publication Date: February 2, 2016
About the Author
Helen Maryles Shankman's stories have been nominated for two Pushcart Prizes. She was a finalist in Narrative Magazine's Story Contest and earned an Honorable Mention in Glimmer Train's Short Story Award for New Writers competition. Her stories have appeared in The Kenyon Review, Gargoyle, Cream City Review, 2 Bridges Review, Grift, Jewishfiction.net, and other publications. She is the author of the critically acclaimed novel The Color of Light and the story collection They Were Like Family to Me. She lives in New Jersey, with her husband and four children.
or
Not Currently Available for Direct Purchase