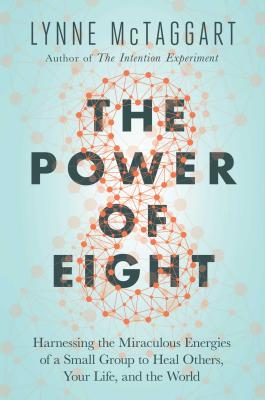 The Power of Eight (Hardcover)
Harnessing the Miraculous Energies of a Small Group to Heal Others, Your Life, and the World
Atria Books, 9781501115547, 320pp.
Publication Date: September 26, 2017
Other Editions of This Title:
Digital Audiobook (9/25/2017)
Paperback (9/25/2018)
* Individual store prices may vary.
Description
"This is a monumentally significant book, a once-in-a-generation work that will turn the tide in how we unleash the power of healing for each other and for the world. Drink in its meticulous and transparent scientific method, its countless uplifting stories of vivid healing breakthroughs and its breathtakingly luminous vision. Then go manifest The Power of Eight." —James O'Dea, peace activist, former President of the Institute of Noetic Sciences and author of Soul Awakening Practice

Discover how to tap into your extraordinary human capacity for connection and healing, using astonishing new findings about the miraculous power of group intention and its boomerang effect, in this new book by the author of the international bestsellers The Intention Experiment and The Field.

What we send out into the universe comes back to us, magnified. Although the power of intention—the energy of positive thoughts—is widely accepted as an influential force in transforming lives, the exponential power of group intention has never been explored, until now. In The Power of Eight, Lynne McTaggart, an expert on the science of spirituality, reveals her remarkable findings from ten years of experiments about how group intention can heal our lives—and change the world for the better. Drawing on hundreds of case studies, the latest brain research, and dozens of McTaggart's own university studies, The Power of Eight provides solid evidence showing that there is such a thing as a collective consciousness. Now you can learn to use it and unleash the power you hold inside of you to heal your own life with help from this riveting, highly accessible new book.
About the Author
Lynne McTaggart, one of the central authorities on the new science of consciousness, is the award-winning author of seven books, including the internationally bestselling The Intention Experiment and The Field. She is also editorial director of What Doctors Don't Tell You, one of the world's most respected health magazines, and architect of the Intention Experiments, a web-based "global laboratory." A highly sought-after public speaker, Lynne is consistently listed as one of the world's 100 most spiritually influential people. Lynne and her husband, author and WDDTY co-founder Bryan Hubbard, who live in London, have two adult daughters.
Praise For The Power of Eight: Harnessing the Miraculous Energies of a Small Group to Heal Others, Your Life, and the World…
Praise for The Power of Eight

"Lynne McTaggart leads the way in guiding us to an enlightened perspective on the power of consciousness."

—Marianne Williamson, New York Times bestselling author of A Return to Love

"The Power of Eight is at once a revolution and an evolution in understanding, which opens us to both proof and practice of how the powers of a group intention can transmute and transform our pathos and our pain."

—Jean Houston, PhD, chancellor, Meridian University

"Lynne McTaggart has demonstrated something unique in the mind-body-spirit movement: You don't need to be a Sufi master, take ayahuasca or spend years of disciplined spiritual practice to get a taste of the miraculous. All you need is a small group with a common intention. Read this book, form your own Power of Eight group and welcome the miracles in your own life."

—Deepak Chopra, New York Times bestselling author of Quantum Healing

"Throw away your self-help books. As Lynne McTaggart convincingly argues in this extraordinary book, it's 'other help' that can truly transform you. As soon as you turn your thoughts from yourself to intending for someone else, you create rebound effects that heal your own life. Form a Power of Eight group and experience this miraculous circle for yourself."

—Marci Shimoff, New York Times bestselling author of Happy for No Reason

"Lynne McTaggart's The Power of Eight is a gift to humanity, a book that truly will change your life – and in the most extraordinary and unexpected ways. This is the real secret – your life transforms when you heal for others in a group. It's at the heart of most of the world's religions – but McTaggart brings it to life, and verifies it with science. Read this book, for your own sake and for your family and friends (and, yes, even for complete strangers)."

—John Gray, New York Times bestselling author of Men are from Mars, Women are from Venus

"Required reading for anyone who'd like proof of the power of prayer and group intention for it was written by the ultimate Doubting Thomas. Lynne McTaggart offers a page-turning account of her own struggles to understand the numerous extraordinary healing effects she witnesses in small and large intention groups. Every church group, every book group and every business team need a Power of Eight group to create a vortex of healing and transformation."

—John Assaraf, New York Times bestselling author of Having it All, and CEO of NeuroGym

"Every one of us has the power to use our thoughts to heal our world. Lynne McTaggart doesn't just describe this truth, she proves it again and again in scientifically-controlled studies, in large web-based experiments, in the compelling stories of people who have been transformed by her Power of Eight groups. It's something you can do right now, and it will utterly change your life. And it's so simple! Utterly revolutionary."

—Janet Attwood, New York Times bestselling author of The Passion Test

"This is a monumentally significant book, a once-in-a-generation work that will turn the tide in how we unleash the power of healing for each other and for the world. Drink in its meticulous and transparent scientific method, its countless uplifting stories of vivid healing breakthroughs and its breathtakingly luminous vision. Then go manifest The Power of Eight."

—James O'Dea, former president of the Institute of Noetic Sciences and author of Soul Awakening Practice

"This book is a beautifully written blueprint to awaken us to the power we collectively possess to manifest miracles of healing, transformation and peace both in our lives, and in our world. If you only buy one book this season make it this one, for this is one of the most important and urgent messages of our time."

—Katherine Woodward Thomas, New York Times bestselling author of Conscious Uncoupling

"Lynne's research on intentional healing documents the long-recognized belief that mental qualities such as love and hope are actually the best antidotes in fending off disease, which feeds back and enhances the lives of each of the group's participants. The Power of Eight is a powerful contribution to healing our planet."

—Bruce H. Lipton, PhD, stem cell biologist and bestselling author of The Biology of Belief

"The perfect manual to heal your life, yourself, and others, which will teach you everything you need to know about accessing your true innate capacity—and how healing others is also how you heal yourself."

—Dr. Joe Dispenza, bestselling author of Becoming Supernatural

"An extraordinarily powerful and important achievement, chronicling a ten-year quest by Lynne McTaggart as she follows the evidence for the 'power of eight', wherever it leads. An inspiring and empowering portal into the profound powers of healing we all possess – and their exponential effects when we come together in groups."

—Jude Currivan, PhD, author of The Cosmic Hologram

"A powerfully convincing account of the scientific study of the power of human intention. Beyond that, though, it stands out as a lighthouse in the fog to curious minds everywhere. It invites all who are grasping for clarity around their place in this grand universe to find a scientific 'home' of sorts for their spiritual quest."

—UnityWorldMinistries.org
or
Not Currently Available for Direct Purchase