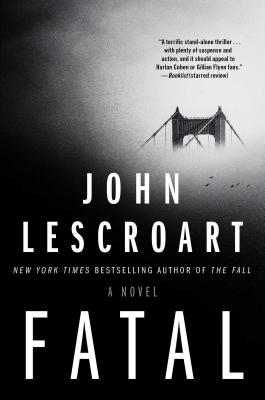 Fatal
A Novel
Hardcover

* Individual store prices may vary.
Other Editions of This Title:
Digital Audiobook (1/23/2017)
Paperback (4/10/2018)
Hardcover, Large Print (2/8/2017)
Paperback, Large Print (12/5/2017)
Mass Market (9/26/2017)
Description
From New York Times bestselling author John Lescroart, a riveting standalone novel about the unexpected, shattering, and lethal consequences of a one-night stand on a seemingly happily married couple.

Kate loves her life. At forty-four, she's happily married to her kind husband, Ron, blessed with two wonderful children, and has a beautiful home in San Francisco. Everything changes, however, when she and Ron attend a dinner party and meet another couple, Peter and Jill. Kate and Peter only exchange a few pleasant words but that night, in bed with her husband, Kate is suddenly overcome with a burning desire for Peter.

What begins as an innocent crush soon develops into a dangerous obsession and Kate's fixation on Peter results in one intense, passionate encounter between the two. Confident that her life can now go back to normal, Kate never considers that Peter may not be so willing to move on.

Not long after their affair, a masked man barges into the café Kate is sitting in with her best friend, firing an assault weapon indiscriminately into the crowd. This tragedy is the first in a series of horrifying events that will show Kate just how grave the consequences of one mistake can be.

An explosive story of infidelity, danger, and moral ambiguity, John Lescroart's latest thriller will excite and satisfy both his current and new fans.
Praise For Fatal: A Novel…
"Lescroart has always found a fine balance between his two favorite genres: police procedural and legal drama. Fatal succeeds with a new pairing: It is a psychological thriller in bed with a homicide investigation...The characters of Fatal may be lawyers, but their inner lives matter here, not their courtroom dramas...Lescroart wants to pick a side in this battle, but he's too good a writer to moralize. The result is a dark, disturbing, satisfying read."
— San Francisco Chronicle

"Lescroart is a master storyteller as he knows how to craft a plot and how to create fully developed characters. In both of these departments this book comes across as one of his best works."

— Huffington Post

"Somehow Lescroart weaves this moral ambiguity into a tale that is both frustrating and gratifying. His writing is constantly surprising, and the ending is perfect. Fans will not miss his regular series characters, while those who have never read his novels will discover a true master of the craft."
— Associated Press

"After reading this one, you'll wonder why author Lescroart's picture is not printed beside the definition of 'spellbinding' in the dictionary. Fatal is all about surprises and the dangerous cost of a one-night-stand on a happily married couple."
— Suspense Magazine

"Edgy and character-driven (his trademark), with an ending that will surprise his fans."
— Sacramento Bee

"Beautifully executed…a terrific mystery."
— Providence Journal

"Fatal marks a departure from Lescroart's more typical series novels, offering a standalone story of suspense that combines questions of marital infidelity with a complex whodunit that leaves a string of bodies in its wake...delves into questions of murder, marriage and friendship as it builds to an unexpected conclusion."
— Shelf Awareness

"On its own, this is a terrific stand-alone thriller that melds police procedural with plenty of suspense and action, and it should appeal to Harlan Coben or Gillian Flynn fans."
— Booklist (starred review)

"After dishing out 20-plus cases to San Francisco attorney Dismas Hardy and his friends and relations (The Fall, 2015, etc.), Lescroart pens a stand-alone whose Bay Area is just as tense and treacherous even if you're not part of the justice system...Lescroart manages the first movement of this cautionary tale by mixing his pitches with exquisite control...he still has a few nifty surprises in store for fans who'd expect nothing less."
— Kirkus Reviews

"Absorbing… The challenges for the protagonists lend verisimilitude to the story and give it a satisfying rhythm. Lescroart keeps readers guessing until the very end."
— Publishers Weekly

"Whether you are a steadfast fan of Lescroart's or have never read his work, you simply must read Fatal."
— Bookreporter

"Rendered every bit as well as you'd expect from such an experienced storyteller, this is a book you will want to finish in one sitting."
— BookPage

"Lescroart...delivers a winning stand-alone with Fatal."

— Florida Times-Union

"This book kept me reading, wanting to know what happens next."
— Daily Republic

"The plot teems with complexity, but Lescroart holds readers with cop dialogue that rings true."
— St. Louis Post-Dispatch

"A story about infidelity and how far reaching it is."
— Sunday Gatherings

Praise for The Fall

"Action-packed."
— Publishers Weekly

"The Fall is both a mystery and a courtroom thriller in the best ways possible."
— The Bookreporter

"There's something special about The Fall… a courtroom thriller extraordinaire that matches the best of John Grisham and Scott Turow."
— Providence Journal

"Lescroart's popularity as a legal-thriller author only stands to grow."
— Booklist

"A terrific courtroom mystery... Lescroart is a master craftsman. He knows how to juggle story elements to keep readers guessing up to the last chapter. The Fall is a tantalizing legal thriller."
— Associated Press

"Fresh, interesting and evolving."
— Daily Republic

"[A] smart and riveting legal thriller that is more complicated that it first appears to be. The plot and characters are all superb,"
— Daily American



Praise for The Keeper



— Associated Press
Atria Books, 9781501115677, 320pp.
Publication Date: January 24, 2017
About the Author
John Lescroart is the author of twenty-eight previous novels, including the New York Times bestsellers The Ophelia Cut, The Keeper, The Fall, and Fatal. His books have sold more than ten million copies and have been translated into twenty-two languages. He lives in Northern California.
or
Not Currently Available for Direct Purchase