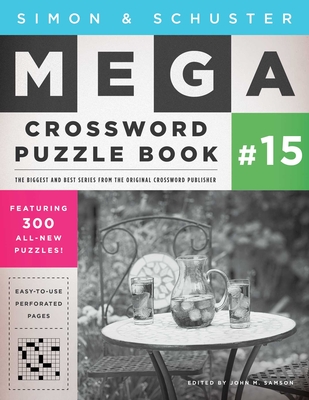 Simon & Schuster Mega Crossword Puzzle Book #15 (S&S Mega Crossword Puzzles #15)
Paperback

* Individual store prices may vary.
Other Editions of This Title:
Paperback (9/7/2021)
Paperback (9/1/2020)
Paperback (9/4/2018)
Paperback (9/10/2019)
Paperback (9/5/2017)
Paperback (10/21/2008)
Paperback (1/8/2008)
Paperback (6/7/2011)
Paperback (10/12/2010)
Paperback (1/6/2009)
Paperback (6/17/2008)
Paperback (1/4/2011)
Paperback (6/15/2010)
Paperback (6/9/2009)
Paperback (10/9/2012)
Paperback (9/30/2014)
Paperback (10/13/2009)
Paperback (12/29/2009)
Paperback (11/15/2016)
Description
This classic crossword series returns with 300 never-before-published puzzles!

Simon & Schuster published the first-ever crossword puzzle book in 1924. Now, more than ninety years later, the tradition continues with a brand-new collection of 300 difficult crosswords from expert puzzle constructor, John M. Samson.

The Simon & Schuster Mega Crossword Puzzle Book #15 is designed with convenience in mind and features perforated pages so you can tear out puzzles individually and work on them on-the-go. This new super-sized book will delight both existing fans and new puzzle enthusiasts as they discover this timeless and unique collection of entertainment. These Thursday- to Sunday-size puzzles are designed to keep you challenged and engaged, so sharpen your pencils and get ready!
Gallery Books, 9781501115868, 336pp.
Publication Date: November 17, 2015
About the Author
John M. Samson is an expert crossword puzzle constructor and editor. His crosswords have been published in leading magazines and newspapers across the country, including The New York Times. He lives in upstate New York. John's favorite published crossword is his three-page centerfold for Golf Digest featuring pictures of past US Open winners. John's puzzles have appeared in unconventional settings: on cereal boxes, a rock band's album cover, and the side of a three-story brick building. A jigsaw puzzle for US Congress members, a crossword in the shape of the H. J. Heinz keystone logo, and another in the shape of an Absolut Vodka bottle were memorable design challenges. John has been honored to construct special birthday puzzles for Lee Iacocca, F. Lee Bailey, Ed Ruscha, Keith Hernandez, Frank Sinatra, James Stewart, and Harry Connick Jr., and framed fan letters from Stephen King and Frank Sinatra hang proudly in his upstate New York office.