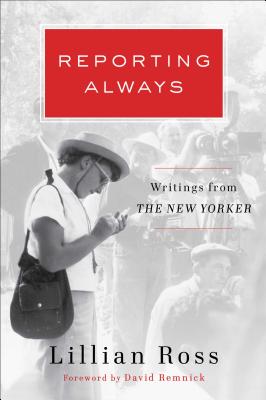 Reporting Always
Writings from The New Yorker
Hardcover

* Individual store prices may vary.
Other Editions of This Title:
Paperback (11/1/2016)
Description
From the inimitable veteran New Yorker journalist Lillian Ross—a stunning collection of Ross's iconic New Yorker pieces.

A staff writer for The New Yorker since 1945, Lillian Ross is one of the few journalists who worked for both the magazine's founding editor, Harold Ross, and its current editor, David Remnick. Ross invented the entertainment profile. She was the first person to write journalism in "scenes" as novelists do, and her profiles are full of humor and details that bring her subjects alive on the page. Her style has been studied and imitated by numerous writers. But there is only one Lillian Ross: spirited, funny, factual, and unforgettable.

Reporting Always collects a wide range of Lillian Ross's New Yorker articles and "Talk of the Town" pieces spanning sixty years, bringing readers into Robin Williams's living room; Harry Winston's office; the afterschool hangouts of Manhattan private-school children; the hotel rooms of Ernest Hemingway, John Huston, and Charlie Chaplin; onto the tennis court with John McEnroe; and into the lives of many other famous and not-so-famous characters. Ross's portraits are filled with rich details that reveal her subjects in amusing and perceptive ways.

A foreword by David Remnick discusses Ross's trademark style and her important place in the history of The New Yorker.
Praise For Reporting Always: Writings from The New Yorker…
"Lillian Ross is a consummate reporter, and therefore remains on the fringes of these unforgettable pieces of writing. But there is no doubt about her place in the pantheon of radical and dogged female storytellers. Millennials would do well to study Ross and to study her closely: her style, her technique, and her legend."
— Lena Dunham

"For anyone interested in movies from the 50s on, Lillian Ross's profiles were essential. They still are. And that was my way into her irreplaceable body of writing."
— Martin Scorcese

"There is only one Lillian Ross: spirited, funny, factual, and unforgettable. Her fabulous writing never goes out of style."
— Gay Talese

"Lillian Ross is the model for all narrative journalists. Open-eyed, sharp-witted, and fundamentally kind-hearted, she has diamond-hard reporting skills and an effortlessly graceful way with words. Each story here shows her at her best, as keen storyteller and social observer, whether she is peering into the world of Hollywood swells or bumbling school kids or wherever else her curiosity takes her. This is a glorious collection by a master of the form."
— Susan Orlean

"Exceptionally curious, exceedingly brave, with a perfect ear: through Lillian Ross and her classic reporting, we've gotten the chance to sneak into the private worlds of the great and the fascinating (Chaplin, Hemingway, Truffaut, Huston). One of the most important and influential journalists alive."
— Wes Anderson

Lillian Ross has elevated journalism--storytelling--to an art but it is her art, singular and brilliant. Her innate sense of form and eye for the telling, often humorous detail, are part of what makes her work so indelible and influential--that and her understanding of how the family of man becomes just that.
— Hilton Als

"An anthology of New Yorker stories form a living bridge to journalism's golden age...Readable and rewarding and...full of exemplary reporting."
— Kirkus

With the publication of "Reporting Always: Writings from The New Yorker," with a forward by The New Yorker's editor, David Remnick, we have the opportunity to reacquaint ourselves with the work of Ms. Ross — and to make new discoveries. For me, without doubt, the best of these discoveries is her droll and deadpan profile of the larger-than-life Brooklynite Sidney Franklin, titled "El Unico Matador." (Not incidentally, this was Ross's first New Yorker profile that appeared under her own byline.)
— Peter Stamelman
Scribner, 9781501116001, 368pp.
Publication Date: October 27, 2015
About the Author
Lillian Ross is an American journalist and author who has been a staff writer at The New Yorker since 1945. She began as a "Talk of the Town" reporter and, over the course of her career, she has written hundreds of pieces, contributing to nearly every section of the magazine.
or
Not Currently Available for Direct Purchase