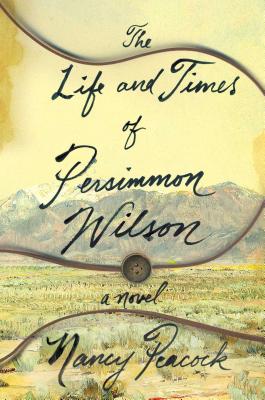 The Life and Times of Persimmon Wilson
A Novel
Hardcover

* Individual store prices may vary.
Other Editions of This Title:
Paperback (12/19/2017)
Compact Disc (1/17/2017)
Paperback (9/12/2014)
Hardcover, Large Print (2/8/2017)
Description
For fans of Cold Mountain and The Invention of Wings comes "a tour de force of historical fiction" (Henry Wiencek, author of Master of the Mountain) that follows the epic journey of a slave-turned-Comanche warrior who travels from the brutality of a New Orleans sugar cane plantation to the indomitable frontier of an untamed Texas, searching not only for the woman he loves but so too for his own identity.

I have been to hangings before, but never my own.

Sitting in a jail cell on the eve of his hanging, April 1, 1875, freedman Persimmon "Persy" Wilson wants nothing more than to leave some record of the truth—his truth. He may be guilty, but not of what he stands accused: the kidnapping and rape of his former master's wife.

In 1860, Persy had been sold to Sweetmore, a Louisiana sugar plantation, alongside a striking, light-skinned house slave named Chloe. Their deep and instant connection fueled a love affair and inspired plans to escape their owner, Master Wilson, who claimed Chloe as his concubine. But on the eve of the Union Army's attack on New Orleans, Wilson shot Persy, leaving him for dead, and fled with Chloe and his other slaves to Texas. So began Persy's journey across the frontier, determined to reunite with his lost love. Along the way, he would be captured by the Comanche, his only chance of survival to prove himself fierce and unbreakable enough to become a warrior. His odyssey of warfare, heartbreak, unlikely friendships, and newfound family would change the very core of his identity and teach him the meaning and the price of freedom.

From the author of the New York Times Notable Book Life Without Water, The Life and Times of Persimmon Wilson is a sweeping love story that "is as deeply moving and exciting an American saga as has ever been penned" (Lee Smith, author of Dimestore).
Praise For The Life and Times of Persimmon Wilson: A Novel…
"This is storytelling at its finest and most evocative. Peacock invites readers to take a journey through time, from slavery to freedom and death row, that will leave them in awe. The first-person narrative drives home the feeling of walking in Persimmon's shoes...Readers will fly through the pages until reaching the end with sadness and satisfaction."
— RT Book Reviews

"The Life and Times of Persimmon Wilson is a magnificent, immersive, breathtaking work of historical fiction. Nancy Peacock has written a beautifully crafted, richly detailed novel inhabited by morally complex and fully realized characters, enthralling and heartbreaking in equal measure."
— Jennifer Chiaverini, New York Times bestselling author of Fates and Traitors and Mrs. Lincoln's Dressmaker

"This extraordinary novel, part Cold Mountain, part Dances With Wolves, is a love story, a thriller, an epic adventure tale, and impossible to put down. Nancy Peacock writes with power and lyricism, creating characters who come to vivid life and whose struggles grip the soul. Deeply in the American grain, The Life and Times of Persimmon Wilson is a tour de force of historical fiction."
— Henry Wiencek, Author of Master of the Mountain

" 'I have been to hangings before, but never my own…' From this riveting beginning to the last perfect word, Nancy Peacock grabs her reader by the throat and makes him hang on for dear life as the action moves from a Louisiana sugar plantation to life among the western Comanches, bringing to blazing life her themes of race and true love caught in the throes of history. The Life and Times of Persimmon Wilson is as deeply moving and exciting an American saga as has ever been penned."
— Lee Smith, Author of Guests on Earth and Dime Store

"I picked this novel up and could not put it down. Nancy Peacock takes us on an astonishing journey of love and courage, from slavery to freedom to the last days of the Comanche Indians. Painted over the broad canvas of America, from Virginia to Texas, Persimmon Wilson's life quivers at the nib of his pen, as he lays down the ink that tells the fierce true story on the eve of his hanging. Nancy Peacock's lucid prose just jumps off the page, flies up in the air, and seizes you, a willing captive to the story. An extraordinary novel by a master storyteller."
— Marjorie Hudson, Author of Accidental Birds of the Carolinas and Searching for Virginia Dare

"In Persimmon Wilson Nancy Peacock creates an unforgettable character who is neither victim nor victor. From the opening pages of this fresh look at these turbulent years in American history, Peacock's third novel is a gripping page turner, with a plot that never lets go."
— Anna Jean Mayhew, Author of The Dry Grass of August

"Peacock's story is unflinching and, at times, brutally violent. Persy and the characters he meets during his travels are compelling and multifaceted… The slave narrative aspect of the novel is engaging, particularly the description of Persy's experience living with the Comanche."
— Historical Novel Reviews

"Nancy Peacock gives us some real, hard history in The Life and Times of Persimmon Wilson.She has her facts together. But Peacock gives us more than facts. She does what it takes a first-rate writer to do – she brings us the full reality of Persy Wilson's life - seen from the inside- living, struggling and managing to love under the desperately brutal conditions of slavery on a Louisiana sugar cane plantation, as a Comanche warrior – a "Black Indian", and as a man wanted for murder. This was a book I couldn't put down. I felt changed after I read it."
— Joyce Allen, Author of Hannah's House and Those Who Hold the Threads

"This novel transported me to a world I've never visited,and made me live and breathe there beside living breathing characters I was sad to leave and will remember."
— David Payne, Author of Back to Wando Passo

"In Persimmon Wilson Nancy Peacock has created a larger-than-life character who goes on a journey of the heart and finds his soul. Peacock's writing is strong, sure, powerful. Readers will relish every word."
— Ruth Moose, Author of Doing it at the Dixie Dew

"It's happened yet again. Someone has written a powerful novel… Readers who enjoyed such works as Cold Mountain will definitely revel in this moving odyssey about a man whose journey and search lead him to a remarkable self-discovery and an understanding of the powers of love and the depth of the human spirit."
— Newport Plain Talk
Atria Books, 9781501116353, 336pp.
Publication Date: January 17, 2017
About the Author
Nancy Peacock is the author of the novels Life Without Water and Home Across the Road, as well as the memoir, A Broom of One's Own: Words on Writing, Housecleaning, and Life. She currently teaches writing classes and workshops in and around Chapel Hill, North Carolina, where she lives with her husband Ben.
or
Not Currently Available for Direct Purchase