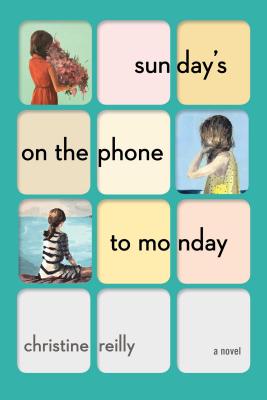 Sunday's on the Phone to Monday
A Novel
Hardcover

* Individual store prices may vary.
Other Editions of This Title:
Paperback (4/18/2017)
Compact Disc (4/12/2016)
MP3 CD (4/12/2016)
Description
The Middlesteins meets The Virgin Suicides in this arresting family love story about the eccentric yet tightknit Simone family, coping with tragedy during 90s New York, struggling to reconnect with each other and heal.

Claudio and Mathilde Simone, once romantic bohemians hopelessly enamored with each other, find themselves nestled in domesticity in New York, running a struggling vinyl record store and parenting three daughters as best they can: Natasha, an overachieving prodigy; sensitive Lucy, with her debilitating heart condition; and Carly, adopted from China and quietly fixated on her true origins.

With prose that is as keen and illuminating as it is whimsical and luminous, debut novelist Christine Reilly tells the unusual love story of this family. Poignant and humane, Sunday's on the Phone to Monday is a deft exploration of the tender ties that bind families together, even as they threaten to tear them apart.
Praise For Sunday's on the Phone to Monday: A Novel…
"Sunday's on the Phone to Monday reveals how trouble, when visited upon a loving family, can be transformed—if imperfectly—by curiosity, empathy, and imagination. We're in a poet's hands; every sentence here crackles with electric vitality. This is a unique and big-hearted novel."
— Pamela Erens, author of The Virgins

"Reilly's debut novel explores how a love evolves as responsibilities mount for two parents with three very different daughters…deft in her characterizations…full of imaginative anecdotes and vibrant details…Reilly's first novel is touching and nostalgic."
— Publishers Weekly

"Sunday's on the Phone to Monday is an energetic, captivating, and lyrical debut. Here is a writer with a wonderfully eccentric way of seeing the world, weaving a family story both whimsical and profound, in which each character is dealt with tenderly, and each sentence is an adventure. Christine Reilly is a talent to watch."
— Amy Shearn, author of The Mermaid of Brooklyn and How Far Is The Ocean From Here

"Reminiscent of Lorrie Moore, and J.D. Salinger, and "Mr and Mrs Bridge," Sunday's on the Phone to Monday is a beautiful thing, the kind of book a poet would dream a novel was."
— Daniel Wallace, author of The Kings and Queens of Roam and Big Fish

"Sunday's on the Phone to Monday is a prismatic and moving exploration of how the past can haunt, motivate, and ultimately heal us—or in the words of Natasha Simone, "Memory can be like medicine." With great empathy and a keen eye for the offbeat detail, Christine Reilly depicts a family unique in its troubles but universal in its longing to overcome them. Reilly is masterful in her illumination of the inner lives of her characters."
— Mary Otis, author of Yes, Yes Cherries

"With subtle genius and a wide-open heart, Christine Reilly invites us into a world that is at once strange and familiar. A stunning debut."
— Alethea Black, author of I Knew You'd be Lovely

"Sunday's on the Phone to Monday is a fantastic love letter to New York City. This is a multi-generational story of death and life, illness and wellness. Reilly is the undisputed master at spinning poetry into prose. Her words are arresting, poignant, and searingly optimistic."
— Kim Stolz, author of Unfriending My Ex

"A lyrical and poetic look at family, love, and loss."
— PopSugar

"This whimsical, bittersweet debut novel recalls the work of filmmaker Wes Anderson, both in subject (a complicated, tightknit family full of smart, worried people) and in style (full of quirky, impossible-to-ignore formal choices)."
— Kirkus (Starred review)

"Christine Reilly's shimmering debut hurls us into the beating center of the Simone family, and our attachment is immediate and lasting. Both tender and dark, big-hearted and heart-breaking, Sunday's on the Phone to Monday is a book you won't forget, filled with quiet power and roaring truths."
— Megan Abbott, author of The Fever

"A compelling family tale rich in vivid and relatable struggles."
— Booklist

"A novel that tells the story of one family; how each family member's life diverged from the hopes and expectations they had for themselves, and how together they'll survive the loves and losses that life holds."
— Bustle in "11 Books You'll Be Hooked On From The First Line"

"An intimate tale of love and mending."
— Harper's Bazaar in "The Best Books to Read This Winter"

"A sharply observed and bittersweet family romance with a rock 'n' roll heart.... Reilly's dreamy, slipstream style dazzles."
— Elle

"A fusion of a poet's relentless focus on the possibilities of a single word with the novelist's construction of imagined worlds."
— Kirkus.com

"It is Sunday's on the Phone to Monday that holds all the surprises here, both in character and content, not only speaking a language of its own (and tossing off some of the freshest dialogue and thought this reader has encountered in some time) but also, in what is almost a soundtrack, continuously and effectively referencing song titles of the era (with an emphasis on Bob Dylan)."
— The Buffalo News

"Fiction has a longstanding affection forcomplicated New York families (the Glasses and the Tenenbaums come to mind),and the tribe of five at the center of Christine Reilly's rich debut is nodifferent...Do novels have soundtracks? If so, we'd want to stream this one."
— (Refinery29, Best Books to Read in April)
Touchstone, 9781501116872, 336pp.
Publication Date: April 5, 2016
About the Author
Christine Reilly lives in New York City. She has taught at Sarah Lawrence College, the Dalton School, and Collegiate School. She received her Bachelor's degree from Bucknell University and her Master's degree in writing from Sarah Lawrence College. Sunday's on the Phone to Monday is her first novel.
or
Not Currently Available for Direct Purchase