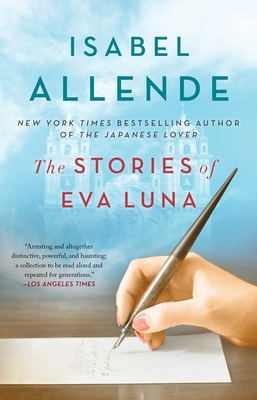 The Stories of Eva Luna (Paperback)
Atria Books, 9781501117138, 288pp.
Publication Date: April 5, 2016
Other Editions of This Title:
Paperback (11/13/2001)
Paperback (1/1/1992)
* Individual store prices may vary.
Description
An intoxicating collection of short fiction by one of the most beloved writers of our time.

Eva Luna is a young woman whose powers as a storyteller bring her friendship and love. Lying in bed with her European lover, refugee and journalist Rolf Carlé, Eva answers his request for a story "you have never told anyone before" with these twenty-three samples of her vibrant artistry. Interweaving the real and the magical, she explores love, vengeance, compassion, and the strengths of women, creating a world that is at once poignantly familiar and intriguingly new.

Rendered in her sumptuously imagined, uniquely magical style, The Stories of Eva Luna is the cornerstone of Allende's work. This treasure trove of brilliantly crafted stories is a superb example of a writer working at the height of her powers.
About the Author
Born in Peru and raised in Chile, Isabel Allende is the author of a number of bestselling and critically acclaimed books, including The House of the Spirits, Of Love and Shadows, Eva Luna, The Stories of Eva Luna, Paula, and The Japanese Lover. Her books have been translated into more than thirty-five languages and have sold more than 65 million copies worldwide. She is the receipient of the Medal for Distinguished Contribution to American Letters, and she divides her time between California and Chile.
Praise For The Stories of Eva Luna…
"Arresting and altogether distinctive, powerful and haunting; a collection to be read aloud and repeated for

generations."
— Elaine Kendall

"Eva Luna's stories are delicate, their images akin to poetry."
— Barbara Kingsolver

"Allende is a real talent, an amazingly prolific one. In her stories there are palpable life and death risks, the risks of passionate love, the risks of passionate belief, of convictions and honor."
— Leigh Allison Wilson

"Instantly seductive, richly sensual and unabashedly romantic."
— Chicago Sun-Times

"Full of grace and passion…love and revenge…enchanting…One could go on reading [Allende's] stories forever."
— Orlando Sentinel

"Isabel Allende always revives one's faith in the intoxicating power of sheer old-fashioned storytelling."
— The San Diego Union

"A fiercely erotic tour of the magical."
— Harper's Bazaar

"An extraordinary fictional potion…That all the tales are love stories is [a] bonus."
— San Francisco Chronicle

"Allende is a skilled storyteller.... She captures whole lives with the briefest of lines. In her world, the scales of destiny achieve a rough balance. Despite the brevity of these encounters, Allende makes each one matter."
— Detroit Free Press

"Allende can spin a funny, sensual yarn, but she can also use her narrative skills to remind us that parallel to our placid and comfortable existence is another, invisible universe, one where poverty, misery and torture are all too real."
— The Nation

"Some short-story collections contain such luscious fare readers devour them at one sitting, eager to hasten the moment when they can savor each tale again in the rereading."
— Edmonton Journal (Canada)

"Isabel Allende at her best. The twenty-three tales that compose the collection present a plethora of fascinating, robust characters."
— Barbara Mujica

"Allende's latest work gives us a full flavored taste of life in Latin America, but her themes touch on the universal human experience. It's a treat not to be missed."
— Southern Oregon Currents