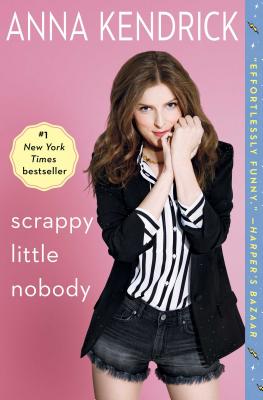 Scrappy Little Nobody
Paperback

* Individual store prices may vary.
Other Editions of This Title:
CD-Audio (11/15/2016)
Description
The New York Times bestselling collection of humorous autobiographical essays by the Academy Award nominated actress and star of Up in the Air and Pitch Perfect.

Even before she made a name for herself on the silver screen starring in films like Pitch Perfect, Up in the Air, Twilight, and Into the Woods, Anna Kendrick was unusually small, weird, and "10 percent defiant."

At the ripe age of thirteen, she had already resolved to "keep the crazy inside my head where it belonged. Forever. But here's the thing about crazy: It. Wants. Out." In Scrappy Little Nobody, she invites readers inside her brain, sharing extraordinary and charmingly ordinary stories with candor and winningly wry observations.

With her razor-sharp wit, Anna recounts the absurdities she's experienced on her way to and from the heart of pop culture as only she can—from her unusual path to the performing arts (Vanilla Ice and baggy neon pants may have played a role) to her double life as a middle-school student who also starred on Broadway to her initial "dating experiments" (including only liking boys who didn't like her back) to reviewing a binder full of butt doubles to her struggle to live like an adult woman instead of a perpetual "man-child."

Enter Anna's world and follow her rise from "scrappy little nobody" to somebody who dazzles on the stage, the screen, and now the page—with an electric, singular voice, at once familiar and surprising, sharp and sweet, funny and serious (well, not that serious).
Praise For Scrappy Little Nobody…
"This A-list firecracker does it all—blockbusters, indies, dramas, musicals, and, now, a memoir—with sleight-of-hand dexterity and fearsome wit. . . . Scrappy Little Nobody is a fizzy, funny collection of personal essays that very successfully approximates what it's like to spend time with Kendrick (long a Twitter fave, now to more than 5 million) and, as such, seems likely to have extremely widespread appeal." —ELLE

"Scrappy Little Nobody lets readers feel like they have spent an afternoon chatting with their closest friend." —Booklist

"Of the pantheon of funny, smart, strong screen women to write a memoir, Anna Kendrick's is a welcome, entertaining and endearingly honest installment." —The Guardian

"Kendrick writes essays about her life in the witty, self-deprecating voice that's made her a must-follow on Twitter." —Time

"Kendrick has won legions of fans for her movies and her quips on Twitter, and her wit continues in this collection of autobiographical essays recounting some of the most memorable, charming, and even relatable moments of her life—from growing up in New England suburbia to working her way up to become one of Hollywood's darlings." —Buzzfeed

"[Kendrick] writes an honest, effortlessly funny and alternatively relatable and aspirational reflection on her personal and professional life to date. Her essays jump from grade school reminiscences to Louis Vuitton Oscar parties to the typical highs and lows of adult dating life, revealing the witty, talented and disarmingly real girl behind the Hollywood name." —Harper's Bazaar

"The Pitch Perfect star can sing, act, and write hilarious tweets. Fortunately she's imbued the pieces in Scrappy Little Nobody with that same humor." —Entertainment Weekly

"This collection of essays about the life of everyone's favorite actress Anna Kendrick will have you laughing for days. After all, this is the woman who could even make Twilight funny." —Bustle

"[Kendrick] displays real wit and comic timing on the page." —Publishers Weekly

"I had a giant smile on my face the entire time I was reading Scrappy Little Nobody." —Brooklyn Paper

"Ridiculously entertaining." —Associated Press

"The craziest thing of all is that [Kendrick] manages to seem likable and down-to-earth across 275 pages(!). . . . In an era of manufactured authenticity, it's honestly impressive." —Chicago Tribune
Gallery Books, 9781501117220, 304pp.
Publication Date: August 22, 2017
About the Author
Born and raised in Portland, Maine, Anna Kendrick made her Broadway debut at the age of twelve in her Tony-nominated performance for the musical High Society. Since her Academy Award–nominated role as Natalie Keener in Up in the Air, she has made numerous theatrical appearances, including starring roles in Into the Woods, the Twilight saga, and the Pitch Perfect film franchise. In 2013, she achieved musical success with the triple-platinum hit song "Cups (When I'm Gone)," featured in Pitch Perfect. She lives in Los Angeles.