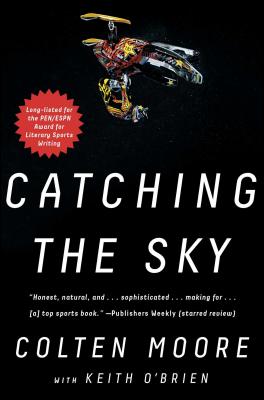 Catching the Sky
Paperback

* Individual store prices may vary.
Other Editions of This Title:
Digital Audiobook (1/18/2016)
Hardcover (1/19/2016)
Description
Discover the true "uplifting, exhilarating, tragic and triumphant" (The Dallas Morning News) story of the Moore brothers' heartbreaking experience at the Aspen Winter X Games from the man who lived it as he struggled to move on from tragedy, defeat the odds, honor his family, and win gold.

Colten and Caleb Moore were two brothers who heeded the call of extreme sports. Their dreams, paired with hard work and family sacrifice, eventually became reality. With their striking athleticism, innovation, and appetite for risk, the Moore brothers became stars on the burgeoning freestyle ATV and snowmobile circuits. If it had wheels or treads, they could flip it—often higher and better than anyone else—joining a band of pioneers intent on breaking new ground and in a new sport before multitudes of fans at the X Games and beyond.

In this vivid, page-turning adventure narrative, Colten Moore offers a profound and deeply moving perspective on his life and that of his older brother, who tragically lost his life while competing in Aspen in 2013. Catching the Sky is a clear-eyed look at extreme sports, what drives people to take wild chances, and how one man, Colten, couldn't stop even after the worst possible outcome. His story reminds us that we can dream and sometimes achieve the impossible, that we can follow our own path, that we can lose everything, only to find it again—often in the most unlikely place.
Praise For Catching the Sky…
"Far more than astory of sports—this is a brilliant slice of American life, a classic tale of acouple of good old boys who dared to fly, dared to dream big, and paid aterrible price. Catching the Sky is a white-knuckle ride you'llnever forget."
— Jonathan Eig

"From the first page of Catching the Sky to the last, I thoughtthe Moore brothers and everyone around them were stone crazy. But the story isso well told that I couldn't stop reading, and by the end, even I—a totalskeptic—could see a flash of nobility in the crazy urge to fly a snowmobile."
— James Tobin

"Watching the X Games is a little bit like reading Catching the Sky. Once you start, it's hard to stop. Journalist Keith O'Brien pulls a story out of snowmobiler Colten Moore that is filled with brisk tension, real emotion and heart-stopping action."
— Doug Most

"More sophisticated than readers might expect, [it's] an early contender for 2016's top sports books."
— Publisher's Weekly (Starred Review)

"With skill and courage, soaring through the air on snarling machines, the Moore brothers would travel from the hardscrabble Texas flatlands to international renown and riches. Set in an era of high-stakes sports as entertainment, their story is a parable for our times. With crisp, evocative writing, Catching the Sky captures their wins and losses with heart and grace, and leaves one with the utmost concern over the consequences of the terrible risks they take."
— Mat Higgins

"I didn't know anything about snowmobiling before I read Catching the Sky—but we all know about family, personal tragedy, and redemption. True, the Moore brothers are more courageous—or crazier, take your pick—than most of us, but Colten's dream is everyone's dream: 'To live the life I wanted.' It's hard not to admire Colten's determination to do exactly that—and it's hard to put down Catching the Sky. Keith O'Brien can flat-out write."
— John U. Bacon

"At turns turns uplifting, exhilarating, tragic and triumphant."
— Dallas Morning News
37 Ink, 9781501117251, 288pp.
Publication Date: February 7, 2017
About the Author
Colten Moore is a six-time X Games medalist and a pioneer in the world of extreme sports. He has competed and performed around the world but will always consider his native Texas home. He lives in suburban Dallas.

Keith O'Brien is an award-winning journalist. His work has appeared in publications such as the New York Times Magazine, Slate, and on NPR. He is the author of Outside Shot, a book chronicling the power and meaning of basketball in rural Kentucky.
or
Not Currently Available for Direct Purchase