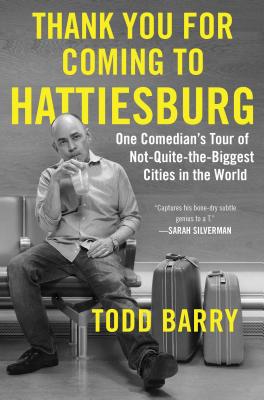 Thank You for Coming to Hattiesburg
One Comedian's Tour of Not-Quite-the-Biggest Cities in the World
Hardcover

* Individual store prices may vary.
Other Editions of This Title:
Digital Audiobook (3/13/2017)
Paperback (10/10/2017)
Description
From the veteran comedian and actor from The Wrestler and Louie comes a hilarious book of travel essays from his time on tour through secondary markets in the US, Canada, and Israel.

Hello. It's Todd Barry. Yes, the massively famous comedian. I have billions of fans all over the world, so I do my fair share of touring. While I love doing shows in the big cities (New York, Philadelphia), I also enjoy a good secondary market (Ithaca, Bethlehem). Performing in these smaller places can be great because not all entertainers stop there on tour; they don't expect to see you. They're appreciative. They say things like "Thank you for coming to Hattiesburg" as much as they say "Nice show." And almost every town has their version of a hipster coffee shop, so I can get in my comfort zone.

My original plan was to book one secondary market show in all fifty states, in about a year, but that idea was funnier than anything in my act. So, instead of all fifty states in a year, my agent booked multiple shows in a lot of states, plus Israel and Canada.

Thank You For Coming to Hattiesburg is part tour diary, part travel guide, and part memoir (Yes, memoir. Just like the thing presidents and former child stars get to write). Follow me on my journey of small clubs, and the occasional big amphitheater. Watch me make a promoter clean the dressing room toilet in Connecticut, see me stare at beached turtles in Maui, and see how I react when Lars from Metallica shows up to see me at a rec center in Northern California.

I'd love to tell you more, but I need to go book a flight to Evansville, Indiana.
Praise For Thank You for Coming to Hattiesburg: One Comedian's Tour of Not-Quite-the-Biggest Cities in the World…
"Todd Barry has always been hysterical, but he has never gotten filthy rich off a book. Let's make that happen!"
— Judd Apatow, New York Times bestselling author of Sick in the Head

"Few comedians have mastered sarcasm with a dose of warmth the way the great Todd Barry has. Also Todd would not have ended the previous sentence with a verb."
— Jim Gaffigan, New York Times bestselling author of Dad is Fat

"Todd Barry is not just one of my oldest friends in comedy but one of my favorite comedians, and this book captures his bone-dry subtle genius to a T."
— Sarah Silverman, New York Times bestselling author of The Bedwetter

"No one else has mastered the art of at once self-deprecating and self-aggrandizing like Barry, and his trip through America is irresistibly funny...one of the funniest comics working today."
— Vogue

"With this charming, sardonic debut, stand-up comedian and actor Barry makes readers laugh as hard as the audiences at his shows…Barry is continuously entertaining."
— Publishers Weekly

"Watching Todd Barry perform live is one of my favorite things to do in life. I've known him for almost 30 years so that's saying a lot. He really is one of the funniest comics I've ever seen."
— Marc Maron, New York Times bestselling author of Attempting Normal

"One of the most truly gifted and skilled wordsmiths and creators in the world of comedy."

— Doug Stanhope, author of Digging Up Mother: A Love Story

"Todd Barry has single-handedly created an epic masterpiece for the ages--and I say that as someone who has not yet had time to read this book. But knowing Todd, I would expect nothing less."
— "Weird Al" Yankovic

"A self-portrait that is as honest as it is enigmatic...a hysterical travelogue."
— Oscar-nominated actor Jesse Eisenberg

"One of my favorite comedians and my pal Todd Barry is going to bring this nation back together with this engaging, uniquely hilarious tour memoir. It's a love letter to what the real American dream is all about, filled with gloriously specific details and snort-laughing-when-reading-jokes. I truly loved this book. You'll be sad when it's over. Also, It kills Todd that I said ONE of my favorite comedians."
— Jen Kirkman, author of I Can Barely Take Care Of Myself

"Todd Barry is LITERALLY my favorite comedian of all time, in the sense that he's among the handful of comedians working today I look forward to seeing live. He's known around my house as "the master" and although I haven't read a word of this book, it's already in my top 10 books I've ever read."
— Tim Heidecker, author of Tim and Eric's Zone Theory

"In recounting the hows-and-whys of deliberately steering a tour into the not-particularly-fast lane, Todd Barry animates the mundane with the same skill that makes his stand-up sets so uniquely funny. A fascinating memoir that doubles as the perfect souvenir of the Todd Barry experience."
— Neil Hamburger, America's Funnyman
Gallery Books, 9781501117428, 272pp.
Publication Date: March 14, 2017
About the Author
Todd Barry is a stand-up comedian and actor who has appeared on The Late Show with David Letterman, and Late Night with Conan O'Brien. He's had three Comedy Central specials, and his fourth, The Crowd Work Tour, (produced by Louis CK) is currently on Netflix. Acting credits include Louie, The Larry Sanders Show, Flight of the Conchords, and as Mickey Rourke's mean boss in The Wrestler. He has released four comedy albums including Medium Energy, named one of the best comedy albums of the decade by The Onion's AV Club. Find more from Todd on his Facebook page: Facebook.com/ToddBarryFanPage, follow him on Twitter @ToddBarry, and check out ToddBarry.com.
or
Not Currently Available for Direct Purchase