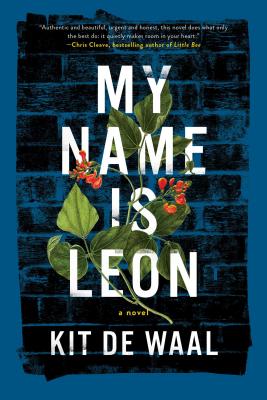 My Name Is Leon (Hardcover)
Simon & Schuster, 9781501117459, 304pp.
Publication Date: July 26, 2016
Other Editions of This Title:
Digital Audiobook (7/25/2016)
Paperback (7/25/2017)
* Individual store prices may vary.
Description
For fans of The Language of Flowers, a sparkling, big-hearted, page-turning debut set in the 1970s about a young black boy's quest to reunite with his beloved white half-brother after they are separated in foster care.

Leon loves chocolate bars, Saturday morning cartoons, and his beautiful, golden-haired baby brother. When Jake is born, Leon pokes his head in the crib and says, "I'm your brother. Big brother. My. Name. Is. Leon. I am eight and three quarters. I am a boy." Jake will play with no one but Leon, and Leon is determined to save him from any pain and earn that sparkling baby laugh every chance he can.

But Leon isn't in control of this world where adults say one thing and mean another, and try as he might he can't protect his little family from everything. When their mother falls victim to her inner demons, strangers suddenly take Jake away; after all, a white baby is easy to adopt, while a half-black nine-year-old faces a less certain fate. Vowing to get Jake back by any means necessary, Leon's own journey—on his brand-new BMX bike—will carry him through the lives of a doting but ailing foster mother, Maureen; Maureen's cranky and hilarious sister, Sylvia; a social worker Leon knows only as "The Zebra"; and a colorful community of local gardeners and West Indian political activists.

Told through the perspective of nine-year-old Leon, too innocent to entirely understand what has happened to him and baby Jake, but determined to do what he can to make things right, he stubbornly, endearingly struggles his way through a system much larger than he can tackle on his own. My Name Is Leon is a vivid, gorgeous, and uplifting story about the power of love, the unbreakable bond between brothers, and the truth about what, in the end, ultimately makes a family.
About the Author
Kit de Waal is an award-winning short story writer. She was born in Birmingham, UK, to an Irish mother and Kittian father. She worked for fifteen years in criminal and family law and writes about the urban underbelly, forgotten and overlooked places where the best stories are found. She has an MA in Creative Writing from Oxford Brookes University and is a founder member of Leather Lane Writers and Oxford Narrative Group. My Name Is Leon is her first book.
Praise For My Name Is Leon…
"An inspiring debut. . . . My Name Is Leon grows an entire garden of vibrant characters who, through shared experiences with societal racism, become the nurturing family Leon needs. Their arrangements may not be traditional, but the exquisite results prove that families can sprout in the most unlikely places." —Shelf Awareness

"Taut, emotionally intense, and wholly believable, this beautiful and uplifting debut gives readers a hero to champion." —Kirkus Reviews

"De Waal's debut novel is exemplary in its portrayal of tender Leon, and his child's worldview of tragic events adds pathos to trying circumstances. . . . This moving exploration of race and the foster-care system offers precious insight into the mind of a child forced to grow up well before his time." —Booklist

"Kit de Waal has already garnered praise and attention for her short fiction. She worked in family and criminal law for many years, and wrote training manuals on fostering and adoption; she also grew up with a mother who fostered children. This helps explain the level of insight and authenticity evident in My Name Is Leon, her moving and thought-provoking debut novel. . . De Waal skilfully brings her adult characters to life through the perspective of her child protagonist and she bestows great compassion on all her protagonists." —The Guardian

"This is the unforgettable story of a boy struggling to belong, and the author captures both his mindset and the period impeccably. Heartbreaking and uplifting—just read it." —The Daily Mail

"Leon is pure goodwill in a wicked world, and he won't leave you when you put this unique book down. Authentic and beautiful, urgent and honest, this novel does what only the best do: it quietly makes room in your heart. At the end of the story I couldn't bear to close the book on Leon. I felt I was abandoning him. I wanted to talk about it straightaway with someone else who'd read it, and I know a great many readers will feel the same." —Chris Cleave, bestselling author of Little Bee

"There is something about small boys and mothers that really tugs at me. I found it tender and heart-breaking." —Rachel Joyce, bestselling author of The Unlikely Pilgrimage of Harold Fry

"An important book and a beautiful story told with compassion, urgency, and wit. My Name Is Leon is in many ways a tribute to kindness: to those who need it most, and those who distribute it with least reward. Leon and Maureen are heroes, and I fell in love with them instantly." —Stephen Kelman, author of the Man Booker Prize-shortlisted Pigeon English

"Please read this book because Leon needs you as a champion, as does every Leon out there now. This is a superbly written book that will break your heart but also I hope spur you to action." —Heidi Durrow, New York Times bestselling author of The Girl Who Fell from the Sky
or
Not Currently Available for Direct Purchase