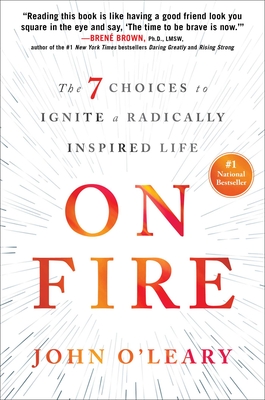 On Fire
The 7 Choices to Ignite a Radically Inspired Life
Hardcover

* Individual store prices may vary.
Other Editions of This Title:
Digital Audiobook (3/14/2016)
CD-Audio (3/15/2016)
Paperback (12/31/2050)
Description
In the bestselling tradition of Brene Brown's Daring Greatly and Nick Vujicic's Life Without Limits comes a rousing 7-step plan for living a life on fire, filled with hope and possibility—from an inspirational speaker who survived a near-fatal fire at the age of nine and now runs a successful business inspiring people all around the world.

When John O'Leary was nine years old, he was almost killed in a devastating house fire. With burns on one hundred percent of his body, O'Leary mustered an almost unimaginable amount of inner strength just to survive the ordeal. The insights he gained through this experience and the heroes who stepped into his life to help him through the journey—his family, the medical staff, and total strangers—changed his life. Now he is committed to living life to the fullest and inspiring others to do the same.

An incredible and emotionally honest account of triumph over tragedy, On Fire contains O'Leary's reflections on being that little boy, the life-giving choices made then, and the resulting lessons he learned. O'Leary very clearly shares that without the right people providing the right guidance, at the right time, he never would have made it through those five months in the hospital, let alone the years that followed as he struggled to regain mobility, embrace his story, and ignite clarity of his life's purpose.

On Fire encourages us to seize the power to choose our path and transform our lives from mundane to extraordinary. Once we stop thinking solely on the big moments in our lives, we can begin to focus on those smaller opportunities that tend to pass us by. These are the events—the inflection points in our lives—that can determine how we feel about life now, where we are headed in the future, and how many lives we can impact along the way. We can't always choose the path we walk, but we can choose how we walk it. Empowering, inspiring, remarkably honest, and heartfelt, O'Leary's strength and incredible spirit shine through on every page.
Praise For On Fire: The 7 Choices to Ignite a Radically Inspired Life…
My company gets the chance to hear from some of the country's best speakers, and my friend John O'Leary is one of the best we've ever had. His incredible story of persistence, passion, and intense focus left a mark on my team that we we're still talking about more than a year later. Don't miss John's message—he will change your life!
— Dave Ramsey, New York Times best-selling author and nationally syndicated radio show host

On Fire, by John O'Leary, celebrates the beauty of LIFE! Through courageously sharing his own pain and devastating loss, O'Leary reveals how crucial it is for us to keep moving forward after a setback or trial—still hope, still dream, still see the possibilities before us. Eventually we must all make the choice to truly live or just exist. A magnificent and inspiring read!
— Sean Covey, author of The 7 Habits of Highly Effective Teens and The 6 Most Important Decisions You'll Ever Make

I can count on one hand the number of books I've read that created an urgency to push away my fears and past mistakes to step fully into life. Drawn in by John's incredible story and conversational writing style, On Fire helped me see life's trials as steppingstones to an enhanced version of me. John's powerful truths enabled me to stop seeing what I can't do and see the opportunities still available. On Fire offers a redemptive invitation to all, leading us to believe that no matter how many times we've fall down, no matter how dismal the current situation, the best is yet to come.
— Rachel Macy Stafford, New York Times bestselling author of Hands Free Life

John O'Leary is truly one of the most amazing humans on theplanet. His story will not only inspire you but give you practical ideas forhow to enjoy your life more, appreciate all that you have, and push you toachieve all that you are capable of doing.
— Rory Vaden, Cofounder of Southwestern Consulting and New York Times bestselling author of Take the Stairs

There a rare handful of people in the world whose life story will change you forever. John O'Leary is one of these people. The powerful life lessons in this book will forever inspire you to live, lead and love differently.
— Tommy Spaudling, New York Times bestselling author of The Heart-Led Leader and It's Not Just Who You Know

John is the embodiment of someone who made a powerful choice to not be defined by his challenges. This book is a reminder to us all that no matter what happens in life, we deserve and are capable of discovering our passion, pursuing our dreams and making a meaningful impact on the world.
— Christine Hassler, author of Expectation Hangover

Fast-paced, emotional and surprisingly funny, On Fire is an amazing reminder that we might not be able to choose the path we walk in life, but we can always choose the manner in which we walk it.
— Joe Buck, Fox Sports

This is a book about coming alive -- about practicing courage and fully showing up at home, work, and with the people we love. John is a storyteller, change-maker, and cage-rattler. Reading this book is like having a good friend look you square in the eye and say, 'The time to be brave is now.'
— Brené Brown, Ph.D., LMSW, author of the #1 New York Times bestsellers Daring Greatly and Rising Strong

If you haven't heard John O'Leary speak from the platform of a sold out arena, you're missing out on an incredible message. But you're in luck! John has put his inspirational and life-changing message into this brilliant book. His story and words of wisdom will not only encourage you, they will ignite a passion to live your life to the fullest.
— Les Parrott, Ph.D. #1 New York Times best-selling author of You're Stronger Than You Think
Gallery Books, 9781501117725, 288pp.
Publication Date: March 15, 2016
About the Author
John O'Leary shares his expertise on overcoming adversity and how to live inspired with more than 50,000 people at more than 120 live events each year around the world. In 2006, he was inducted into the Energizer "Keep Going" Hall of Fame. He was selected as Saint Louis University young alumni of the year in 2008, was voted "Speaker of the Year" for Vistage International, and was recently chosen as one of the Top Ten "Most Interesting People" in Saint Louis, Missouri. He is also a lifestyle contributor for ParadeMagazine.com. He considers his greatest success to be his marriage to Beth, their four young children, and his relationships with friends and family.