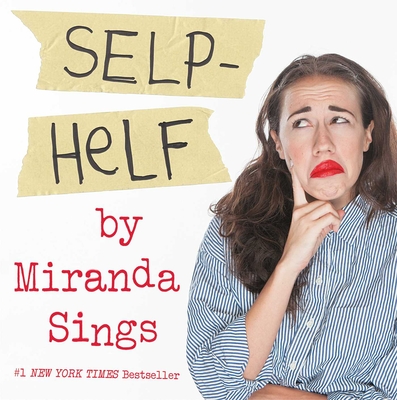 Selp-Helf (Hardcover)
Gallery Books, 9781501117947, 240pp.
Publication Date: July 21, 2015
Other Editions of This Title:
Paperback (6/11/2019)
Hardcover (7/21/2015)
* Individual store prices may vary.
Description
In this decidedly unhelpful, candid, hilarious "how-to" guide, YouTube personality Miranda Sings offers life lessons and tutorials with her signature sassy attitude.

Over six million social media fans can't be wrong: Miranda Sings is one of the funniest faces on YouTube. As a bumbling, ironically talentless, self-absorbed personality (a young Gilda Radner, if you will), she offers up a vlog of helpful advice every week on her widely popular YouTube channel. For the first time ever, Miranda is putting her advice to paper in this easy-to-follow guide, illustrated by Miranda herself. In it, you'll find instructions on everything: how to get a boyfriend (wear all black and carry a fishing net), to dressing for a date (sequins and an orange tutu), to performing magic ("Magic is Lying"), and much, much more! Miranda-isms abound in these self-declared lifesaving pages, and if you don't like it…well, as Miranda would say…"Haters, back off!"
About the Author
YouTube personality Miranda Sings, created by comedian Colleen Ballinger, is a hilariously underwhelming "singer, model, and magician." Known for her comically toneless singing, terrible advice, and in-your-face red lipstick (applied well outside of her lips, of course), Miranda never fails to elicit hysterical laughter. From collaboration with super "Mirfanda" Jerry Seinfeld, to drawing millions of fans around the world to live performances, to creating, producing, writing and starring in two seasons of her own Netflix Original Series, Haters Back Off, Miranda dominates both the "innernet" scene and live audiences all over the world.