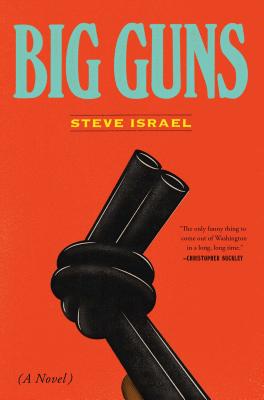 Big Guns
A Novel
Hardcover

* Individual store prices may vary.
Other Editions of This Title:
Digital Audiobook (4/16/2018)
Paperback (4/23/2019)
Compact Disc (4/17/2018)
Description
From Steve Israel, the congressman-turned-novelist who writes "in the full-tilt style of Carl Hiaasen" (The Washington Post), comes a comic tale about the mighty firearm industry, a small Long Island town, and Washington politics.

When Chicago's Mayor Michael Rodriguez starts a national campaign to ban handguns from America's cities, towns, and villages, Otis Cogsworth, the wealthy chairman and CEO of Cogsworth International Arms worries about the effects on his company. In response he and lobbyist Sunny McCarthy convince an Arkansas congressman to introduce federal legislation mandating that every American must own a firearm. Events soon escalate.

Asabogue's Mayor Lois Leibowitz passes an ordinance to ban guns in the town—right in Otis Cogsworth's backyard. Otis retaliates by orchestrating a recall election against Lois and Jack Steele, a rich town resident, runs against her. Even though the election is for the mayor of a village on Long Island, Steele brings in the big guns of American politics to defeat Lois: political consultants, Super PACs, and celebrities. Soon, thousands of pro-gun and anti-gun partisans descend on Asabogue, along with an assortment of heavily armed rightwing militias and the national news media. Bucolic Asabogue becomes a tinderbox. Meanwhile, Washington politicians in both parties are caught between a mighty gun lobby whose support they need for reelection and the absurdity of requiring that every American with waivers for children under age four carry a gun. What ensues is a discomfiting, hilarious indictment of the state of American politics.

Former Long Island Congressman, Steve Israel has firsthand knowledge of the cynicism and corruption at the heart of our political system. Big Guns will make you laugh, will make you angry, and will make you think as you flip the pages faster and faster to find out what happens next.
Praise For Big Guns: A Novel…
"This book delivers what America needs now more than ever—a good laugh at ourselves. Big Guns is a satire about the gun lobby, political corruption, and Washington power, but it is more than the sum of its parts; it's a serious indictment of America, told by a man who has spent sixteen years in Congress and knows of what he writes. Steve Israel is not only a fine writer; he is perhaps the finest, funniest, and best political satirist writing today. You don't need to completely agree with him (I don't) but you need to hear what he has to say. Congress should pass a law making Big Guns mandatory reading for themselves."—Nelson DeMille

"Former Congressman Steve Israel, the only funny thing to come out of Washington in a long, long time, hits the bulls-eye. Hilarious and ingenious—and pleasingly wicked."—Christopher Buckley

"Honestly? It irritates me that Steve is such a terrific writer. To have his political insight and wisdom, and then, on top of that, have the skill to spin it into something so uniquely his own, with comedic timing so crisp, rhythmic and musical—and funny!—seems, frankly, unfair. Big Guns is a great, and timely, read."—Paul Reiser

"Big Guns is a knowing, witty, dark look at the madness that has overtaken American politics. A former Congressman, Steve Israel knows his subject. One of the most gifted acrobats has left the circus, picked up a laptop and blown the cover off the big top. Defying gravity, he somehow makes us laugh at the outrages and absurdities of Congress, campaigns, and the media."—Paul Begala

"Wow! Another great book from Steve Israel, this time a timely satire about a very serious subject. Something's got to get us to change. Maybe this will."—Ken Burns

"New York congressman-turned-novelist Israel delivers a second brilliant political satire…this time targeting the firearms industry and the Washington political establishment…Promise readers that the only way they will put this book down is when Charlton Heston's ghost pries it from their cold dead hands."—Booklist, Starred Review

"An entertaining satire…Israel recalls Carl Hiaasen and Christopher Buckley in their liberal bents and sense of the perniciously absurd."—Kirkus, Starred Review

"Wonderfully irreverent. ... This clever political farce exposes the extremism of the gun rights issue, both pro and con, with a smart plot, loud, noisy characters, and hilarious dialogue. ... Israel [nails] the D.C. scene and national political hubris perfectly: empty suits with heads to match. It's a rollicking comedic trip." —Publishers Weekly
Simon & Schuster, 9781501118029, 320pp.
Publication Date: April 17, 2018
About the Author
Congressman Steve Israel was the former United States Representative for New York's third congressional district, serving in the United States Congress from 2001 to 2017. Born and raised in Brooklyn and on Long Island, Israel graduated from George Washington University. He is the author of the novels The Global War on Morris and Big Guns.
Coverage from NPR
or
Not Currently Available for Direct Purchase