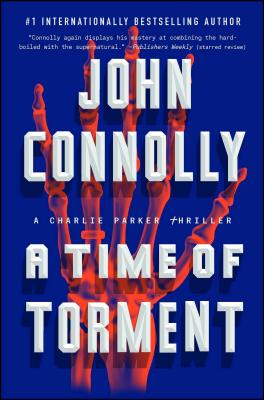 A Time of Torment (Paperback)
A Charlie Parker Thriller
Atria/Emily Bestler Books, 9781501118333, 496pp.
Publication Date: May 23, 2017
* Individual store prices may vary.
Description
#1 internationally bestselling author John Connolly delivers a masterful combination of "the hard-boiled with the supernatural" (Publishers Weekly, starred review) with this return of dangerous and driven private investigator Charlie Parker as he battles an old evil that haunts a strange and isolated community.

Jerome Burnel was once a hero. He intervened to prevent multiple killings, and in doing so damned himself. His life was torn apart, imprisoned and brutalized.

But in his final days, with the hunters circling, he tells his story to private detective Charlie Parker. He speaks of the girl who was marked for death, but was saved; of the ones who tormented him, and an entity that hides in a ruined stockade.

Parker is not like other men. He died, and was reborn. He is ready to wage war.

Now he will descend upon a strange, isolated community called the Cut, and face down a force of men who rule by terror, intimidation, and murder.

All in the name of the being they serve. All in the name of the Dead King.
About the Author
John Connolly is the author of the Charlie Parker series of mystery novels, the supernatural collection Nocturnes, the Samuel Johnson Trilogy for younger readers, and (with Jennifer Ridyard) the Chronicles of the Invaders series. He lives in Dublin, Ireland. For more information, see his website at JohnConnollyBooks.com, or follow him on Twitter @JConnollyBooks.
Praise For A Time of Torment: A Charlie Parker Thriller…
"Connolly again displays his mastery at combining the hard-boiled with the supernatural."

"There are a few authors whose novels are my own personal equivalent to comfort food. Stephen King is one; John Connolly is another."

"The beauty of John Connolly's Charlie Parker novels is how the characters continue to evolve."

"John Connolly is one of the best writers working today . . . A Time of Torment may be his best work to date. And that is no small feat."

"The Charlie Parker series is my favorite series of all time. In any genre. Perhaps because it doesn't fit neatly into any one genre. It's gritty crime novels with supernatural elements and a mystery that spans across the entire series."

"John Connolly takes the reader kicking and screaming to places they probably didn't know existed . . . . If you love thriller mysteries with an air of the mystical, then you need to read A Time of Torment!"

"John Connolly writes with his always superb, poetic prose, and its beauty is in wonderful contrast to the subtle, and sometimes not so subtle (one bad guy has dentures made of razor blades), horrors he describes."

"It doesn't get any better than this. Seriously . . . . [A Time of Torment] shines and depresses, overjoys and frightens, from page to page, paragraph to paragraph, sentence to sentence . . . . you will want to go back to the beginning and read every word of this series, in sequential order, upon completion of this latest installment."

"This eerie thriller has made a forever-fan of me . . . . You may write, and I may write, but nobody else will ever, ever be able to write like Connolly. Our story is part of the Charlie Parker series, but I have not read any of the others and found I was able to hop into this story as a single read with no difficulty."

"Suspense fans won't want to miss Connolly's A Time of Torment. It's gripping and gritty all the way through."