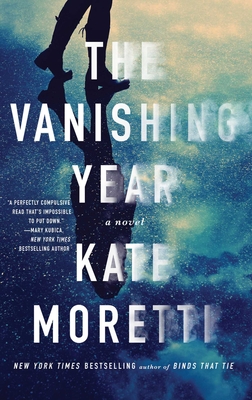 The Vanishing Year
A Novel
Paperback

* Individual store prices may vary.
Other Editions of This Title:
Digital Audiobook (9/26/2016)
Description
"The Vanishing Year is a stunner. A perfectly compulsive read that's impossible to put down." –Mary Kubica

"A chilling, powerful tale of nerve-shattering suspense." –Heather Gudenkauf

Nominated for "Best Mystery & Thriller" by Goodreads Choice Awards 2016

Zoe Whittaker is living a charmed life. She is the beautiful young wife to handsome, charming Wall Street tycoon Henry Whittaker. She is a member of Manhattan's social elite. She is on the board of one of the city's most prestigious philanthropic organizations. She has a perfect Tribeca penthouse in the city and a gorgeous lake house in the country. The finest wine, the most up-to-date fashion, and the most luxurious vacations are all at her fingertips.

What no one knows is that five years ago, Zoe's life was in danger. Back then, Zoe wasn't Zoe at all. Now her secrets are coming back to haunt her.

As the past and present collide, Zoe must decide who she can trust before she—whoever she is—vanishes completely.

A "dark, twisty, edge-of-your-seat suspense" (Karen Robards), The Vanishing Year combines the classic sophistication of Ruth Rendell and A.S.A. Harrison with the thoroughly modern flair of Jessica Knoll. Told from the point-of-view of a heroine who is as relatable as she is enigmatic, The Vanishing Year is an unforgettable new novel by a rising star of the genre.
Praise For The Vanishing Year: A Novel…
"A woman's perilous past and her affluent present converge in Kate Moretti's latest jaw-dropping thriller. Replete with unsavory characters, buried secrets, and a bounty of unexpected twists and turns, The Vanishing Year is a stunner. A perfectly compulsive read that's impossible to put down."
— Mary Kubica, New York Times bestselling author of Don't You Cry

"The Vanishing Year is a chilling, powerful tale of nerve-shattering suspense. Kate Moretti pieces together a stunning, up-all-night thriller with a throat-gripping twist that will leave the reader reeling."
— Heather Gudenkauf, New York Times bestselling author of Missing Pieces

"Great pacing and true surprises make this an exciting read. Fans of twisted thrillers featuring complex female characters will devour Moretti's latest."
— Kirkus Reviews (starred review)

"The Vanishing Year is intimate, conversational company, and its plot is strong, its closing twists superb."
— New York Times Book Review

"Moretti maintains a fast pace...chillingly satisfying."
— Publishers Weekly

"Fans of S. J. Watson, Lisa Unger, and Sophie Hannah will enjoy this fast-paced psychological suspense novel."
— Booklist

"This psychological thriller evolves into sheer terror…the outcome will amaze readers."
— RT Magazine

A Woman's World Book Club Pick

"Readers will wonder who is good, evil, or simply the victim of misguided thinking as they devour bestselling author Kate Moretti's latest book, full of expertly placed screens and revelations."
— BookPage

"Some of the most suspenseful writing in the genre…adroitly written."
— Crime Time Magazine

"The Vanishing Year is dark, twisty, edge-of-your-seat suspense. I read it in a single sitting and enjoyed every word. I highly recommend it!"
— Karen Robards, New York Times bestselling author of The Last Time I Saw Her

"The tantalizing plot twists layered atop the juxtaposition of the protagonist's troubled past and the opulence of her current life are not only intriguing, they'll keep you reading The Vanishing Year far into the night. Well done, Ms. Moretti, well done!"
— Lesley Kagen, New York Times bestselling author of Whistling in the Dark and The Resurrection of Tess Blessing

"The Vanishing Year is more than an engaging tale of utter betrayal. It's an intricate dance of realities, full of twists and turns you won't see coming. Kate Moretti has outdone herself. You'll miss your bedtime, guaranteed."
— J.T. Ellison, New York Times bestselling author of No One Knows

"The Vanishing Year is part psychological study, part thriller, part journey of a lost woman finding herself amidst the chaos and confusion of abuse. Expertly told with secrets, twists and whip-smart prose, Kate Moretti shows in her third book that she deserves her New York Times best seller status. The Vanishing Year will live in your mind long after you put the book down."
— Ann Garvin, author of The Dog Year

"The Vanishing Year takes us from the heights of New York Society to the depths of the depraved mind. In this gut-grabbing novel Moretti creates a glittery world of dreams and nightmares. Moves and counter-moves. Clear your schedule and brew a pot of coffee. You're going to be up all night with this one."
— T.E Woods, author of The Justice Series

"Kate Moretti's The Vanishing Year is a Rebecca for the modern age—a novel filled with doubts and deception, secrets and history. Society wife Zoe Whitaker must confront the age-old question of whether forgetting our past dooms us to endless repetition--and more heartache and danger than one woman can bear."
— Jenny Milchman, author of As Night Falls

"Engaging, intriguing, heart-pounding. In The Vanishing Year, Kate Moretti brings us the story of a Zoe Whittaker who has whitewashed her past and taken on a new and pristine identity. Of course, nothing is exactly as it seems to Zoe, and nothing is as it seems to the reader either. The twists had me gasping, the details had me transfixed. I cared about Zoe right away, which along with everything else, made it impossible for me to stop reading this book."
— Amy Sue Nathan, author of The Glass Wives

"The Vanishing Year is the perfect mix of pulse-pounding action and exquisite prose. The complex, unpredictable plot and Kate's layered, multidimensional characters kept me hooked until the very last satisfying page. This book is sure to be one of this year's most talked about thrillers!"
— Nicole Baart, author of The Beautiful Daughters

"The Vanishing Year dazzles with New York's high society, one woman's dark and twisted past, and a marriage brimming with secrets and lies. Part psychological thriller, part edge-of-your-seat suspense, this gorgeously written novel will keep you guessing until the final reveal. Unputdownable."
— Karen Katchur, author of The Secrets of Lake Road
Atria Books, 9781501118432, 304pp.
Publication Date: September 27, 2016
About the Author
Kate Moretti is the New York Times bestselling author of Thought I Knew You, Binds That Tie, and While You Were Gone. She lives in eastern Pennsylvania with her husband and two kids. Find out more at KateMoretti.com or follow her on Twitter: @KateMoretti1 or Facebook: /KateMorettiWriter.