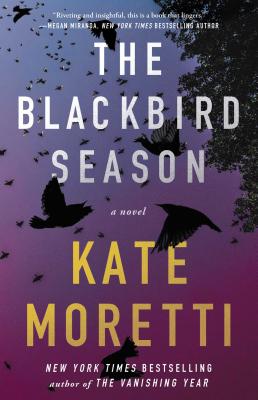 The Blackbird Season
A Novel
Paperback

* Individual store prices may vary.
Other Editions of This Title:
Digital Audiobook (9/25/2017)
Library Binding, Large Print (1/1/2018)
Description
"Exceptional…a deliciously sinister glimpse into the duplicity of small-town lives and the ease with which people turn on each other when tragedy comes calling. Moretti's tale of jealousy and obsession is nothing less than dark magic. Witchery indeed." —Kirkus Reviews, starred review

Known for novels featuring "great pacing and true surprises" (Kirkus Reviews, starred review) and "nerve-shattering suspense" (Heather Gudenkauf, New York Time bestselling author), New York Times bestselling author Kate Moretti's latest is the story of a scandal-torn Pennsylvania town and the aftermath of a troubled girl gone missing.

"Where did they come from? Why did they fall? The question would be asked a thousand times…

Until, of course, more important question arose, at which time everyone promptly forgot that a thousand birds fell on the town of Mount Oanoke at all."

In a quiet Pennsylvania town, a thousand dead starlings fall onto a high school baseball field, unleashing a horrifying and unexpected chain of events that will rock the close-knit community.

Beloved baseball coach and teacher Nate Winters and his wife, Alecia, are well respected throughout town. That is, until one of the many reporters investigating the bizarre bird phenomenon catches Nate embracing a wayward student, Lucia Hamm, in front of a sleazy motel. Lucia soon buoys the scandal by claiming that she and Nate are engaged in an affair, throwing the town into an uproar…and leaving Alecia to wonder if her husband has a second life.

And when Lucia suddenly disappears, the police only to have one suspect: Nate.

Nate's coworker and sole supporter, Bridget Harris, Lucia's creative writing teacher, is determined to prove his innocence. She has Lucia's class journal, and while some of the entries appear particularly damning to Nate's case, others just don't add up. Bridget knows the key to Nate's exoneration and the truth of Lucia's disappearance lie within the walls of the school and in the pages of that journal.

Told from the alternating points of view of Alecia, Nate, Lucia, and Bridget, The Blackbird Season is a haunting, psychologically nuanced suspense, filled with Kate Moretti's signature "chillingly satisfying" (Publishers Weekly) twists and turns.
Praise For The Blackbird Season: A Novel…
Praise for The Blackbird Season:

"Crime fiction adores girls in trouble. Moretti's latest nail-biter is no exception, but it is exceptional...Though Moretti's emotionally astute tale can be heart-rending, readers won't be able to look away. As slow, creeping dread sets in, so does the inevitability of the terrible situation the town finds itself in, offering a deliciously sinister glimpse into the duplicity of small-town lives and the ease with which people turn on each other when tragedy comes calling. Moretti's tale of jealousy and obsession is nothing less than dark magic. Witchery indeed."
— Kirkus Reviews (starred review)

"A powerful story about a missing girl and an accused suspect that takes a haunting look into the characters and relationships you think you know. The Blackbird Season explores the fine line between guilt and innocence, truth and perception, the moments that break people apart—and those that bring them together. Riveting and insightful, this is a book that lingers long after you turn the final page."
— Megan Miranda, New York Times bestselling author of All the Missing Girls

"With her stunning new novel told through multiple perspectives, Moretti weaves a story that is equal parts suspenseful and chilling. The clear, concise storytelling will draw readers into Nate and Alecia's journey. The authentic, honest dialogue between Nate, Alecia and Bridget will engage readers as their individual pain and loss is captured. With the strangely haunting character of Lucia, steady pacing and an intricately woven plot, Moretti's latest will leave its mark on readers."
— RT Magazine

"This cautionary tale keeps the reader guessing to the end."
— Publishers Weekly

"The tale's suspenseful core should catch and hold most readers, especially Gone Girl fans."
— Booklist

"A suspenseful mystery about small-town secrets and scandals."
— PopSugar

"Kate Moretti's insightful, starkly human mystery about a girl they call 'witch' has that sit-down, gotta-cry eloquence readers long for. Mean girl alliances and small town loyalties collapse in unison on the day the blackbirds fall. This story will hold you tight to its pages well past your bedtime. The Blackbird Season is Moretti's best yet."
— Lisa Turner, Edgar Award finalist author of The Gone Dead Train and Devil Sent the Rain

"The Blackbird Season pulls off a very difficult thing: it's nail-biting and thought-provoking all at once. It's a rare that a book can make you turn pages like your life depends on it, but also give you food for thought because the characters are so perfectly drawn. A stunning achievement from an extremely talented writer."
— Gilly Macmillan, New York Times bestselling author of What She Knew

"Moretti spins a tale of suspicion, deceit, and dreams that die as suddenly as a flock of starlings falling from the sky. A thrilling morality tale of the highest order, The Blackbird Season will make you question the lines between right and wrong, victim and criminal, and the unknowable intentions that form our innocence and guilt."
— Mindy Mejia, author of Everything You Want Me to Be

"A skillful blend of family drama and domestic suspense...it kept me turning the pages and was resolved to my satisfaction at the end. Highly recommended."
— Eileen Goudge, New York Times bestselling author of Garden of Lies

"Moretti begins The Blackbird Season with a sinister premise — a cloud of birds fall from the sky on the same day a teenage girl people call 'the witch' goes missing. A spellbinding tale of long-held secrets and small-town scandal, The Blackbird Season is one of those stories that sneaks up on you, each chapter building steadily to an ending that will haunt you long after you turn the last page."
— Kimberly Belle, bestselling author of The Marriage Lie

"The characters are authentically flawed and believable, and part of the mystery is the unfolding of their motivations…The Blackbird Season is about how people—teens and adults alike—get lost and disconnected. All that, plus a suspenseful mystery—what more can you ask for?"
— Holly Brown, author of Don't Try to Find Me

"When a troubled teenaged girl goes missing in The Blackbird Season, the town in which she lives is ripped apart by suspicion. As disturbing secrets bubble to the surface, no one is safe. Kate Moretti's trademark vivid characterizations, surprising storyline, and heart-stopping suspense kept me eagerly turning pages long into the night."
— Carla Buckley, author of The Good Goodbye

"The Blackbird Season is more than a haunting mystery; it's an intense exploration of a family in crisis and a community rocked by scandal. How well can you truly know the ones you love? How far can you trust them? I couldn't stop reading until I knew the whole and harrowing truth."
— Laura McHugh, award-winning author of The Weight of Blood and Arrowood

"For readers who love small town dynamics where everyone knows everyone else's business and nothing is what it seems, The Blackbird Season is the perfect novel to pick up this fall."
— Bookish

"The Blackbird Season will keep you up late flipping pages, propelled to find out what happened. It is eerie and thought-provoking, suspenseful and chilling…vivid, heart-wrenching and often tender."
— Book Reporter

"This is a perfect Autumn read. Spine-chillingly good."
— The Sun (UK)

"The gripping drama serves up idle gossip, revenge and dangerous, entangled relationships."
— The Columbus Dispatch

"Bestselling author Kate Moretti's minute attention to the way people's brains shift, how the floodgates of all they've been ignoring or repressing can suddenly open, pushes her novel into something more discomfiting than a saga of small-town sins. An incisive portrait of midlife disappointment and suburban paranoia, wrapped up in a cleverly plotted mystery, The Blackbird Season is an absorbing thriller that lingers long after you put it down."
— BookPage

Praise for The Vanishing Year:

"A woman's perilous past and her affluent present converge in Kate Moretti's latest jaw-dropping thriller. Replete with unsavory characters, buried secrets, and a bounty of unexpected twists and turns, The Vanishing Year is a stunner. A perfectly compulsive read that's impossible to put down."
— Mary Kubica, New York Times bestselling author of Don't You Cry

"The Vanishing Year is a chilling, powerful tale of nerve-shattering suspense. Kate Moretti pieces together a stunning, up-all-night thriller with a throat-gripping twist that will leave the reader reeling."
— Heather Gudenkauf, New York Times bestselling author of Missing Pieces

"Great pacing and true surprises make this an exciting read. Fans of twisted thrillers featuring complex female characters will devour Moretti's latest."
— Kirkus Reviews (starred review)

"Moretti maintains a fast pace...chillingly satisfying."
— Publishers Weekly

"Fans of S. J. Watson, Lisa Unger, and Sophie Hannah will enjoy this fast-paced psychological suspense novel."
— Booklist

"The Vanishing Year is dark, twisty, edge-of-your-seat suspense. I read it in a single sitting and enjoyed every word. I highly recommend it!"
— Karen Robards, New York Times bestselling author of The Last Time I Saw Her

"The tantalizing plot twists layered atop the juxtaposition of the protagonist's troubled past and the opulence of her current life are not only intriguing, they'll keep you reading The Vanishing Year far into the night. Well done, Ms. Moretti, well done!"
— Lesley Kagen, New York Times bestselling author of Whistling in the Dark and The Resurrection of Tess Blessing

"The Vanishing Year is more than an engaging tale of utter betrayal. It's an intricate dance of realities, full of twists and turns you won't see coming. Kate Moretti has outdone herself. You'll miss your bedtime, guaranteed."
— J.T. Ellison, New York Times bestselling author of No One Knows

"The Vanishing Year is part psychological study, part thriller, part journey of a lost woman finding herself amidst the chaos and confusion of abuse. Expertly told with secrets, twists and whip-smart prose, Kate Moretti shows in her third book that she deserves her New York Times best seller status. The Vanishing Year will live in your mind long after you put the book down."
— Ann Garvin, author of The Dog Year

"The Vanishing Year takes us from the heights of New York Society to the depths of the depraved mind. In this gut-grabbing novel Moretti creates a glittery world of dreams and nightmares. Moves and counter-moves. Clear your schedule and brew a pot of coffee. You're going to be up all night with this one."
— T.E Woods, author of The Justice Series

"Kate Moretti's The Vanishing Year is a Rebecca for the modern age—a novel filled with doubts and deception, secrets and history. Society wife Zoe Whitaker must confront the age-old question of whether forgetting our past dooms us to endless repetition--and more heartache and danger than one woman can bear."
— Jenny Milchman, author of As Night Falls

"Engaging, intriguing, heart-pounding. In The Vanishing Year, Kate Moretti brings us the story of a Zoe Whittaker who has whitewashed her past and taken on a new and pristine identity. Of course, nothing is exactly as it seems to Zoe, and nothing is as it seems to the reader either. The twists had me gasping, the details had me transfixed. I cared about Zoe right away, which along with everything else, made it impossible for me to stop reading this book."
— Amy Sue Nathan, author of The Glass Wives

"The Vanishing Year is the perfect mix of pulse-pounding action and exquisite prose. The complex, unpredictable plot and Kate's layered, multidimensional characters kept me hooked until the very last satisfying page. This book is sure to be one of this year's most talked about thrillers!"
— Nicole Baart, author of The Beautiful Daughters

"The Vanishing Year dazzles with New York's high society, one woman's dark and twisted past, and a marriage brimming with secrets and lies. Part psychological thriller, part edge-of-your-seat suspense, this gorgeously written novel will keep you guessing until the final reveal. Unputdownable."
— Karen Katchur, author of The Secrets of Lake Road
Atria Books, 9781501118456, 352pp.
Publication Date: September 26, 2017
About the Author
Kate Moretti is the New York Times bestselling author of Thought I Knew You, Binds That Tie, and While You Were Gone. She lives in eastern Pennsylvania with her husband and two kids. Find out more at KateMoretti.com or follow her on Twitter: @KateMoretti1 or Facebook: /KateMorettiWriter.
or
Not Currently Available for Direct Purchase