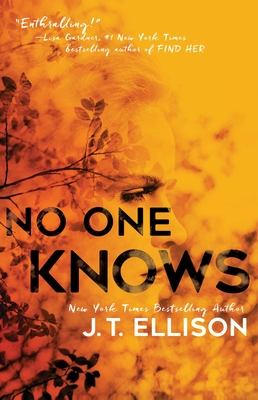 No One Knows (Paperback)
A Book Club Recommendation!
Gallery Books, 9781501118487, 368pp.
Publication Date: November 1, 2016
* Individual store prices may vary.
Description
With the same page-turning suspense as The Girl on the Train and The Husband's Secret, New York Times bestselling author J.T. Ellison's No One Knows is a "riveting…skillfully plotted" (Publishers Weekly) thriller that questions if the narrator's husband really has returned from the dead—or if she's merely losing her mind.

Aubrey Hamilton has been mourning her missing husband for five years, despite being even while she was considered the prime suspect in his murder. But when he is officially declared dead, there are still more questions than answers: Why didn't Josh show up at his friend's bachelor party? Was he murdered, or did he run away? And who is the new, mysterious and strangely familiar figureman suddenly appearing in Aubrey's life? And has she finally lost her mind after years of loneliness and confusion?

No One Knows is an evocative mystery that explores the complex darkness within all of us, perfect for fans of Gillian Flynn, Liane Moriarty, and Paula Hawkins.
About the Author
New York Times bestselling author J.T. Ellison writes dark psychological thrillers and pens the Brit in the FBI series with #1 New York Times bestselling author Catherine Coulter. With millions of books in print, her work has won critical acclaim, prestigious awards, and has been published in 27 countries. She is also the EMMY-award winning cohost of the premier literary television show A Word on Words. Ellison lives in Nashville with her husband and twin kittens. Visit JTEllison.com for more information, and follow her on Twitter and Instagram @ThrillerChick or Facebook.com/JTEllison14.
Praise For No One Knows: A Book Club Recommendation!…
"Riveting… a skillfully plotted story that's equal parts mystery, psychological thriller, and cautionary tale. Comparisons to Gone Girl are inevitable....Artful and evocative prose complements the fully fleshed and realistically drawn characters."

"Enthralling! Ellison's twisty, turny thriller is my kind of novel; interesting characters, complex plotting, and an ending you'll never see coming. Suspense at its finest!"
— Lisa Gardner, #1 New York Times bestselling author of Find Her

"You think Gone Girl couldn't be topped, try Ellison's web of betrayal, lies and deceit. And wonder..."
— Catherine Coulter, New York Times bestselling author of Nemesis

"Clever and compelling, JT Ellison's NO ONE KNOWS is a page-turner full of unexpected turns and surprises. Pour a glass of wine, settle down in your favorite chair, and get ready for an entertaining roller coaster of a read. JT Ellison is a fast-rising star."
— Jeff Abbott, New York Times bestselling author of THE FIRST ORDER

"J.T. Ellison's stand-alone thriller is a slow burn suspense that heats up, page-by-page, until the shocking end. NO ONE KNOWS is unputdownable, a gripping story that begs to be read in one sitting."
— Allison Brennan, New York Times bestselling author of NO GOOD DEED

"NO ONE KNOWS hooked me from page one. The more I read, the more I had to know what really happened to Aubrey's husband that night in Nashville. And the more I trusted Aubrey's version of events, the more I doubted them as well. Ellison has written a masterful game of cat-and-mouse."
— Erica Spindler, New York Times bestselling author of THE FIRST WIFE and THE FINAL SEVEN

"No One Knows grabs you from the start and doesn't let go. A compelling thriller about loss, betrayal, and buried secrets, it's a book you'll devour, trying to guess what's going on and what will happen next. The twists are genuinely—and satisfyingly—shocking. J.T. Ellison has written another winner."
— —Meg Gardiner, Edgar Award-winning author of Phantom Instinct

"J.T. Ellison has created one hell of a brain-bender. NO ONE KNOWS is a masterfully written shell game in which a grief-stricken woman is forced to reckon with her past until everything she believes about love, hope, and trust is tested. Ellison's storytelling powers are on sharp display in this literary thriller, proving that no one is who they claim to be and everyone has secrets worth protecting. Compelling, perceptive, unsettling and with an ending so on point I wish I could read it again for the first time. I inhaled this novel."
— -- Ariel Lawhon, author of FLIGHT OF DREAMS

"Ellison clearly belongs in the top echelon of thriller writers..."

"Like a nerve-shredding trip through a carnival house of mirrors, NO ONE KNOWS left me breathless. Ellison's deft, seamless prose makes her devilish twists look effortless, and her sleight-of-hand with the facts of Aubrey Hamilton's troubled life keeps the tension wire-high.

NO ONE KNOWS is razor-sharp, shocking, and delicious."
— —Laura Benedict, author of Charlotte's Story

"A page-turning thriller packed full of madness, deceit and murder."

"The unreliable female narrator is all the rage, and Aubrey Hamilton is up there with the slipperiest of them all."

"The reader becomes enthralled with Aubrey..."

"No One Knows will have inevitable comparisons to Gone Girl...Ellison messes with the character's head as well as the readers with her many twists and turns."

"NO ONE KNOWS does not disappoint!...Keeps the reader on the edge of their seat."

"A genuine page-turning thriller."

"A dark domestic thriller that is sure to leave you guessing until the final page."