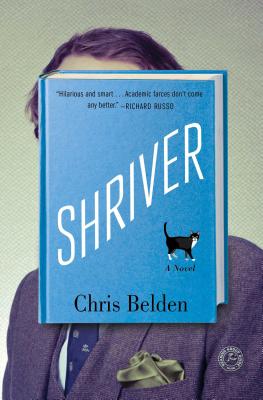 Shriver
A Novel
Paperback

* Individual store prices may vary.
Other Editions of This Title:
Digital Audiobook (1/4/2016)
Compact Disc (1/5/2016)
MP3 CD (1/5/2016)
Compact Disc (1/5/2016)
Description
In this charming, clever, and darkly satiric novel set at a writers' conference, one man finds himself caught in a whirlwind of literary pretention, a suspect in a criminal investigation, and hopelessly in love with a woman who thinks he's someone else.

Mistaken for a famous but reclusive author of the same name, lonely Shriver attends a writers' conference at a small Midwestern liberal arts college. Completely unfamiliar with the novel he supposedly wrote and utterly unprepared for the magnitude of the reputation that precedes him, Shriver is feted, fawned over, featured at stuffy literary panels, and barely manages to play it cool. Things quickly go awry when one of the other guest authors suddenly disappears and Shriver becomes a prime suspect in the investigation. Amidst eager fans, Shriver must contend with a persistent police detective, a pesky journalist determined to unearth his past, and a mysterious and possibly dangerous stalker who seems to know his secret. But most vexing of all, Shriver's gone and fallen in love with the conference organizer, who believes he's someone else.

When the "real" Shriver (or is he?) appears to claim his place among the literati, the conference—and Shriver's world—threaten to unravel.

Filled with witty dialogue, hilarious antics, and a cast of bizarre and endearing characters, Shriver is at once a touching love story, a surreal examination of identity, and an affectionate tribute to the power of writing.
Praise For Shriver: A Novel…
"Chris Belden's Shriver is as hilarious and smart as Michael Malone's Foolscap, as wise and sympathetic as Stoner. Academic farces don't come any better."
— Richard Russo, Pulitzer-prize winning author of Empire Falls

"A send-up of academia and literary pretension, as well as a poignant exploration of writerly insecurity."
— Dani Shapiro, author of Slow Motion and Family History

"In Shriver Chris Belden has written a fast-paced, wildly inventive novel that is somehow both hilarious and thought-provoking. In fact, I couldn't stop wondering when I last read a book so enjoyable."
— Philip Schultz, Pulitzer-prize winning poet and founder and director of The Writers Studio

"A hoot, a farce about mistaken identity set at a writers' conference where facile poets and pompous novelists declaim, carouse and, possibly, commit murder. In a style somewhere between Evelyn Waugh and Mel Brooks, Belden's satire lampoons all things literary but also, amazingly, convinces us to care about the fools that these mortals be."
— Alan Davis, author of So Bravely Vegetative and Rumors from the Lost World

"Enjoyable...Shriver's fear of being outed as an impostor rings true for any writer—wannabe or bona fide—who's ever doubted their abilities."
— BookPage

"This picaresque and piquant satire of writers, academics, their quirky characters, and content-lacking conferences is reminiscent of David Lodge's satiric spins on academe. Darkly comic, Shriver also reminded me of Martin Scorsese's inversion of The Wizard of Oz in the movie After Hours—the obstacles, the quirky characters, the plot turns and pivots. Despite its ability to laugh at the writing world and its daffy denizens, Shriver nonetheless ultimately affirms the essential importance of the word."
— Joan Connor, author of History Lessons and The World Before Mirrors

"A man afflicted with a strange ocular disability and a decidedly quirky response to the smell of books falls prey to a case of mistaken identity (or is it imposter syndrome?) that hauls him well out of his comfort zone, delivering him to a world that is as odd as it is authentic. Chris Belden's Shriver delivers intrigue, a cast of bizarre characters who are also somehow bizarrely believable, and moments of slapstick comedy that are laugh-out-loud funny—all the while exploring the deeply human need for meaning and connection. Read this book!"
— Elizabeth Hilts, author of Getting In Touch With Your Inner Bitch and Every Freaking! Day with Rachell Ray

"Oneof the most fun books I've read this year…With a cast of quirkycharacters, funny situations and clever writing, you'll enjoy Shriver fromstart to finish."
— Red Carpet Crash.com

"Shriver, to bereissued later this month by Touchstone Books, manages to be witty withoutpretense, absurd without hopelessness, a literary romp roiling with characterswho are simple yet evolved, endearing and funny. Best of all, they are fun tobe around."
— Ben East, blogger at BenOnBooks
Touchstone, 9781501119392, 288pp.
Publication Date: September 29, 2015
About the Author
Chris Belden was born and raised in Canton, Ohio. He attended the University of Michigan, where he received a BA in Film & Video Studies. After college he worked lousy day jobs for several years while playing drums in the band The Slang. He later moved to New York City, where he worked in the publishing industry and started writing fiction in earnest. His work has appeared in numerous publications, including American Fiction, SN Review, and Skidrow Penthouse. He is coauthor of the feature film Amnesia, and has also written extensively for the stage. He received an MFA from the Fairfield University MFA Program, and has taught writing at Fairfield University, as well as at such nontraditional venues as senior centers, soup kitchens, and a maximum-security prison. Belden lives in Connecticut with his family.