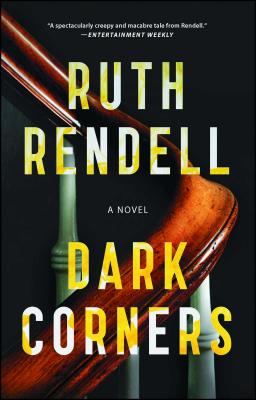 Dark Corners (Paperback)
A Novel
Scribner, 9781501119439, 240pp.
Publication Date: November 15, 2016
Other Editions of This Title:
Digital Audiobook (10/26/2015)
Hardcover (10/27/2015)
Library Binding, Large Print (1/1/2016)
* Individual store prices may vary.
Description
"A spectacularly creepy and macabre tale" (Entertainment Weekly) of blackmail, murders both accidental and opportunistic, and of one life's fateful unraveling—from Ruth Rendell, "one of the most remarkable novelists of her generation" (People), writing at her most mesmerizing. Rendell completed Dark Corners shortly before her death in 2015.

When his father dies, Carl Martin inherits a house in an increasingly rich and trendy London neighborhood. Cash poor, Carl rents the upstairs room and kitchen to the first person he interviews, Dermot McKinnon. That is mistake number one. Mistake number two is keeping the bizarre collection of homeopathic and alternative "cures" that his father left in the medicine cabinet, including a stash of controversial diet pills. Mistake number three is selling fifty of those diet pills to a friend, who is then found dead.

Dermot seizes a nefarious opportunity and begins to blackmail Carl, refusing to pay rent, and creepily invading Carl's space. Ingeniously weaving together two storylines that finally merge in a shocking turn, Ruth Rendell describes one man's spiral into darkness—and murder—as he falls victim to a diabolical foe he cannot escape.

This is brilliant psychological suspense that gets under your skin. As Stephen King says, "No one surpasses Ruth Rendell when it comes to stories of obsession, instability, and malignant coincidence." Dark Corners, her last book, "ranks among her best" (The Washington Post).
About the Author
Ruth Rendell (1930–2015) won three Edgar Awards, the highest accolade from Mystery Writers of America, as well as four Gold Daggers and a Diamond Dagger for outstanding contribution to the genre from England's prestigious Crime Writ­ers' Association. Her remarkable career spanned a half century, with more than sixty books published. A member of the House of Lords, she was one of the great literary figures of our time.
Praise For Dark Corners: A Novel…
"Every aspect of Ruth Rendell's dark art is splendidly showcased in Dark Corners. One can't say she saved the best for last, because a great many books by Ms. Rendell and her alter ego Barbara Vine are so splendid, but it's among the best. You won't put it down. I loved it."
— Stephen King

"A worthy addition to the canon... Rendell once again exhumes the depths of obsession and traces each step in a sympathetic character's downward spiral. It has both a mythic element--all the trouble starts with a box that shouldn't have been opened--and a Victorian bent, in that it features an inheritance that dooms the recipient... This is stunningly suspenseful and often downright creepy."
— Booklist, starred review

"A spectacularly creepy and macabre tale from Rendell."
— Entertainment Weekly

"DARK CORNERS, Ruth Rendell's final mystery novel, ranks among her best… Including those she published as Barbara Vine, DARK CORNERS is Ruth Rendell's 66th novel — and her last. Rendell, who was made a life peer as Baroness Rendell of Babergh in 1997, died in May of this year at the age of 85.Throughout her prolific output, she maintained high standards, winning three American Edgars and multiple British awards for best mystery novel. One of her Inspector Wexford novels, A Guilty Thing Surprised (1970), was long-listed for the Lost Man Booker Prize. As a longtime fan of Rendell's, I naturally wanted to give DARK CORNERS a positive review, and luckily it deserves one…Let me finish by saluting the late Baroness Rendell in the proper British fashion: Well done, my lady."
— Dennis Drabelle, The Washington Post

"Ruth Rendell's final novel, DARK CORNERS, is a deliciously diabolical tale on a favorite theme: one person's devouring of a weaker person's identity…Carl may be sitting pretty, but he's just the sort of weak-willed milquetoast Rendell enjoys tearing into little bits."
— Marilyn Stasio, The New York Times Book Review

"The late Ruth Rendell put a permanent stamp on crime fiction with 65 novels of screw-twisting suspense, written under both her own name and the pseudonym Barbara Vine. The posthumously published DARK CORNERS is a worthy final entry in her body of work."
— Tom Nolan, The Wall Street Journal

"Let us now praise Ruth Rendell — and mourn her, for herself and for her millions ofr eaders. The prolific British writer died this year at age 85…she won wide praise for her dark tales of suspense mixed with significant psychological aspects. One of the past half century's leading practitioners of the genre, she transcended and expanded it. Now we have her final novel, DARK CORNERS — a gripping story of blackmail and death… one cannot turn the pages ofthis trademark Rendell novel without feeling a rising chill and hearing the whispered hiss of a snake. The author blends the mundane with the menacing,all the while infusing her story with edgy humor…DARK CORNERS provides lovers of intimate and intelligent fiction with a final bequest from a writer who ranks among the best and whose body of work likely will be read and re-read for many years."
— Jay Strafford, The Richmond Times-Dispatch

"This is a beguiling, powerful novel, made poignant by the staggering realization that this is the last of a feast of characters and narratives. Everything that makes Rendell's work so memorable—gothic but believable people and plots,simple yet vivid prose, peerlessly rendered settings, and fear and despair as the twin 'parents' of violence—is in evidence here."
— Publishers Weekly, STARRED review

"With DARK CORNERS, Rendell, who perfected the art of the truly suspenseful, psychological thriller, clearly had one final trick of drawn-out intensity up her sleeve… Rendell's delicious, quasi tongue-in-cheek atmosphere is so finely-tuned and tightly wound that it manages to be menacing and mesmerizing while harboring a nearly over-the-top element of the melodramatic.… The book inspires a perpetual niggling level of anxiety, the persistent white noise of tension and jittery energy that Rendell honed to bone-cutting sharpness over her long and celebrated career… Meanwhile, she incorporates tart, amusing, and canny observations on the current state of everything from the challenge of grown children moving in with parents — or, in some cases, never leaving — to the lack of affordable housing in London, the presence of random violence, Cones of Shame on pets. From the creepiness of a character who relishes causing fear in others, to the surprising ways in which a football-size pottery goose can come in handy, DARK CORNERS proves that Rendell never lost her touch."
— Daneet Steffens, The Boston Globe

"I'm so sad that there will never be another new Ruth Rendell mystery to look forward to, but I'm so glad she had this last one in the pipeline… Her Inspector Wexford novels, her books under the name Barbara Vine, and these standalones full of uneasy menace will all be missed."
— Salem Macknee, The Charlotte Observer

"Ruth Rendell was one of the finest writers of the 20th century."
— Jonathan Kellerman, New York Times Book Review

"An undisputed master of crime fiction, Ruth Rendell's posthumously published last book is a calculated, slow burn…Only Rendell can show us how chillingly easy it is for ordinary people to slide into criminal behavior."
— Dawn Raffel, Oprah.com

"With her death last May at the age of 85, the contemporary English novel lost its finest and most stringent moralist. Not that there was anything prim or scolding in Rendell's work. As a writer, she possessed a piercing knowledge of how the minor sins of pettiness, vanity, and hypocrisy often slide effortlessly into the commission of larger sins… In Rendell's books, life is both sinister and ordinary…her recognition of the thin, wavering line between the evil and the quotidian may explain the ease with which she stepped into the criminal mind… Rendell's work… displays a growing acuity of psychological perception and authority to her moral vision…the weight of her achievement lies less in individual volumes than in the body of her work, just as the pleasure of reading it comes from encountering that deepening sensibility in book after book…Rarely does a novelist express an ever-deepening but consistent psychological and moral vision over so many years. Rarely does a vision that could feel so grim in what it apprehended seem such a sign of the persistence of hard-headed decency."
— Charles Taylor, The Nation