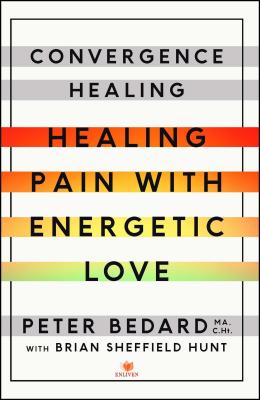 Convergence Healing
Healing Pain with Energetic Love
Paperback

* Individual store prices may vary.
Description
An amazing, proven, 10-point plan that explains noninvasive, life-altering practices to help you permanently heal your mind, body, and spirit.

Millions of people suffer from some form of chronic pain (whether it be physical, emotional, or existential), and this discomfort silently drains too many of us of our highest potential and our power. Living in a state of unending pain pushes people to the margins of their own lives and robs them of direct access to their most authentic, essential, worthy selves. Pain, ironically, renders too many beautiful voices mute; it cripples the body, leaving too many dancing souls lost. And nobody knows this better than Peter Bedard.

One night, seventeen-year-old dancer, Peter Bedard, died in a traffic accident. The white-bearded messenger waiting at the gate of heaven sent him back to Earth with a task to help others heal. After a decade of debilitating physical and emotional suffering, Peter uncovered an empowered, new way of healing chronic pain without medicine—convergence healing. In his groundbreaking approach, Bedard invites us to look at our pain as the greatest source of wisdom we will ever have. Instead of medicating it, trying to break with it, or somehow outwit it, he invites us to surrender to our pain so that we may finally integrate our losses, our transitions, our heartaches, and our mortality and make peace with the everlasting truth of who, uniquely, we truly are.

Through the author's own near-death experience and other compelling stories and case studies, Convergence Healing offers a whole new body-mind paradigm for those interested in living a balanced, well-integrated life.
Praise For Convergence Healing: Healing Pain with Energetic Love…
"Prior to working with Peter, I was scared, unmarried, and barely able to pay for the appointment. Now I have no debt, money in the bank, almost more work than I can handle and I am leaving for a week-long vacation with my wife. The Convergence Healing process has helped me to truly realize my worth and put me on a path toward higher achievement and greater career and life success."
— Daniel Dombrowsky (Film and TV Composer)

"Simply put, Peter Bedard and his groundbreaking Convergence Healing process saved my life. I was on auto-pilot, not at all aware how my self-destructive beliefs were sabotaging my personal and professional lives. Convergence healing enabled me to finally purge all the negativity in my life, to value myself, to believe in myself and to actually be free."
— Yael S., Entrepreneur, Producer

"Reading Peter Bedard's book Convergence Healing is like having a mentor in a book. If you take the time and make the space to do the exercises, your inner workings will unfold in front of you, and you will stop asking "why" and start living."
— Merle Singer, Author, Teacher

"I reached out to Peter to see if the Convergence Healing process might be helpful for the pain and anxiety I experience, especially around public speaking. The impact going through this process had was life changing."
— Landon Lewis, Entrepreneur, Educator

"I did some Convergence Healing with Peter recently and I have to say, not only did I see myself in a totally different way, but he taught me to love the parts of myself that I don't like. He showed me how to stop getting caught in the drama that is my life and I learned to let go of the emotional pain that had been blocking me for years."
— Emer Dunne
Atria/Enliven Books, 9781501119521, 224pp.
Publication Date: December 15, 2015
About the Author
With an MA in consciousness studies and his extensive training in hypnotherapy and alternative health, Peter Bedard has helped thousands of people overcome pain and the fearful shadow it has cast over their lives. Peter has a thriving one-on-one private practice, and he gives talks and workshops around the world. He lives in Los Angeles, California.

Brian Sheffield Hunt is a screenwriter and author living in Los Angeles, California. He was healed by the Convergence Healing process himself, and he's proud to be helping to bring the transformative power of Convergence Healing to millions of readers.