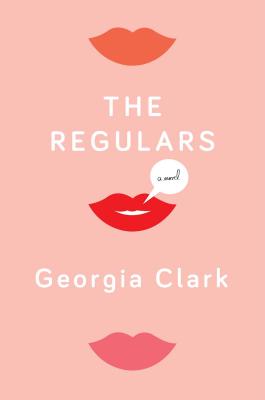 The Regulars (Hardcover)
A Novel
Atria/Emily Bestler Books, 9781501119590, 400pp.
Publication Date: August 2, 2016
* Individual store prices may vary.
Description
-Redbook Best of the Year Pick
-PopSugar's Best Books of the Year
-Teen Vogue's Best Books of the Year
-Reading with Robin 2016 Favorite

A fierce, feisty, and "compulsively delicious" (Redbook) debut with a magical twist about three ordinary, regular young women who suddenly have their fantasies come true…or do they?

Best friends Evie, Krista, and Willow are just trying to make it through their mid-twenties in New York. With average looks and typical quarter-life crises, they're trying to make it up the corporate ladder, make sense of online dating, and make rent.

Until they come across Pretty, a magic tincture that makes them, well...gorgeous. Like, supermodel gorgeous. And it's certainly not their fault if the sudden gift of beauty causes unexpected doors to open for them.

But there's a dark side to Pretty, too, and as the gloss fades for these modern-day Cinderellas, there's just one question left:

What would you sacrifice to be Pretty?

Wildly irreverent, blatantly sexy, and observed with pitch-perfect wit, The Regulars is a fresh, "twisted, modern-day take on Cinderella." (InStyle), perfect for fans of Jennifer Close and Kevin Kwan.
About the Author
Georgia Clark is an author, screenwriter, and performer living in New York City, and the author of the YA novels She's With The Band and Parched. She has also written the novels The Regulars and The Bucket List. Georgia is widely published in women's and lifestyle magazines and has written for TV. A native Australian, she lives in Brooklyn with her girlfriend and a fridge full of cheese.
Praise For The Regulars: A Novel…
"Charming."

"A lively and engrossing parable for women of all generations."

"Compulsively readable . . . . wildly entertaining."

"A feisty, feminist fairy tale...Atmospheric and confident, it's 13 Going on 30 with sharp, polished veneers. "
— Caroline Kepnes, author of Hidden Bodies and You

"Smart, funny,fabulous. A thoroughly modern and fresh look at relationships, friendships, career, sex, art, fame, and—most of all—beauty."
— Amy Poeppel, author of SMALL ADMISSIONS

"Twisted, modern-day take on Cinderella."

"Imagine a magic elixir that makes you crazy good-looking. Would you use it? BFFs Evie, Krista, and Willow do, so surely the dates, promotions, and perfect lives will come rolling in. Right?"

"Compulsively delicious."

"[A] raunchy and very funny tale . . . . with a distinctly hip, modern feel."

"A sassy novel."

"We laughed out loud more times than we care to remember while tearing through this extraordinarily funny page-turner."—Marie Claire (UK)

"A modern day fairytale with a feminist message. Riotously enjoyable—sexy, fast-paced and extremely funny. Brilliant."

"In The Regulars . . . . three best girl friends find themselves in an extraordinary situation that opens a few of the closed doors they've come across in New York City. The Regulars is a fresh look at friendship, sex, fame and career."

"A feisty debut with a magical twist about three ordinary girls who suddenly have their fantasies come true when they come across a tincture that makes them gorgeous."

"THE REGULARS unravels the concept of prettiness, beauty standards and pop culture in general. Clark beautifully brings to life the struggle to accept oneself, while still wanting to change."

"A fun and fast read that is perfect for summer."

"An original, engaging and captivating novel. A brilliant read that made me laugh out loud and read late into the night."

"Superfluous with wit and unapologetic candidness, The Regulars explores the dangers and inevitable sacrifices of thirsting for beauty."

"Sexy and smart, this novel is Sex and the City meets The Picture of Dorian Gray, and we doubt you'll be able to put it down."

"Something of a modern-day fairytale with a feminist message, this romp through a heightened world is riotously enjoyable—sexy, fast-paced, and extremely funny."

"THE REGULARS is a saucy, sexy story that's one part cautionary tale, one part social commentary, and one part screamingly hilarious comedy. Deceptively simple, it's one of the most original books I've read in years. You'll eat this one up!"
— Sara Shepard, #1 New York Times bestselling author of PRETTY LITTLE LIARS and THE HEIRESSES

"Take just one drop of The Regulars and you'll be hooked: this is compulsive reading from a bright new voice."
— Brenda Bowen, author of Enchanted August

"This wonderfully entertaining debut, full of magic and heart, is a fairy tale for our times."

— Scott Westerfeld, author of Uglies and Zeroes

"THE REGULARS is the ultimate modern take on the old adage 'be careful what you wish for.' Best of all, in Georgia Clark's sexy fable, this message comes to us by way of a gaggle of hilarious, relatable friends....How far would you go to become the person you've always dreamed of being? Would you transform yourself completely, with no sense of the long-term cost? Georgia Clark asks these questions of her ambitious girl squad,and their answers lead us on a wild ride of self-discovery and friendship."
— Elisabeth Egan, author of A WINDOW OPENS

"THE REGULARS is happily grounded in a world and a generation we recognize, filled with yummy, quippy dialogue and delicious storytelling. Hats off to Georgia Clark, who explores the debates around what, exactly, is female empowerment. A lovely summer read!"

— Maggie Grace, actress and star of the Taken films, Breaking Dawn, and Californication

"Quick, witty, and damn funny! A fresh snapshot of 20-something Brooklyn, celebrity culture, and how men and women buy into the fiction of beauty. This thoroughly entertaining novel will make you giggle, sigh and above all, keep you hooked."
— Suzanne Rindell, author of THREE-MARTINI LUNCH and THE OTHER TYPIST