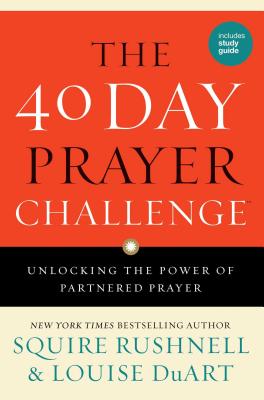 The 40 Day Prayer Challenge (Hardcover)
Unlocking the Power of Partnered Prayer
Howard Books, 9781501119675, 288pp.
Publication Date: February 2, 2016
* Individual store prices may vary.
Description
From one of the beloved creators of Schoolhouse Rock and the popular GodWink series, New York Times bestselling author SQuire Rushnell teams up with his wife Louise DuArt for The 40 Day Prayer Challenge—a simple yet powerful idea that encourages partners to pray together for just five minutes a day for forty days.

SQuire and Louise have practiced daily prayer together for sixteen years. Now, they offer readers step-by-step advice on where, when, and what words to use in praying with another person: be it a spouse, loved one, family member, or a friend. In a straight-forward fashion, with astonishing examples of how Partnered Prayer can restore relationships and revitalize families, countless questions are answered including:

-How do we start praying together?
-Can we pray about anything?
-How do I get my mate to pray with me?
-Does romance get better when you pray together?
-Is there scientific evidence for prayer?
-What if my prayers aren't answered?

In association with several prominent mega-churches and Baylor University's Institute for the Studies of Religion, SQuire and Louise are initiating the first empirical research study ever done on the effects of prayer among two people over an extended period. The 40 Day Prayer Challenge also provides a no-cost online opportunity to participate in the ongoing study. When the fun and transformational challenge finishes at forty days, prayer partners will receive a scorecard on how well they did, and join others in experiencing the amazing, wonderful things that happen during Partnered Prayer.
About the Author
SQuire Rushnell is a popular speaker and New York Times bestselling author who has coined the term "Godwink," now in mainstream usage. Within more than one million books in print, SQuire's Godwink stories are a popular monthly feature on the NBC Today Show. He has also appeared on several national television programs including Fox News Channel's Fox & Friends and CBS Sunday Morning. As a veteran ABC Television Network executive, he led Good Morning America to the number one spot and oversaw the acclaimed Schoolhouse Rock! series and the ABC Afterschool Specials. Programs under his direction have captured more than seventy-five Emmy Awards.

Louise DuArt is known as "one of the world's greatest comedic-impressionists" and costarred with Tim Conway and Harvey Korman in sold-out performances for fifteen seasons. Clean and funny, Louise executes fast-paced conversations between herself and Bart Simpson, Judge Judy, Barbra Streisand, Hillary Clinton, and dozens more. She was a popular Women of Faith speaker and has coauthored three books with her husband, SQuire. She hosted a popular daily talk show on the ABC Family channel for eight seasons, Living the Life, and has starred in various Broadway productions, garnering rave reviews.