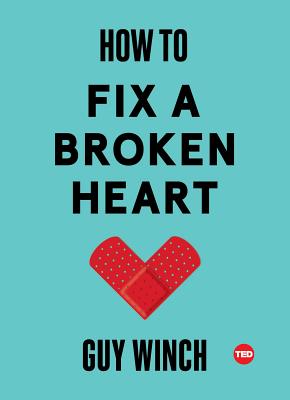 How to Fix a Broken Heart (TED Books)
Hardcover

* Individual store prices may vary.
Other Editions of This Title:
Digital Audiobook (2/12/2018)
Description
Imagine if we treated broken hearts with the same respect and concern we have for broken arms? Psychologist Guy Winch urges us to rethink the way we deal with emotional pain, offering warm, wise, and witty advice for the broken-hearted.

Real heartbreak is unmistakable. We think of nothing else. We feel nothing else. We care about nothing else. Yet while we wouldn't expect someone to return to daily activities immediately after suffering a broken limb, heartbroken people are expected to function normally in their lives, despite the emotional pain they feel. Now psychologist Guy Winch imagines how different things would be if we paid more attention to this unique emotion—if only we can understand how heartbreak works, we can begin to fix it.

Through compelling research and new scientific studies, Winch reveals how and why heartbreak impacts our brain and our behavior in dramatic and unexpected ways, regardless of our age. Emotional pain lowers our ability to reason, to think creatively, to problem solve, and to function at our best. In How to Fix a Broken Heart he focuses on two types of emotional pain—romantic heartbreak and the heartbreak that results from the loss of a cherished pet. These experiences are both accompanied by severe grief responses, yet they are not deemed as important as, for example, a formal divorce or the loss of a close relative. As a result, we are often deprived of the recognition, support, and compassion afforded to those whose heartbreak is considered more significant.

Our heart might be broken, but we do not have to break with it. Winch reveals that recovering from heartbreak always starts with a decision, a determination to move on when our mind is fighting to keep us stuck. We can take control of our lives and our minds and put ourselves on the path to healing. Winch offers a toolkit on how to handle and cope with a broken heart and how to, eventually, move on.
Praise For How to Fix a Broken Heart (TED Books)…
"WELL-RESEARCHED AND DEEPLY PRACTICAL, HOW TO FIX A BROKEN HEART PROVIDES THE VALIDATION, COMFORT, AND HOPE ANYONE WHO IS HEARTBROKEN DESPERATELY NEEDS. Weaving compelling case studies from his private practice with surprising scientific findings, Winch illustrates how little we actually know about this universal experience and why our misconceptions will set us back and delay our recovery. This compassionate and eye-opening book is a must read for anyone mourning a lost love or a cherished pet, and a compelling argument for recognizing these poorly acknowledged forms of grief."

— ESTHER PEREL, bestselling author of The State of Affairs and Mating in Captivity

"Given how intense an experience heartbreak can be, it's crazy that society's main advice for it is "take it day by day, and eventually you'll get over it." I first heard Guy Winch talk about heartbreak at TED and was fascinated—and the book is even better. A GREAT READ FOR ANYONE GOING THROUGH HEARTBREAK, ANYONE TRYING TO HELP SOMEONE GO THROUGH HEARTBREAK, OR ANYONE WHO SIMPLY WANTS TO UNDERSTAND HUMANS BETTER."?

— TIM URBAN, creator of Wait But Why?





"A good starting point for anyone who wants to check out of the Heartbreak Hotel."—Kirkus
Simon & Schuster/ TED, 9781501120121, 128pp.
Publication Date: February 13, 2018
About the Author
Guy Winch, PhD, is a licensed psychologist, author, and keynote speaker whose books have been translated into twenty-three languages. His first TED Talk Why We All Need to Practice Emotional First Aid has been viewed over 5 million times and is rated as the fifth most inspiring talk of all time on TED.com. Dr. Winch's work on the science of emotional health is frequently featured in national and international media outlets. He also writes the popular Squeaky Wheel Blog for PsychologyToday.com. He maintains a private practice in Manhattan and is a member of the American Psychological Association.