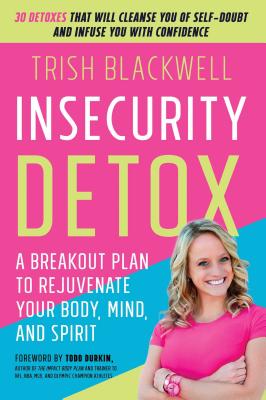 Insecurity Detox
A Breakout Plan to Rejuvenate Your Body, Mind, and Spirit
Paperback

* Individual store prices may vary.
Description
What if you could experience a unique detoxification that would rid you of insecurity, self-doubt, worry, fear, anxiety, and more—and all those "impurities" could be replaced with confidence, purpose, joy, and better relationships? That's what Insecurity Detox is all about.

In this book you will find thirty very doable detoxes that will help you get rid of the toxic mindsets and behaviors that pull you away from God's truths and your best self, and replace them with a new way of thinking and acting.

This progressive detoxification journey can be done in thirty days, thirty weeks, or whatever works best for you and your busy schedule. Each detox builds on the ones before, and as you journey through this unique 3-fold approach, you'll find healing for your body, mind, and spirit. With healthy eating tips, ways to reprogram your thinking process, and meaningful principles for your spiritual life, the whole direction of your life can change.

Each of the thirty chapters has three detoxes—for body, mind, and spirit—that will teach you new thought strategies and practical applications that will empower you to live with a positive perspective, grounded in God's love and purpose for you. What we tell ourselves about ourselves either steals the joy of life from us or infuses us with ever-growing life. In this book, you will discover a new life for yourself where dreams really do come true.
Praise For Insecurity Detox: A Breakout Plan to Rejuvenate Your Body, Mind, and Spirit…
"'The promise of potential is simply captivating.' This one line from Trish Blackwell sums up why I could not put Insecurity Detox down. Each individual detox inspires and teaches that every person has the potential to live a life fully confident in whom they were created to be. From the first chapter, I felt as if I could make positive changes in my life! It was as if this book released me from having to do it all, yet gave me the freedom to do everything I did with God's power and for His glory. If you have ever felt stressed out, overwhelmed, and not quite good enough, then this book is for you!"
— Angie Ryg, Author of Clutter Free Simplicity

"This book will change and encourage you, beginning with the very first chapter. In these pages, you'll discover the power to unlock the shackles that hold you back and find guidance to lasting change. Trish Blackwell is a friend who comes along beside, leading us, one step at time, to freedom!"
— Wendy Speake, actress, speaker, and author of Triggers: Exchanging Parents' Angry Reactions for Gentle Biblical Responses

"Trish Blackwell has the uncanny ability to see behind the masks we wear as she uncovers the issues behind self-doubt and insecurity in her new book, Insecurity Detox. She effortlessly weaves her detox approach through one insecurity hang-up at a time, cheering us on with truth as it is found in Scripture in the mission to care for our whole life — body, mind, and spirit. One minute, you feel as though she's leaning toward you over a cup of coffee and the next minute, she has you off the couch and ready to clean out not only your fridge, but your heart."
— Elisa Pulliam, Life Coach, Mentor, Speaker, and Author of Meet the New You

"Trish Blackwell has a powerful voice that resonates with our radio listeners who want to experience greater joy. Insecurity Detox is not just a plan for gaining confidence. Trish goes beyond that! She digs down deep to get to the heart of the things that are holding you back and challenges you to dream bigger as you run toward the rich life God has waiting just for you."
— David Sams, KeepTheFaith, America's #1 Christian Radio Program

"Insecurity Detox inspires us to live abundant lives physically, mentally, and spiritually. Trish Blackwell's vulnerability enables us to discover the root of our own insecurities. She reminds us that despite our struggles, God calls us His beloved. This book will positively impact the way you see yourself and will equip you to live your life with purpose, confidence, wholeheartedness, and joy."
— Meghan Fillnow, Associate Head Coach at Fillnow Coaching

"I love how Insecurity Detox gave me practical ways to grow in body, mind, and spirit. The daily breakdown enabled me to focus on making one small change a day. I will continue to use this book as a powerful tool to grow into a better version of myself."
— Kelly Fillnow, professional Triathlete, kellyfillnow.com

"Reading Trish Blackwell's Insecurity Detox is like receiving counsel from the wisest of friends. With the voice and warmth of a kind companion, Trish provides real, practical help to motivate you physically, inspire you mentally, and stir you spiritually to live the healthy life God abundantly desires for you."
— Kristen Strong, Author of Girl Meets Change

"I love how Trish uses her own struggles, stories, and steps to help us see what really matters the most; who we are in Christ."
— Jessica Vaughn, Author of Know Your Worth

"Most detoxes on the market focus on removing things from your life, but Insecurity Detox offers a new approach to a typical cleanse. In Insecurity Detox, Blackwell walks us through ways to detox your life - mentally, physically and spiritually - by adding things back into your life. You will want to read and apply her principles again and again because they are practical, truth-based and easy to implement. This is a book about transforming your life, one detox at a time."
— Rachael Bodie, John Maxwell Company Senior Director, Leadership Development

"A toolbox for the mind, body and soul. Every Detox lesson highlights areas of life that we all come to and gives options for how to move through with grace, strength and confidence. I have gone back to this book over and over. Wonderful support at your fingertips!"
— Angi McClure, Movement Coach Founder of Body401k® & Bamboo Bodies®

"Full of original insights, authentic stories and concrete suggestions, Insecurity Detox shows how the power of vulnerability combined with Gods purpose for our lives helps us discover an abundant life."
— Brent Gallagher, Owner and Performance Coach of Avenu Fitness

"So often we focus on detoxing our bodies of sugar, alcohol and other physical intakes, but we forget about the invisible diet that our minds consume. Trish's book will guide you through a mental transformation that encourages feeding your brain thoughts of positivity, encouragement, self worth, and purpose. Through insightful words and small changes, you'll put the book down with confidence to nourish yourself in all aspects of life."
— Kath Younger, RD, Author of Katheats.com

"Trish Blackwell's Insecurity Detox needs to be on every woman's nightstand. Your biggest struggle will be putting it down and absorbing each gem of a lesson in bite sized chucks, as she recommends. She seamlessly weaves in stories to teach us about self-love and self-care. Some of her tips I implemented immediately, even the next morning. Others are simmering in my mind and are finding their place in my life. Trish speaks with authenticity, firmness and from a place of love. She is every woman's friend. This book will be a must-read for my entire fitness coaching team across the country. We will come out stronger and braver than ever before."
— Trina Gray, fitness entrepreneur, Alpena Michigan (Owner, Bay Athletic Club, Elite Coach, Team Beachbody)

"People often talk about how we are made up of mind, body, and spirit, but Insecurity Detox is the first book I have found that actually tackles all of these parts in one place. It has been put together in such a way that you can literally tackle the root causes of your personal struggles with self image and insecurity—piece by piece! Whether going through it all at once (like I did at first) or as a daily read (which I have gone back to do!) this book provides the practical tools and insights we all need to get over our deepest, and trickiest issues. I'm so thankful for this book and can't wait to share it with so many people!"
— Monica Swanson, Blogger at monicaswanson.com & Author of Secret of Your Naturally Skinny Friends
Howard Books, 9781501121302, 304pp.
Publication Date: April 12, 2016
About the Author
Trish Blackwell is a recognized fitness professional committed to inspiring others to live with more confidence, health, and happiness from the inside out. She is particularly passionate about bringing hope and healing to those who struggle with negative body images, eating disorders, and confidence issues and has become the leader on image issues in the fitness industry. Her fitness apps and podcasts have changed more than 300,000 lives. Trish's triathlon career allowed her to compete for Team USA at the 2010 Duathlon World Championships in Edinburgh, Scotland, and at the 2010 World Half Ironman Championships in Clearwater, Florida. She and her husband and baby daughter live in Ruther Glen, Virginia.