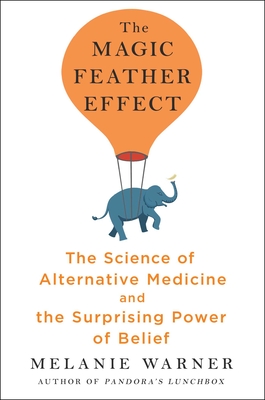 The Magic Feather Effect
The Science of Alternative Medicine and the Surprising Power of Belief
Hardcover

* Individual store prices may vary.
Other Editions of This Title:
Digital Audiobook (1/21/2019)
Paperback (1/14/2020)
Compact Disc (1/22/2019)
Description
The acclaimed author of Pandora's Lunchbox and former New York Times reporter takes an enlightening, engaging deep dive into the world of alternative medicine and the surprising science that explains why it may work.

We all know someone who has had a seemingly miraculous cure from an alternative form of medicine: a friend whose chronic back pain vanished after sessions with an acupuncturist or chiropractor; a relative with digestive issues who recovered with herbal remedies; a colleague whose autoimmune disorder went into sudden inexplicable remission thanks to an energy healer or healing retreat.

The tales are far too common to be complete fabrications, yet too anecdotal and outside the medical mainstream to be taken seriously scientifically. How do we explain them and the growing popularity of alternative medicine more generally? Is there a biological basis for practices like acupuncture, tai chi, chiropractic, and energy healing? Who are the faithful patients and practitioners who tell these stories and speak of such mystical-seeming concepts as qi, chakras, and meridians in the first place?

In The Magic Feather Effect, author and journalist Melanie Warner attempts to answer these questions, taking us on a vivid, fascinating journey through the world of alternative medicine. Crossing continents and sides of the debate, visiting prestigious research clinics and ordinary people's homes, she investigates the scientific underpinning for the purportedly magical results of these practices and reveals not only the medical power of beliefs and placebo effects, but also the range, limits, and uses of the surprising system of self-healing that resides inside us.

Equal parts helpful, illuminating, and compelling, The Magic Feather Effect is a brilliant exploration of some of the world's most popular health treatments, the people who seek them, the scientists who study them, and the reasons they may work.
Praise For The Magic Feather Effect: The Science of Alternative Medicine and the Surprising Power of Belief…
Praise for The Magic Feather Effect

"Persuasive…The small miracle of this entertaining and highly useful book is that it gives you the tools to understand how alternative medicine works, so you can confidently make up your own mind."
— The Washington Post

"Timely…Warner is even-handed and presents absorbing case studies of people whose lives have been positively changed by alternative medicine, as well as areas where Western medicine could stand to adopt a few of the mindsets and techniques found in some forms of alternative medicine. While she finds limits to what alternative medicine can do for the human body and spirit, there's a tremendous amount that it can accomplish, even if the reasons why will surprise you."
— Spirituality & Health

"Fascinating... Fair-minded, thorough, and focused on verifiable scientific research... This well-written survey of alternative medicine also leaves readers with a sharp critique of mainstream medicine: that it does not currently priotritize creating 'empathic connections' with patients, the major strength of alternative medicine."
— Publishers Weekly, starred review

"In The Magic Feather Effect, Melanie Warner demystifies the physiology of alternative (placebo) medicine, explaining exactly how, in the words of John Milton, 'the mind can make a heaven of hell and a hell of heaven.'"
— Paul Offit, author of Do You Believe in Magic?

Praise for Pandora's Lunchbox

"Indispensable."
— Newsday

"So much fun that you might forget how depressing it all is… There are more Holy Cow! moments here than even someone who thinks he or she knows what's going on in food production could predict."
— Mark Bittman

"In the tradition of Fast Food Nation and The Omnivore's Dilemma is a fascinating and cutting-edge look at the scary truth about what really goes into our food."
— Publishers Weekly

"A gripping exposé."
— Wall Street Journal

"Fascinating."
— The A.V. Club
Scribner, 9781501121494, 288pp.
Publication Date: January 22, 2019
About the Author
Melanie Warner is a freelance writer for various publications, including The New York Times and Fast Company. She has spent the past fifteen years writing about business, first as a writer at Fortune magazine, where among other things, she wrote about the dotcom boom in Silicon Valley. She was also a staff reporter for The New York Times, covering the food industry. The author of The Magic Feather Effect and Pandora's Lunchbox, she lives in Honolulu.
or
Not Currently Available for Direct Purchase