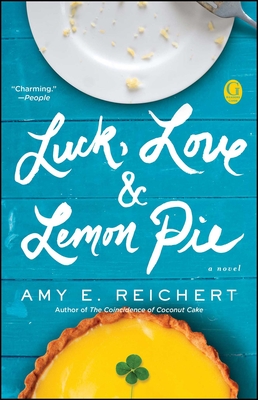 Luck, Love & Lemon Pie
Paperback

* Individual store prices may vary.
Description
From the author of the "clever, creative, and sweetly delicious" (Kirkus Reviews) The Coincidence of Coconut Cake and The Simplicity of Cider comes a novel about an exasperated wife and mother who makes a play to reignite her marriage—and risks everything in a gamble she hopes is a sure bet.

Don't miss Amy's newest work of women's fiction: The Optimist's Guide to Letting Go!

When Milwaukee-area wife and mother MJ Boudreaux notices her husband Chris seems more interested in the casino than her, she's more bothered that she isn't upset than by her husband's absence. She picks up poker as a way for them to spend more time together—and reignite their marital flame.

Although the game doesn't give her the quality time with Chris that she'd hoped, MJ finds she has a knack for it. Increasingly unhappy at home, she turns to the felt top of the poker table for comfort. Intoxicated with newfound freedom, MJ begins spending more time at the gambling tables and less with her family, finally carving out for herself a place outside her role of wife and mother.

After a string of great wins, MJ finds herself in Vegas, attracting the attention of a certain magnetic poker star. But when she's forced to choose between her family and her new exciting lifestyle, the stakes may be higher than she thought and MJ will have to play her hand carefully…or risk losing it all.
Praise For Luck, Love & Lemon Pie…
Praise for LUCK, LOVE & LEMON PIE

"As irresistible and delicious as an actual slice of lemon pie, Luck, Love & Lemon Pie has all of the sweet ingredients that make a book impossible to put down. From the fallible yet lovable characters to the smart writing and layered plot, we tore through the pages of this thought provoking story. Amy E. Reichert has a flair for writing heartwarming fiction that will give you sweet cravings!"


— Liz Fenton and Lisa Steinke, authors of THE YEAR WE TURNED FORTY and THE STATUS OF ALL THINGS

"Luck, Love & Lemon Pie is touching, clever, and a hell of a lot of fun. Amy E. Reichert somehow manages to not only tell a stirring story about modern marriage, but also transport you poolside in Vegas. Simply put, Luck, Love & Lemon Pie is a great bet."
— Taylor Jenkins Reid, author of MAYBE IN ANOTHER LIFE and AFTER I DO

"Luck, Love & Lemon Pie delves into the complexities of marriage and what we're willing to do for the ones we love. With relatable characters and a lot of heart, Reichert delivers a story that is both entertaining and wise, and leaves you believing that, when it comes to true happiness, you can create your own luck."
— Karma Brown, bestselling author of COME AWAY WITH ME

"Amy E. Reichert serves up another delicious serving of fresh wit and lots of fun in this charming tale of a woman determined to fix her marriage gone stale. This heartfelt novel is as funny as it is tender—in other words, the perfect summer read."
— Colleen Oakley, author of BEFORE I GO

"An enjoyable and thought-provoking exploration of a modern-day marriage in midlife crisis."
— Kirkus Reviews

"Reichert's second novel, after the popular The Coincidence of Coconut Cake (2015), will appeal to readers who enjoy a lighter look at self-discovery, family, and friendship."
— Booklist

"Laugh-out-loud, hold-on-to-your-panties women's fiction. The characters are game for anything when it comes to getting back what they think they have lost. Reichert is a talented author."
— RT Book Reviews, four-star review

"What's the cure for a marriage gone stale? MJ Boudreaux is hoping it's poker, but when her skills take her from Milwaukee to Vegas, she faces tough choices. Charming."
— People Magazine, a Great Beach Reads pick

Praise for THE COINCIDENCE OF COCONUT CAKE

"Deliciously entertaining! Amy E. Reichert's voice is warm and funny in this delightful ode to second chances and the healing power of a meal cooked with love."
— Meg Donohue, USA Today bestselling author of ALL THE SUMMER GIRLS and HOW TO EAT A CUPCAKE

"Amy E. Reichert writes like your best friend and reading her words is like having that friend whisper them into your ear. The Coincidence of the Coconut Cake is a delicious story of food, love, and a wink at what people will do to have their cake and eat it, too."
— Ann Garvin, author of THE DOG YEAR and MAGGIE'S WATCH

"Amy E. Reichert whips up the perfect recipe for a deliciously fun read. Combine humor and romance with a dash of drama, then let it simmer. The sprinkle of Wisconsin pride is icing on an already irresistable cake. Warning: do not read this book hungry!"
— Elizabeth Eulberg, author of THE LONELY HEARTS CLUB and BETTER OFF FRIENDS

"What a wonderful treat! Delicious descriptions of food and love and Milwaukee (I know! Who knew?). A sweet, endearing read."
— Megan Mulry, USA Today Bestselling Author of A ROYAL PAIN

"The Coincidence of Coconut Cake is a smart and delicious debut—a read as satisfying as the last bite of dessert after a lovingly-prepared meal. The novel is as much a celebration of the midwest and regional food as it is a love story between chef Lou and food critic Al. I adored Lou and her quirky makeshift family of restaurant customers and co-workers. Their missteps and milestones kept me racing through the chapters, craving another course."
— Susan Gloss, author of the novel VINTAGE

"Amy Reichert brings sweetness and substance to her delicious debut. Sign me up for second helpings!"
— Lisa Patton, bestselling author of WHISTLIN' DIXIE IN A NOR'EASTER

"Amy E. Reichert takes the cake with this charming tale of food, friendship, and fate."
— Beth Harbison, New York Times bestselling author of IF I COULD TURN BACK TIME

"…Reichert's quirky and endearing debut skillfully and slyly examines identity and community while its characters find love in surprising places. Clever, creative, and sweetly delicious."
— Kirkus Reviews

"A delectable novel."
— Bookreporter

"Highly recommended that you eat before reading this book…a light, fun read that feels a bit like eating dessert for dinner."
— RT Book Reviews

"Well-developed secondary characters and detailed descriptions of the Milwaukee food scene will leave readers hungry for more. Fans of Stacey Ballis and Erica Bauermeister will find lots to love."
— Booklist
Gallery Books, 9781501121548, 320pp.
Publication Date: July 12, 2016
About the Author
Amy E. Reichert, author of The Coincidence of Coconut Cake, Luck, Love & Lemon Pie, The Simplicity of Cider, and The Optimist's Guide to Letting Go, loves to write stories that end well with characters you'd invite to dinner. A wife, mom, amateur chef, Fix-It Mistress, and cider enthusiast, she earned her MA in English Literature and serves on her local library's board of directors.