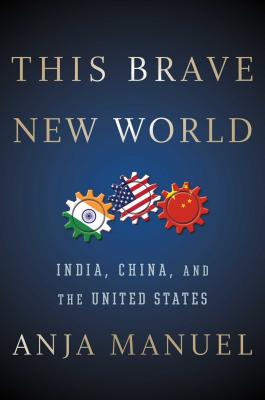 This Brave New World (Hardcover)
India, China, and the United States
Simon & Schuster, 9781501121975, 368pp.
Publication Date: May 10, 2016
Other Editions of This Title:
MP3 CD (9/6/2016)
Paperback (3/21/2017)
Compact Disc (9/6/2016)
* Individual store prices may vary.
Description
"Incisive...lively and accessible...Manuel shows us that an optimistic path is possible: we can bring China and India along as partners." —San Francisco Chronicle

In the next decade and a half, China and India will become two of the world's indispensable powers—whether they rise peacefully or not. During that time, Asia will surpass the combined strength of North America and Europe in economic might, population size, and military spending.

Both India and China will have vetoes over many international decisions, from climate change to global trade, human rights, and business standards.

From her front row view of this colossal shift, first at the State Department and now as an advisor to American business leaders, Anja Manuel escorts the reader on an intimate tour of the corridors of power in Delhi and Beijing. Her encounters with political and business leaders reveal how each country's history and politics influences their conduct today. Through vibrant stories, she reveals how each country is working to surmount enormous challenges—from the crushing poverty of Indian slum dwellers and Chinese factory workers, to outrageous corruption scandals, rotting rivers, unbreathable air, and managing their citizens' discontent.

We wring our hands about China, Manuel writes, while we underestimate India, which will be the most important country outside the West to shape China's rise. Manuel shows us that a different path is possible—we can bring China and India along as partners rather than alienating one or both, and thus extend our own leadership in the world.
About the Author
Anja Manuel is cofounder and partner with former Secretary of State Condoleezza Rice, National Security Advisor Stephen Hadley, and Secretary of Defense Robert Gates, in RiceHadleyGates LLC, a strategic consulting firm. She served as an official at the US Department of State from 2005-2007, responsible for South Asia policy. She has traveled extensively across China and India, and with her business clients, regularly experiences tough government negotiators and managing unruly subsidiaries in cities from Beijing to Bangalore. A graduate of Harvard Law School and Stanford University, Manuel now lectures at Stanford. When she is not on a plane, she lives in San Francisco with her husband and two young children.
Praise For This Brave New World: India, China, and the United States…
"Incisive . . . crisp narration . . . Her stories are vivid and offer insight into early influences on future leaders. . . . Her eyewitness accounts are particularly valuable because they are transfused with her deep knowledge of the history and the politics of the region….The narrative remains lively and accessible throughout the book . . . Manuel shows us that an optimistic path is possible: we can bring China and India along as partners . . . readers looking for an astute, fast-paced overview should not miss This Brave New World."
— San Francisco Chronicle

"A thoughtful analysis of this Asian contest and a strategy for keeping it from turning violent. As a co-founder of a consultancy formed by Condoleezza Rice, Stephen Hadley and Robert Gates, [Manuel] enjoys access to top policy figures, and much of what is new in the book comes from her conversations with senior officials in China and India. Ms. Manuel highlights the mounting dissatisfaction with corruption among the upper and middle classes of both countries."

— The Wall Street Journal

"A fresh take on American relations with India and China . . . This Brave New World does as much as any book I've read to stitch all the different threads together. . . . treating potential adversaries with empathy and choosing the non-cynical perspective—like Manuel's—is a precondition for [a] better world."
— Andrew Small

"By turns alarming and encouraging . . . Manuel delineates with clarity [why] the U.S. must attend closely to . . . harmonious future relations with China and India."
— Kirkus Reviews

"This Brave New World beautifully portrays the two rising powers that will do much to shape this century. Anja Manuel weaves together colorful vignettes of Chinese and Indian life at all levels with keen policy insight about engaging both countries, all in one readable and informative book. If you have room for just one book in your suitcase on your way to China or India—this is the perfect candidate."
—Condoleezza Rice, former U.S. Secretary of State

"This is, above all, a portrait of the century to come, and the vital role that America must play in the world's most important diplomatic dynamic. With her knowledge of India and China, Anja Manuel demystifies our disagreements, separates insecurities from aggressions, and makes a powerful case that American interests are served not by bemoaning the rise of Asia, but by fostering and shaping its success." —Evan Osnos, author of Age of Ambition: Chasing Fortune, Truth, and Faith in the New China

"China and India together comprise over a quarter of the world's population. The fate of their people and the conduct of their governments will shape global politics and the fate of the planet itself. This Brave New World is wonderfully written, with compelling stories and a powerful thesis. It combines history, politics, and personal stories about both countries in an engrossing book that outlines two very different possible futures… Should be in the library of all foreign policy experts, business readers, and anyone interested in world affairs."—Anne-Marie Slaughter, CEO of New America Foundation, author of Unfinished Business: Women Men Work Family

"Engaging, deeply researched, at times heartbreaking and funny, Anja Manuel has created a tour de force of what makes China and India tick. She condenses a vast amount of learning into a lively narrative for busy readers. This Brave New World should be mandatory reading for anyone doing business in or traveling to either country, or who merely wants a thoughtful, optimistic glimpse into our global future."—Meg Whitman, President and CEO of Hewlett Packard Enterprise

"Anja Manuel has written an elegant and insightful guide to America's future. How should we engage India and China on all the big challenges ahead? This is an impressive and important book, a fascinating read, and a powerful call to action."—Nicholas Burns, Professor, Harvard University and former Under Secretary of State

"[A] concise, informed book on the potential benefits and hazards of a new world economic order that promises to be anything but orderly….Ms. Manuel outlines positive steps enlightened American leadership could take to create her envisioned 'brave new world' of peaceful cooperation."
— The Washington Times
or
Not Currently Available for Direct Purchase