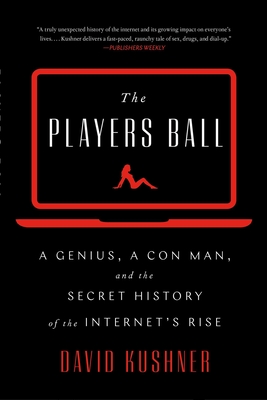 The Players Ball
A Genius, a Con Man, and the Secret History of the Internet's Rise
Paperback

* Individual store prices may vary.
Other Editions of This Title:
Digital Audiobook (4/8/2019)
Hardcover (4/9/2019)
Compact Disc (4/9/2019)
Description
"An engrossing microcosm of the internet's Wild West years" (Kirkus Reviews), award-winning journalist David Kushner tells the incredible battle between the founder of Match.com and the con man who swindled him out of the website Sex.com, resulting in an all-out war for control for what still powers the internet today: love and sex.

In 1994, visionary entrepreneur Gary Kremen used a $2,500 loan to create the first online dating service, Match.com. Only five percent of Americans were using the internet at the time, and even fewer were looking online for love. He quickly bought the Sex.com domain too, betting the combination of love and sex would help propel the internet into the mainstream.

Imagine Kremen's surprise when he learned that someone named Stephen Michael Cohen had stolen the rights to Sex.com and was already making millions that Kremen would never see. Thus follows the wild true story of Kremen's and Cohen's decade-long battle for control. In The Players Ball, author and journalist David Kushner provides a front seat to these must-read Wild West years online, when innovators and outlaws battled for power and money.

This cat-and-mouse game between a genius and a con man changed the way people connect forever, and is key to understanding the rise and future of the online world.

"Kushner delivers a fast-paced, raunchy tale of sex, drugs, and dial-up." —Publishers Weekly
Praise For The Players Ball: A Genius, a Con Man, and the Secret History of the Internet's Rise…
"In The Player's Ball…the internet gets the creepy, disturbing origin story that it deserves."
—New York Times Book Review

"Kushner delivers another digestible look at transformations spurred by unpredictable technologies, turning the dry topic of domain-name battles into a lively representation of the era's hype, confusion, and outsized personalities... An easily consumed, worthwhile addition to the literature reconstructing how the online world has become both profitable and pervasive."
—Kirkus Reviews

"Award-winning journalist Kushner revisits this tumultuous period by recounting a quirky episode of website tug-of-war between two of the digital world's most colorful pioneers."
—Booklist

"A real-life Wade Watts, David Kushner found the Golden Easter Egg of internet history—the spy vs spy story of the struggle over Sex.com at the very dawn of the World Wide Web—and he tells the tale masterfully."
—Adam Fisher, author of Valley of Genius: The Uncensored History of Silicon Valley

"David Kushner has written any number of remarkable books and articles about how the American tech industry has invaded our lives and dreams. With The Players Ball, he's found his raunchiest, funniest, most fascinating story yet. You'll tell yourself—frequently—while reading this book, 'That can't possibly be true,' but it is. Then again, truth is stranger than fiction only when it's this well told."
—Tom Bissell, author of Extra Lives: Why Video Games Matter

"As usual, Kushner delivers a funny and thorough history of some corner of our technological era. He also paints a compelling portrait of two men whose genius and obsession drives them to an almost operatic confrontation played out over decades. Fast and funny, but also tragic and bizarre, Kushner delivers what might be his most unusual and thought provoking work about two men both way ahead of, and emblematic of, their time."
—Zak Penn, coscreenwriter of Ready Player One

"The epic battle of the internet visionary behind sex.com and the man who stole it right out from under him, making millions in the process. David Kushner brilliantly tells a fascinating and often hilarious true story about the early days of the web."
—Terence Winter, creator and executive producer of Boardwalk Empire and screenwriter of The Wolf of Wall Street

"A brilliant tale."
—Financial Times

"A fascinating tale, and Kushner tells it with brio and detail. It's also an eye-opening account of how much of internet commerce grew, for good or ill, out of the sex industry's willingness to do anything, and they mean anything, for a buck."
—Tampa Bay Times
Simon & Schuster, 9781501122156, 272pp.
Publication Date: April 21, 2020
About the Author
A contributing editor of Rolling Stone, David Kushner also writes for publications including The New Yorker, Vanity Fair, Wired, The New York Times Magazine, New York, GQ, and Esquire. Kushner served as the digital culture commentator for National Public Radio's Weekend Edition Sunday, and has taught journalism at Princeton University and New York University. He has been featured in The Best Business Writing, The Best American Crime Reporting, and The Best Travel Writing, and his ebook The Bones of Marianna: A Reform School, a Terrible Secret, and a Hundred-Year Fight for Justice. His books include The Players Ball; Alligator Candy: A Memoir (an NPR Best Book of the Year); Jacked: The Outlaw Story of Grand Theft Auto; Levittown: Two Families, One Tycoon, and the Fight for Civil Rights in America's Legendary Suburb; Jonny Magic and the Card Shark Kids: How a Gang of Geeks Beat the Odds and Stormed Las Vegas; and Masters of Doom: How Two Guys Created an Empire and Transformed Pop Culture.