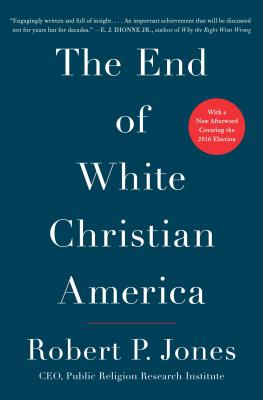 The End of White Christian America
Paperback

* Individual store prices may vary.
Other Editions of This Title:
Digital Audiobook (7/11/2016)
Hardcover (7/12/2016)
Description
Winner of the 2019 Grawemeyer Award in Religion

Robert P. Jones, CEO of the Public Religion Research Institute, spells out the profound political and cultural consequences of a new reality—that America is no longer a majority white Christian nation. "Quite possibly the most illuminating text for this election year" (The New York Times Book Review).

For most of our nation's history, White Christian America (WCA) set the tone for our national policy and shaped American ideals. But especially since the 1990s, WCA has steadily lost influence, following declines within both its mainline and evangelical branches. Today, America is no longer demographically or culturally a majority white, Christian nation.

Drawing on more than four decades of polling data, The End of White Christian America explains and analyzes the waning vitality of WCA. Robert P. Jones argues that the visceral nature of today's most heated issues—the vociferous arguments around same-sex marriage and religious and sexual liberty, the rise of the Tea Party following the election of our first black president, and stark disagreements between black and white Americans over the fairness of the criminal justice system—can only be understood against the backdrop of white Christians' anxieties as America's racial and religious topography shifts around them.

Beyond 2016, the descendants of WCA will lack the political power they once had to set the terms of the nation's debate over values and morals and to determine election outcomes. Looking ahead, Jones forecasts the ways that they might adjust to find their place in the new America—and the consequences for us all if they don't. "Jones's analysis is an insightful combination of history, sociology, religious studies, and political science….This book will be of interest to a wide range of readers across the political spectrum" (Library Journal).
Praise For The End of White Christian America…
"Quite possibly the most illuminating text for this election year."
— Sam Tanenhaus

"Robert Jones has established himself as one of the country's most intelligent and fair-minded explorers of the American religious and political minds. So it's not surprising that The End of White Christian America is meticulous, engagingly written and full of insight. . . . An important achievement that will be discussed not for years but for decades."
— E. J. Dionne Jr., author of WHY THE RIGHT WENT WRONG: Conservatism from Goldwater to the Tea Party and Beyond

"Robert Jones' new book is a brilliant and eloquent epitaph for white Christian America. Jones deftly and insightfully shows how this new moment marked by white Christian America's demise holds both promise and peril for those concerned about racial justice and the future of race relations in the country. This book is a must read!"
— Michael Eric Dyson, author of THE BLACK PRESIDENCY: Barack Obama and the Politics of Race in America; University Professor of Sociology, Georgetown University

"Jones persuasively articulates how both the fear and the hope of the new America are animating our faith and our politics. I strongly recommend this book to anyone who seeks to understand how we got to where we are in our churches and politics today, and how we might help build the bridge to a new America."
— Jim Wallis, New York Times bestselling author of America's Original Sin: Racism, White Privilege, and the Bridge to a New America, president of Sojourners, and editor-in-chief of Sojourners magazine

"Robert Jones gives us an impressive, clear-minded account of an America that once was but will be no more. While the new realities may cause some to grieve, citizens from every demographic and faith perspective will applaud this book's non-polemical approach and its insights for a changing nation that remains spiritual and religious as it finds new expressions for its core beliefs."
— Mike McCurry, Former Press Secretary to President Bill Clinton, Distinguished Professor of Public Theology, Wesley Theological Seminary

"The 2016 election campaign revealed to all and sundry that we live in a new country. Robert Jones has written the best guide I have seen to the America taking shape around us."
— Alan Wolfe, Professor of Political Science and Director of The Boisi Center for Religion and American Public Life, Boston College

"Robert Jones provides essential insight not only into the politics of 2016, but into the broader cultural, ethnic and religious forces restructuring America in the 21st Century. . . . While everyone else was looking 25 years ahead in anticipation of demographic evolution, Robert P. Jones recognized that this country had already experienced crucial social and political change: that the very definition of 'white Christian' was undergoing radical transformation."
— Thomas B. Edsall, author of The Age of Austerity: How Scarcity Will Remake American Politics

"Robert Jones convincingly illumines the waning influence of white Protestantism in America as well as the reactions of those bewildered or angered by this inexorable shift. Fast-paced and keenly discerning, this book does a remarkable job of explaining why our culture and politics are so fraught and why we seem to be entering a whole new era in our history. Truly a must-read for understanding the divided state of our nation today."
— R. Marie Griffith, Director, John C. Danforth Center on Politics and Religion, and John C. Danforth Distinguished Professor in the Humanities, Washington University

"Provocative.'"
— Joan Walsh

"A haunting portrait of America as it was, and a window into what it is fast becoming. Anyone hoping to understand how we went from Obama's to Trump's America will benefit from reading this wonderfully written, exceptionally researched book."


— Joy-Ann Reid, MSNBC
Simon & Schuster, 9781501122323, 336pp.
Publication Date: July 4, 2017
About the Author
Robert P. Jones is the CEO and founder of Public Religion Research Institute (PRRI) and a leading scholar and commentator on religion and politics. Jones writes a column on politics, culture, and religion for The Atlantic online. He is frequently featured in major national media, such as CNN, NPR, The New York Times, The Washington Post, and others. He holds a PhD in religion from Emory University and a MDiv from Southwestern Baptist Theological Seminary. He is the author of The End of White Christian America, which won the 2019 Grawemeyer Award in Religion.