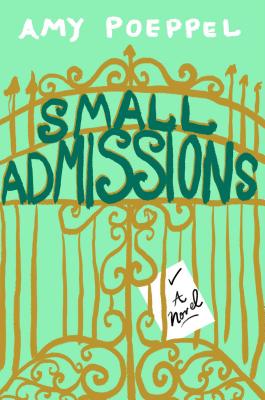 Small Admissions (Hardcover)
A Novel
Atria/Emily Bestler Books, 9781501122521, 368pp.
Publication Date: December 27, 2016
Other Editions of This Title:
Compact Disc (12/27/2016)
Paperback (7/11/2017)
* Individual store prices may vary.
Description
People's Book of the Week

"The Devil Wears Prada meets Primates of Park Avenue." —The New York Times

"Perfect for fans of Curtis Sittenfeld's Prep."—Booklist

Top 6 Books You Need to Read—BuzzFeed

Best Books to Give Every Book Lover on Your List—Town and Country

One admission can change your life...forever.

When ambitious grad student Kate Pearson's handsome French "almost fiancé" ditches her, she definitely does not roll with the punches, despite the best efforts of family and friends. It seems that nothing will get Kate out of pajamas and back into the world.

Miraculously, one cringe-worthy job interview leads to a position in the admissions department at the revered Hudson Day School. Kate's instantly thrown into a highly competitive and occasionally absurd culture, where she interviews all types of children: suitable, wildly unsuitable, charming, loathsome, ingratiating, or spoiled beyond all measure. And then there are the Park Avenue parents who refuse to take no for an answer.

As Kate begins to learn there's no room for self-pity or nonsense during the height of admissions season or life itself, her sister and friends find themselves keeping secrets, dropping bombshells, and arguing with each other about how to keep Kate on her feet. Meanwhile, Kate seems to be doing very nicely, thank you, and is even beginning to find out that her broken heart is very much on the mend. Welcome to the world of Small Admissions.
About the Author
Amy Poeppel is the author of the novels Small Admissions and Limelight. Her writing has appeared in The New York Times, The Rumpus, Literary Hub, Working Mother, and The Belladonna. She and her husband have three sons and split their time between New York City, Germany, and the wilds of Connecticut.
Praise For Small Admissions: A Novel…
"Trenchant, funny, and observant...as a prose artist Ms. Poeppel leaves nothing to be desired, except this desire: that she write more and more, and as well as she does in this, her assured debut."
— Hilton Als, staff writer for The New Yorker and author of WHITE GIRLS and THE WOMEN

"A dishy, LOL delight."
— Cosmopolitan

"Both witty and wise, Small Admissions is a big-hearted, charming novel."
— The Washington Post

"Poeppel gives an in-depth look at the admissions process, with a side of secrets, bombshells, heartbreak, and hope . . . perfect for fans of Curtis Sittenfeld's Prep."
— Booklist

"A riotous, overcrowded, entertaining blowout of a novel."
— The Dallas Morning News

"A smart take on private-school 'Admissions' . . . Amy Poeppel's debut novel is a book about rejection, acceptance and our ability to maneuver between the two."
— USA Today

"A witty and captivating page-turner punctuated with quirky characters and laugh-out-loud moments that are sure to appeal."
— Library Journal

"Fans of Primates of Park Avenue and Curtis Sittenfeld's Prep will get a kick out of this novel, which is also a story about how women help one another get back on their feet."
— Refinery 29, Top Reads Out in December

"An excellent debut."
— Publishers Weekly

"In this absorbing story, Amy Poeppel brings her razor-sharp observations of the postures and pretenses found in our culture, in our cities,and especially in the world of admissions. Amy's gift for dialogue, shown through the sidesplitting banter between our appealing, young heroine and the parents and children she interviews, will delight readers. Amy Poeppel displays a well of insight, forgiveness and wit that not only marks a talented writer, but the launch of what promises to be a marvelous career."
— Diane Meier, author of THE SEASONS OF CHANCES and RITUAL AND STYLE IN A CHANGING CULTURE

"As Jean Hanff Korelitz did for college in her novel Admission, Amy Poeppel artfully and hilariously describes the gamesmanship in the high-stakes, high-anxiety world of New York City's private school admissions offices with spot-on dialogue and genuine insight. As the novel unfolds, the reader finds that Small Admissions lead to bigger, more important truths in the lives of the characters populating this hilarious book; I couldn't put it down."
— David Harman, Headmaster, Poly Prep Country Day School

"Small Admissions is quick-witted and razor-sharp. With a chorus of varied and absurd voices, you'll laugh at everyone involved while secretly fearing that you see yourself in the mix. Amy Poeppel manages to tell a story both poignant and hilarious, hinting that this wry and absorbing debut is the beginning of an exciting career."
— Taylor Jenkins Reid, Author of Maybe in Another Life

"Small Admissions is a hilarious romp through absurdities of Manhattan prep school life. It's characters are larger than life, it's point of view delightfully farcical. You'll read it in a snap and then wish for more."
— Jennifer Miller

"Funny and incisive… Amy Poeppel's rollicking debut skewers the crazy world of Manhattan private schools, the extreme sport of contemporary parenting, and the ridiculous seriousness with which we embark on our adult lives. There's more here too: a thoughtful excavation of how we deal with rejections, big and small. I loved reading this book."
— Amy Shearn, author of The Mermaid of Brooklyn and How Far Is The Ocean From Here

"A rare book that actually makes you laugh out loud. Small Admissions offers a peek into the world of New York City private school admissions, but the deadly insights hardly stop there. Family, friendships,meetings(!)—Poeppel tells gleaming, hilarious truths about them all."
— Charity Shumway, author of Ten Girls to Watch

"This was quirky, funny and completely original. I loved it!"
— Katie Fforde,author of A Vintage Wedding

"Charming, refreshing, and brilliantly funny, Amy Poeppel's novel is a delightful surprise."
— Elizabeth Brundage, author of ALL THINGS CEASE TO APPEAR

"Now that Small Admissions has hit shelves everywhere, you can treat yourself to its hilarity and charm . . . Filled with honesty, authenticity, and true laugh-out-loud moments."
— Bustle

"Delightful."
— RT Book Reviews

"This book perfectly captures the spirit of modern adulting—and yes, we're completely obsessed."
— Brit + Co.

"Every once in a while, you just come across a book that is so good you want to shout it out to other readers . . . . Poeppel has found the perfect balance between humorous and insightful in the scenarios she writes about. In addition, the characters are wonderful--so multi-faceted and varied."
— Heroes and Heartbreakers, Bloggers Recommend: Best Reads of November 2016

"There are hilariously dysfunctional parents, kids whose folks don't have a clue what they can do and what they can't, and in the midst of it all, relationships among Kate's nearest and dearest become unstuck and reconfigured in ways that mirror those Kate works with, and even Kate herself. I can't tell you any more, because it would ruin it for you, but this snarky romp is not to be missed. It's cunning, wickedly bold humor at its finest."
— Seattle Book Mama

"Deliciously smart . . . A laugh-out-loud funny look at status and rejection in all its forms, from the classroom to the bedroom."
— BookPage

"Charming, appealing, and delightful."
— Heroes and Heartbreakers Blog

"This witty and charming debut stole our hearts this year, and we can't wait to see what Amy Poeppel gifts the literary world with next."
— WorkingMother.com

"We've got a school, in New York City, with quirky kids and Park Avenue parents. That description rings a whole lot of bells for me!"
— Plan to Happy
Book Videos
or
Not Currently Available for Direct Purchase