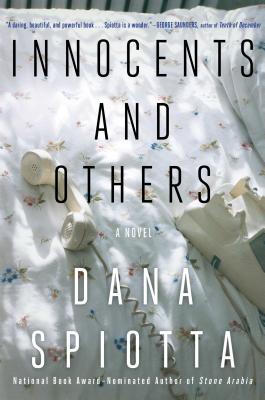 Innocents and Others
A Novel
Hardcover

* Individual store prices may vary.
Other Editions of This Title:
Digital Audiobook (3/7/2016)
Paperback (11/15/2016)
Description
From "a major, unnervingly intelligent writer" (Joy Williams)…"rich, funny, learned, and tonally fresh" (Jeffrey Eugenides), comes a novel about aspiration, film, work, and love.

Dana Spiotta's new novel is about two women, best friends, who grow up in LA in the 80s and become filmmakers. Meadow and Carrie have everything in common—except their views on sex, power, movie-making, and morality. Their lives collide with Jelly, a loner whose most intimate experience is on the phone. Jelly is older, erotic, and mysterious. She cold calls powerful men and seduces them not through sex but through listening. She invites them to reveal themselves, and they do.

Spiotta is "a wonderfully gifted writer with an uncanny feel for the absurdities and sadnesses of contemporary life, and an unerring ear for how people talk and try to cope today" (The New York Times). Innocents and Others is her greatest novel—wise, artful, and beautiful.
Praise For Innocents and Others: A Novel…
"What a thrilling ride. And what a delight to be at the receiving end of so much virtuosic caring. A daring and beautiful meditation about selfishness and selflessness, and how to be in the world. A powerful book that will stay with me and continue to speak to me for a long time. Spiotta is a wonder."
— George Saunders, author of Tenth of December

"Dana Spiotta is one of my favorite living writers and inthis wondrous and mysterious novel, a spectacular and subtle meditation onsight and sound, she seems almost to channel Jean-Luc Godard: Innocents and Others, like classic JLG,is brilliant, and erotic, and pop."
— Rachel Kushner, author of The Flamethrowers and Telex from Cuba

"Dana Spiotta's new book is a literary marvel that employs the dominant medium of our time to rout out both the impulse to make worlds alternate to the one we occupy and the darkest spots in the human heart. As Don DeLillo did for rock and roll with Great Jones Street, so Spiotta does for film with Innocents and Others. Spiotta is emerging as perhaps the major contender for fiction's next generation. Her aim is nothing less than redemption, and she delivers."
— Mary Karr, author of The Liar's Club and Lit

"This is such a fine novel. Stone Arabia, Spiotta's last book, was a complete thrill. With Innocents and Others she offers even deeper, more crushing insights into the life of the artist: the compromises, the blind will, the personal costs and moral despair. And the heartbreaking friendship at the center of it all! What unfolds is simply flawless and epic."
— Joshua Ferris, author of To Rise Again at a Decent Hour

"The brilliant Dana Spiotta had me from page one of Innocents and Others--a lithely intelligent, moving inquiry into the mysterious compositions of art and friendships."
— Jess Walter, author of Beautiful Ruins

"A thrillingly complex and emotionally astute novel about fame, power, and alienation steeped in a dark eroticism and a particularly American kind of loneliness."
— Elissa Schappell, Vanity Fair

"[A] raw retrospective following the friendship of two filmmakers over years, miles, and frames."
— Cosmopolitan

"The visionary liberty and daring with which Dana Spiotta has crafted her brilliant new novel INNOCENTS AND OTHERS is both inspirational and infectious. At its heart is a cinematic tale of friendship, obsession, morality, and creativity between best-friend filmmakers Carrie Wexler and Meadow Mori…original and seductive…with INNOCENTS AND OTHERS, [Spiotta] delivers a tale about female friendship, the limits of love and work, and costs of claiming your right to celebrate your triumphs and own your mistakes."
— Lisa Shea, Elle

"Impossible to put down."
— Steph Optiz, Marie Claire

"Dana Spiotta's whip-smart INNOCENTS AND OTHERS maps the unexpected confluence of two rising feminist filmmakers and a movie buff who, posing as a film student, seduces Hollywood men over the phone, simply by listening to them."
— Marnie Hanel, W

"Brilliant…masterful…Recalling a younger, warmer DeLillo, Spiotta reminds us that the cinema is where America fears and desires have long been projected, the small-town theater an abandoned temple of shared dreams. At the same time, she nails a devastating irony: The more reachable we are, the more screens infiltrate our lives, the less there is that genuinely connects us."
— Megan O'Grady, Vogue

"Ambitious.... INNOCENTS AND OTHERS aims not only to use its characters' experiences to open a window on American life in the late 20th century, but also to examine how technology has atomized contemporary life and the ways art mediates our relationships with friends and strangers...sharp, kinetic...Ms. Spiotta writes about film with great knowledge and insight."
— Michiko Kakutani, The New York Times

"A brilliant split-screen view of women working within and without the world of Hollywood… illuminating… Its moral dimensions feel vast. Once Spiotta has her disparate storylines in motion, they resonate with each other in ways you can't stop thinking about…The story's real heart, though, is the tenacious relationship between Meadow and Carrie, the serious documentarian and the Hollywood hitmaker. Working in the tight space of this relatively slim novel, Spiotta explores the remarkable species of sisterhood that survives jealousy and disappointment and even years of neglect. The tension between artistic purity and commercial popularity may tax their affection, but nothing can blot out their shared history, their abiding devotion, the great wonder that is a true friend. Toward the end, Meadow considers how to create a 'glimpse of the sublime.' Considering the limits of her medium, she asks herself, 'Can an image convey something unnameable, impossible, invisible?' The quiet miracle of this novel is that it does just that."
— Ron Charles, The Washington Post

"Enigmatic… fascinating… the need to connect, the desire for intimacy and friendship, and the quest for meaning in our lives are at the heart of this complex and compelling book… Spiotta is asking big, interesting, questions here. Without consciousness, without an inward operator, what are we connecting to? To art? To nature? To something divine?... Creates a unique vibe that buzzes in your subconscious… Delivers a surprising wallop of emotion… It's difficult not to descend into hyperbole talking about Spiotta's work. She writes with a breezy precision and genuine wit that put her on a short list of brilliant North American novelists who deserve a much wider audience…And it's rare to find a novel that is so much fun and, at the same time, seeks emotional truth with such intellectual rigor; it adds up to an original and strangely moving book."
— Mark Haskell Smith, Los Angeles Times

"Haunting…[Meadow's] story serves as the intellectual fulcrum of this intimate, unsettling novel, but Jelly provides its emotional heart."
— Claudia Rowe, The Seattle Times

"A female critic may have been impolitic in calling Spiotta 'DeLillo with a vagina'; more to the point, she's DeLillo with a heart (or a stronger one, at least). Innocents and Others is both lean and capacious. Revolving around a documentary filmmaker, her rocky friendship with a more commercial director, and one of her subjects — a sympathetic con artist who catfishes powerful men over the phone — Innocents and Others uses both traditional narration and 'found' documents to build a sort of mixed-media meditation on alienation, friendship, technology, and the senses of hearing and sight."
— Boris Kachka, New York Magazine

"Riveting."
— Brock Clarke, The Boston Globe

"Expansive... Spiotta's omniscient intelligence is employed in layering ironies and superimposing themes of memory, identity, reality and representation while building toward the two women's inevitable convergence…We can edit versions of ourselves forever, [Innocents and Others] suggests, but there is no super-cut that can erase the pain we cause."
— Sam Sacks, The Wall Street Journal

"Reading a novel by Dana Spiotta is a dynamic experience because you're never quite sure what tiny storytelling miracles it will offer next… How the three women's lives intersect is one of the book's little miracles. But there is also so much more to this book that defies quick summary: technology and how it creates, bolsters, and distorts identity; making and consuming art; the responsibility and trespassing of representation; friendship; imagination; the fear of being unoriginal."
— Edan Lepucki, The Millions

"Innocents and Others is Spiotta's strangest, darkest, and most mature work."
— Christian Lorentzen, New York Magazine

"A brilliant, riddling clip-montage of the friendship between two very different filmmakers…[raises] provocative questions about art and commerce and the ethics of creation…Spiotta's dramatization of the Meadow-Carrie dyad is masterly, with lines that seem delivered—improvised—by women who've known each other and even the reader forever: deeply encoded, privately referential and pregnant with pander, indulgence and resentment…such is the subtlety of Spiotta's prose, and the diversity of its presentation (the book includes biographical essays, video transcripts, diary entries, online chats), that the reader can never be sure which, if any, meaning is primary…Ironically, the product of all this single-author sleight-of-hand reads like a shockingly smooth collaboration, as if Meadow and Carrie – who, with their opposing aesthetic approaches, could never have completed a film together—have somehow joined forces in a novel, the only art from capacious yet interior enough to contain them. Innocents and Others is a combo-deal of a novel that mixes the silliness of a popcorn romp with the intellectual seriousness of a one-camera talking-head commentary. Highbrow and lowbrow have cohabitated before, of course, but rarely with this ease or this empathy."
— Joshua Cohen, The New York Times Book Review

"Without a doubt, Spiotta is a novelist of ideas, but she's extraordinary in her ability to shrug off the refrigerated grandiosity that typically infects such writers… Spiotta's idea-driven fiction feels extraordinarily alive because she's just as interested in the tensions between two artist friends as she is in the friction between morality and creativity or truth and art or identity and time… the dividing line between artist and con artist, in Innocents and Others, is a thin and wavering one indeed. But there is no line at all between mind and heart…they can't, in fact, be separated; every thought ever thought has risen out of a human being capable of loneliness, desire, suffering and laughter. Why settle for a novel of ideas that offers anything less?"
— Laura Miller, Slate

"With her fourth novel, Innocents and Others, Spiotta's storytelling skills continue to be on prominent display as she delves further into a similar subset of themes… it's certain that Spiotta's audience will keep growing with this stunning novel."
— S. Kirk Walsh, The San Francisco Chronicle

"I was dazzled by how this seemingly low-key tale about movie lovers hanging out, falling in and out of love, and playing around with their hobbies and their art, turned out to be so moving and brilliant. Innocents and Others is a work of art about making art that matters."
— Jenny Shank, The Dallas Morning News

"Spiotta really wants to explore ideas about art…how do works of art act on us, shaping and sometimes warping our identities? Innocents and Others is one of those uncanny novels whose characters and ideas linger long after the story is over. In the end, Spiotta's portrayal of artistic idealism and ambition is unexpectedly moving. As Meadow would say, what a mystery, the way things act on us."
— Maureen Corrigan, NPR

"Dana Spiotta's fearless, ambitious new novel is the fourth in a remarkable series of deep dives into our culture's obsession with fame and technological change…Innocents and Others emphasizes the fragility of human connection in a world saturated with media and digital illusion… Spiotta throws in many surprises, keeping us off balance throughout this complicated and important book…Spiotta has been compared to Joan Didion and Don DeLillo, but as her work accumulates, it's clear she's one of a kind, on her singular path through our contemporary wilderness."
— Jane Ciabattari, NPR.org

"When it comes to ideas, Spiotta has always operated on an astounding number of levels at once…she can juggle metaphors and inquiries large and small without ever neglecting her characters or losing narrative momentum… she produces some of the greatest arts criticism I've ever read, filtered through the characters' consciousnesses."
— Judy Berman, Flavorwire

"A sexy, painfully insightful, and strangely redemptive novel about the ways we misread one another—and ourselves—with an ending that comes at you like a truck around a blind curve and stays with you for much, much longer."
— Esquire

"Seeing might not be believing. In Dana Spiotta's dazzling new novel, Innocents and Others, movies play a starring role. But they are just one form of storytelling examined in this smart and fascinating book, a hall of mirrors full of shifting identities so intriguing it's hard to look away."
— Colette Bancroft, Tampa Bay Times

"Radiant, concentrated... a compassionate, unsparing book, full of provocative ideas about art, ethics and the formation of sensibility... simultaneously vast and local, exploring great American themes (self-invention, historical amnesia) within idiosyncratic worlds (phone phreaks, '80s Los Angeles adolescence). She has been compared with Don DeLillo and Joan Didion, but her tone and mood are distinctly her own: She's fascinated, not alienatedRadiant, concentrated... a compassionate, unsparing book, full of provocative ideas about art, ethics and the formation of sensibility... simultaneously vast and local, exploring great American themes (self-invention, historical amnesia) within idiosyncratic worlds (phone phreaks, '80s Los Angeles adolescence). She has been compared with Don DeLillo and Joan Didion, but her tone and mood are distinctly her own: She's fascinated, not alienated."
— Susan Burton

"Dana Spiotta's writing is a perfect mix of addictively weird characters, slightly skewed history and art within art...Innocents and Others will have you forgetting that the bath has grown cold as you read long into the night."
— Lena Dunham

"Innocents and Others is a confrontation with the blessings and curses of the body, the pleasures and costs of fantasy, the impossibility of either total truth or total fiction. It is a work of acute cultural intelligence and moral imagination,... he more time you spend with it, the more slippery, original, and uncanny it reveals itself to be...there aren't five other living American authors as meticulous and shrewd as Dana Spiotta, as willing (to say nothing of able) to shape true esotericism into such consistently accessible forms..."
— Justin Taylor

"Remembering, and recording, the way the senses seep into each other is at the heart of Dana Spiotta's full-bodied new novel...glorious. The novel comes together like a movie, the chapters sitting alongside each other with beautiful symmetry, the chapter titles reading like scene cards."
— Naomi Skwarna

"Innocents and Others...delivers in the most personal, least high tech way, comprising notes, lists, screenplay cuts, and reveries. She writes one of the most tender, but most explicit love scenes I've ever read. Along the way there are explorations of the meaning— and pain—of devotion to our art or passions, the importance of our senses, how we account for ourselves, our impulses to keep secrets and to confess them.'
— Patricia Zohn

"...the year's best literary novel so far...a kind of intellectual page-turner: her searing intelligence carries you swiftly through to the end."
— Michelle Dean

"Spiotta's latest novel is about art, artifice, selfhood, exposure. It also features one of the most compelling, but more importantly true-feeling female friendship in recent memory, that of two girls who grow up to be filmmakers, one the avant-garde Meadow Mori and the other the mega-commercial Carrie Wexler... The women fall apart, fall together, ignore each other, hurt each other, love each other — that's how it goes."
— Emily Temple

"Powerful... Innocents and Others is a clear-eyed appraisal of connection, intimacy and relationships, but its true force comes at a stylistic level...which always keeps the characters, even with all their complexities and contradictions, in sharp focus. These are women for whom illusion is both their trade and a vital aspect of their personalities."
— Robert Wiersema

"Innocents and Others is a wonderfully alive novel about filmmaking, friendship, and self-creation. Its magic lies in the intelligence and depth of its sentences."
— John Yargo
Scribner, 9781501122729, 288pp.
Publication Date: March 8, 2016
About the Author
Dana Spiotta is the author of Innocents and Others; Stone Arabia, A National Books Critics Circle Award finalist; and Eat the Document, a finalist for the National Book Award. Spiotta is a recipient of a Guggenheim Fellowship and the Rome Prize for Literature. Her most recent novel is Wayward. She lives in Syracuse, New York.
Coverage from NPR
or
Not Currently Available for Direct Purchase