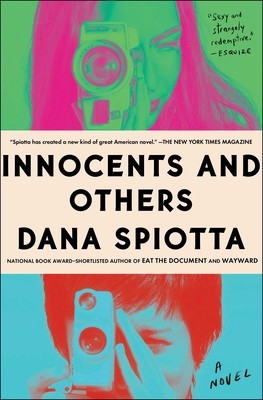 Innocents and Others (Paperback)
A Novel
Scribner, 9781501122736, 288pp.
Publication Date: November 15, 2016
Other Editions of This Title:
Digital Audiobook (3/7/2016)
Hardcover (3/8/2016)
* Individual store prices may vary.
Description
From Dana Spiotta, the author of Eat the Document and Stone Arabia, "A brilliant novel…about female friendship, the limits of love and work, and costs of claiming your right to celebrate your triumphs and own your mistakes" (Elle).

Innocents and Others is about two women who grow up in LA in the 80s and become filmmakers. Meadow and Carrie have everything in common—except their views on sex, power, movie-making, and morality. Their friendship is complicated, but their devotion to each other trumps their wildly different approaches to film and to life. Meadow was always the more idealistic and brainy of the two; Carrie was more pragmatic. Into their lives comes Jelly, a master of seduction who calls powerful men and seduces them not with sex, but by being a superior listener. All of these women grapple with the question of how to be good: a good lover, a good friend, a good mother, a good artist.

A startlingly acute observer of the way we live now, Dana Spiotta "has created a new kind of great American novel" (The New York Times Magazine). "Impossible to put down" (Marie Claire), Innocents and Others is "a sexy, painfully insightful, and strangely redemptive novel about the ways we misread one another—with an ending that comes at you like a truck around a blind curve and stays with you for much, much longer" (Esquire).
About the Author
Dana Spiotta is the author of Innocents and Others; Stone Arabia, A National Books Critics Circle Award finalist; and Eat the Document, a finalist for the National Book Award. Spiotta is a recipient of a Guggenheim Fellowship and the Rome Prize for Literature. She lives in Syracuse, New York.
Praise For Innocents and Others: A Novel…
"A daring and beautiful meditation about selfishness and selflessness, and how to be in the world. A powerful book that will stay with me."
— George Saunders, author of Tenth of December

"Wondrous and mysterious... Brilliant, and erotic, and pop."
— Rachel Kushner, author of The Flamethrowers and Telex from Cuba

"Spiotta is emerging as perhaps the major contender for fiction's next generation."
— Mary Karr, author of The Liar's Club and Lit

"Flawless and epic."
— Joshua Ferris, author of To Rise Again at a Decent Hour

"A lithely intelligent, moving inquiry into the mysterious compositions of art and friendships."
— Jess Walter, author of Beautiful Ruins

"A thrillingly complex and emotionally astute novel about fame, power, and alienation steeped in a dark eroticism."

"The visionary liberty and daring with which Dana Spiotta has crafted her brilliant new novel INNOCENTS AND OTHERS is both inspirational and infectious. At its heart is a cinematic tale of friendship, obsession, morality, and creativity between best-friend filmmakers Carrie Wexler and Meadow Mori…original and seductive…with INNOCENTS AND OTHERS, [Spiotta] delivers a tale about female friendship, and the limits of love and work, and costs of claiming your right to celebrate your triumphs and own your mistakes."

"Impossible to put down."

"Dana Spiotta's whip-smart INNOCENTS AND OTHERS maps the unexpected confluence of two rising feminist filmmakers and a movie buff who, posing as a film student, seduces Hollywood men over the phone, simply by listening to them."

"Brilliant…masterful…Spiotta reminds us that the cinema is where America fears and desires have long been projected, the small-town theater an abandoned temple of shared dreams. At the same time, she nails a devastating irony: The more reachable we are, the more screens infiltrate our lives, the less there is that genuinely connects us."

"A brilliant split-screen view of women working within and without the world of Hollywood… illuminating… Its moral dimensions feel vast. Once Spiotta has her disparate storylines in motion, they resonate with each other in ways you can't stop thinking about…The story's real heart, though, is the tenacious relationship between Meadow and Carrie, the serious documentarian and the Hollywood hitmaker. Working in the tight space of this relatively slim novel, Spiotta explores the remarkable species of sisterhood that survives jealousy and disappointment and even years of neglect. The tension between artistic purity and commercial popularity may tax their affection, but nothing can blot out their shared history, their abiding devotion, the great wonder that is a true friend. Toward the end, Meadow considers how to create a 'glimpse of the sublime.' Considering the limits of her medium, she asks herself, 'Can an image convey something unnameable, impossible, invisible?' The quiet miracle of this novel is that it does just that."

"Fascinating… the need to connect, the desire for intimacy and friendship, and the quest for meaning in our lives are at the heart of this complex and compelling book… It's difficult not to descend into hyperbole talking about Spiotta's work. She writes with a breezy precision and genuine wit that put her on a short list of brilliant North American novelists who deserve a much wider audience…And it's rare to find a novel that is so much fun and, at the same time, seeks emotional truth with such intellectual rigor; it adds up to an original and strangely moving book."

"Haunting…[Meadow's] story serves as the intellectual fulcrum of this intimate, unsettling novel, but Jelly provides its emotional heart."

"Riveting."

"How the three women's lives intersect is one of the book's little miracles. But there is also so much more to this book that defies quick summary: technology and how it creates, bolsters, and distorts identity; making and consuming art; the responsibility and trespassing of representation; friendship; imagination; the fear of being unoriginal."

"A brilliant, riddling clip-montage of the friendship between two very different filmmakers… Spiotta's dramatization of the Meadow-Carrie dyad is masterly, with lines that seem delivered—improvised—by women who've known each other and even the reader forever... Highbrow and lowbrow have cohabitated before, of course, but rarely with this ease or this empathy."

"Spiotta's idea-driven fiction feels extraordinarily alive because she's just as interested in the tensions between two artist friends as she is in the friction between morality and creativity or truth and art or identity and time… the dividing line between artist and con artist is a thin and wavering one indeed. But there is no line at all between mind and heart…they can't, in fact, be separated; every thought ever thought has risen out of a human being capable of loneliness, desire, suffering and laughter. Why settle for a novel of ideas that offers anything less?"

"It's certain that Spiotta's audience will keep growing with this stunning novel."

"I was dazzled by how this seemingly low-key tale about movie lovers hanging out, falling in and out of love, and playing around with their hobbies and their art, turned out to be so moving and brilliant. Innocents and Others is a work of art about making art that matters."

"Spiotta really wants to explore ideas about art…how do works of art act on us, shaping and sometimes warping our identities? Innocents and Others is one of those uncanny novels whose characters and ideas linger long after the story is over. In the end, Spiotta's portrayal of artistic idealism and ambition is unexpectedly moving. As Meadow would say, what a mystery, the way things act on us."

"When it comes to ideas, Spiotta has always operated on an astounding number of levels at once…she can juggle metaphors and inquiries large and small without ever neglecting her characters or losing narrative momentum."

"A sexy, painfully insightful, and strangely redemptive novel about the ways we misread one another—and with an ending that comes at you like a truck around a blind curve and stays with you for much, much longer."

"Dazzling... Smart and fascinating."

"Spiotta has created a new kind of American novel... She writes radiant, concentrated books that, as she has put it, consider 'the way things external to us shape us: money, technology, art, place, history'... Her books are simultaneously vast and local, exploring great American themes (self-invention, historical amnesia) within idiosyncratic worlds (phone phreaks, '80s Los Angeles adolescence). She has been compared with Don DeLillo and Joan Didion, but her tone and mood are distinctly her own: she's fascinated, not alienated."

"Slippery, original, and uncanny... a work of acute cultural intelligence and moral imagination."

"Dana Spiotta's interested in the feverish intensity of female friendships, the single-minded focus of obsession, the sudden communions that spring up between strangers."

"Spiotta is among America's most intriguing novelists."

"National Book Award finalist Spiotta brings to new levels of feverish intensity her signature dissection of obsession, the trends and ironies of the zeitgeist, how we document our lives, and the consequences of resistance to social imperatives in this ensnaring, sly, and fiercely intelligent novel, from which readers can extract a cineast's dream watch list... Spiotta's deeply inquiring tale is about looking and listening, freedom and obligation, our dire hunger for illusion, and our profound need for friendship."

"A superb, spiky exploration of artistic motivation."

"Spiotta does a masterly job of getting under the skin of disparate characters, revealing the kinds of insecurities that plague us all, successful or not."