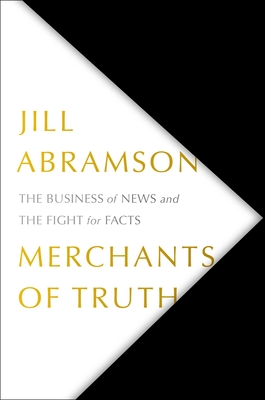 Merchants of Truth
The Business of News and the Fight for Facts
Hardcover

* Individual store prices may vary.
Other Editions of This Title:
Digital Audiobook (2/4/2019)
Paperback (2/11/2020)
Compact Disc (1/8/2019)
Compact Disc (2/5/2019)
Description
The definitive report on the disruption of the news media over the last decade. With the expert guidance of former Executive Editor of The New York Times Jill Abramson, we follow two legacy (The New York Times and The Washington Post) and two upstart (BuzzFeed and VICE) companies as they plow through a revolution in technology, economics, standards, commitment, and endurance that pits old vs. new media.

Merchants of Truth is the groundbreaking and gripping story of the precarious state of the news business told by one of our most eminent journalists.

Jill Abramson follows four companies: The New York Times, The Washington Post, BuzzFeed, and VICE Media over a decade of disruption and radical adjustment. The new digital reality nearly kills two venerable newspapers with an aging readership while creating two media behemoths with a ballooning and fickle audience of millennials. We get to know the defenders of the legacy presses as well as the outsized characters who are creating the new speed-driven media competitors. The players include Jeff Bezos and Marty Baron (The Washington Post), Arthur Sulzberger and Dean Baquet (The New York Times), Jonah Peretti (BuzzFeed), and Shane Smith (VICE) as well as their reporters and anxious readers.

Merchants of Truth raises crucial questions that concern the well-being of our society. We are facing a crisis in trust that threatens the free press. Abramson's book points us to the future.
Praise For Merchants of Truth: The Business of News and the Fight for Facts…
"In the tradition of David Halberstam's The Powers That Be, Jill Abramson has woven amazing reporting with sharp insights and personal experiences to capture a momentous transformation in journalism. Filled with colorful inside stories, this book is essential for anyone who wants to understand today's media and how it is affecting our society."—Walter Isaacson, #1 New York Times bestselling author of Steve Jobs and Leonardo da Vinci

"Jill Abramson tells the truth about the news business as only she can tell it. Merchants of Truth is a deeply researched, wonderfully written, and filled with fascinating portraits. It is an important book at a crucial time."—Gay Talese, author of The Kingdom and the Power

"Jill Abramson provides this deeply reported insider account of an industry fighting for survival. With a keen eye for detail and a willingness to interrogate her own profession, Abramson takes readers into the newsrooms and boardrooms of the legacy newspapers and the digital upstarts that seek to challenge their dominance."—Gabriel Sherman, Vanity Fair

"Jill Abramson's superb Merchants of Truth is a deep-dive chronicle of how four different news organizations are handling the rough-water transition to the online universe. The book is an outstanding work of investigative reporting and storytelling. A great work of journalism about journalism that recalls David Halberstam's classic The Powers That Be, Merchants of Truth is powerfully told with fresh detail and insights."—Lesley Stahl, award-winning 60 Minutes correspondent

"A highly readable combination of significant topic, deep reporting, endlessly fascinating anecdotes, and vivid writing."—Kirkus, Starred Review

"The internet killed off and resurrected journalism in unpredictable, hopeful, but corrupted ways, according to this scintillating insider's history…Abramson's shrewd, stylishly written account includes colorful characters…and savvy portraits of newsroom dynamics. The result is one of the best takes yet on journalism's changing fortunes."—Publishers Weekly, Starred Review

"As a former executive editor of the New York Times, Abramson was uniquely situated to observe the changes that are affecting the ways in which media companies develop and distribute news and information… Abramson offers an engrossing 'behind the curtains' journey into the demanding business of modern media. High-demand backstory: Abramson's expert and frank assessment of the struggles of the press in the 'fake news' era will attract avid attention."—Booklist, Starred Review

"Although journalism about journalism is abundant, Abramson's book represents a distinctly ambitious effort to synthesize a period of dramatic upheaval and help us understand how key industry actors—and a supporting cast ranging from President Trump to the man who wrote the code for Google News—have shaped our information diet…On one level, Abramson's book is a love letter to journalism…But these valentines appear alongside Abramson's unflinching assessments of executives' miscalculations."—The Washington Post

"Valuable and insightful."—The Boston Globe

"A damn good read.... a marvelous book..."—New York Times Book Review

"A cracking read, and a complicated one...yet absorbing in its frank desire to hold journalism to account for becoming overly willing to sell out to advertisers and thereby endangering its own future....Merchants of Truth in its frankness is an essential read."—Guardian

"A masterwork....Her reporting is lucid and her commentary insightful."—Financial Times

"The book is a tour de force of investigative journalism... Ms. Abramson's plea that reliable, trusted sources of information, be they in print or digital, must remain an essential part of our country's cultural, social and political fabric could not be more timely."—Pittsburgh Post-Gazette

"'Merchants of Truth: The Business of News and the Fight for Facts' shows that she's an excellent reporter and a talented writer. It's a lively, engaging, provocative and important book about the difficulties of doing honest journalism when there's less money to pay for it."—Newsday

"A vivid portrayal….Her insider account—a combination of extensive firsthand reporting illuminated by insightful analysis—instead portrays just how the media arrived where it is today."—Los Angeles Times
Simon & Schuster, 9781501123207, 544pp.
Publication Date: February 5, 2019
About the Author
Jill Abramson is a senior lecturer at Harvard University. She also writes a biweekly column for The Guardian about US politics. She spent seventeen years in the most senior editorial positions at The New York Times, where she was the first woman to serve as Washington bureau chief, managing editor, and executive editor. Before joining the Times, she spent nine years at The Wall Street Journal. The author of Merchants of Truth, she lives in New York City.
or
Not Currently Available for Direct Purchase