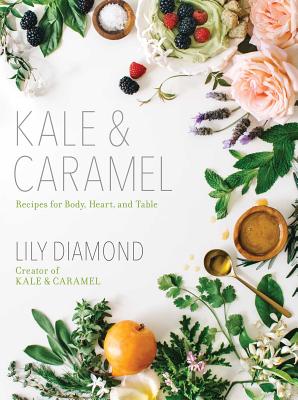 Kale & Caramel
Recipes for Body, Heart, and Table
Paperback

* Individual store prices may vary.
Description
Born out of the popular blog Kale & Caramel, this sumptuously photographed and beautifully written cookbook presents eighty recipes for delicious vegan and vegetarian dishes featuring herbs and flowers, as well as luxurious do-it-yourself beauty products.

Plant-whisperer, writer, and photographer Lily Diamond believes that herbs and flowers have the power to nourish inside and out. "Lily's deep connection to nature is beautifully woven throughout this personal collection of recipes," says award-winning vegetarian chef Amy Chaplin. Each chapter celebrates an aromatic herb or flower, including basil, cilantro, fennel, mint, oregano, rosemary, sage, thyme, lavender, jasmine, rose, and orange blossom.

Mollie Katzen, author of the beloved Moosewood Cookbook, calls the book "a gift, articulated through a poetic voice, original and bold." The recipes tell a coming-of-age story through Lily's kinship with plants, from a sun-drenched Maui childhood to healing from heartbreak and her mother's death. With bright flavors, gorgeous scents, evocative stories, and more than one hundred photographs, Kale & Caramel creates a lush garden of experience open to harvest year round.
Praise For Kale & Caramel: Recipes for Body, Heart, and Table…
"I am so happy Lily Diamond has expanded her exquisite blog into an actual book. Her ability to frame solid instruction (both herbal and culinary) with a deeper take on what it means to live through our senses is a gift, all articulated through a poetic voice, original and bold."
— Mollie Katzen, author of Moosewood Cookbook and The Heart of the Plate

"Lily's deep connection to nature is beautifully woven throughout this personal collection of recipes. Whether it's the healing power of herbs, delicious and unique flavor combinations or the stories of her mother's natural medicine, Kale & Caramel truly is a book for body, heart and table."
— Amy Chaplin, James Beard Award winning author of At Home in the Whole Food Kitchen: Celebrating the Art of Eating Well

This is a remarkable book of food and longing, tending as much to our deep human need for storytelling as our hunger for vibrant, life-sustaining nourishment.
— Rebecca Walker, author of Adé and Black Cool

"I want to inhale and grow and cook and slather on every single thing in this book! Lily has carefully crafted each recipe to harness the healing powers of flowers and herbs in a simple and accessible way. A gorgeous guide to plant-based self-care!"
— Laura Miller, Author of Raw. Vegan. Not Gross.

"I'm captivated by Lily's story of healing, and how she called upon the innate, beautiful power of plants to nourish body and soul. These are powers available to all of us, and Lily is the perfect guide. It's pure pleasure to dive into Lily's beautiful, delicious world."
— Sarah Copeland, author of Feast

"Lily is a magician of plants and a wizard of salads, a fierce friend and storyteller. She has coached me through chamomile infusion woes and mint surpluses with the patience and humor of a wise old soul. While I selfishly don't want to share her, with Kale & Caramel the world can finally have its spirulina and eat ice cream too. (It's ok, I didn't know what spirulina was either until Lily came into my life.) Through this book, you will not only learn beautiful new ways of using your favorite garden staples and approachable methods of trying less common ingredients like bee pollen and hemp seeds, but you will also gain a friend, laughter and tears included."
— Molly Yeh, creator of My Name is Yeh and author of Molly on the Range

"Thank you, Lily Diamond, for your brave and sassy and beautiful words. For your sumptuous photos. For your decadent, comforting, and healthful recipes. And most of all, bless you for teaching me to put olive oil in my mint ice cream, lavender in my hair, and honey on my face."
— Phyllis Grant, author of the Dash and Bella blog

"Kale & Caramel is full of so many quizzical yet immediately appealing flavor combinations it's hard to decide which recipe to make first!"
— edible, Hawaiian Islands

"A plant whisperer is born."
— Booklist
Atria Books, 9781501123399, 272pp.
Publication Date: May 2, 2017
About the Author
Lily Diamond is a writer, photographer, and proponent of wildness in the kitchen. In 2012, she created the award-winning, much-beloved blog Kale & Caramel. Lily grew up on Maui and graduated from Yale University. She lives in California.