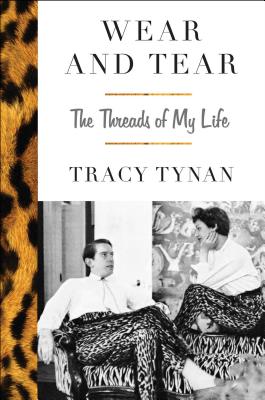 Wear and Tear (Hardcover)
The Threads of My Life
Scribner, 9781501123689, 320pp.
Publication Date: July 12, 2016
Other Editions of This Title:
Paperback (7/11/2017)
* Individual store prices may vary.
Description
A candid, entertaining memoir told through clothes.

Tracy Peacock Tynan grew up in London in the 1950's and 60s, privy to her parents' glamorous parties and famous friends—Laurence Olivier, Vivien Leigh, and Orson Welles. Cecil Beaton and Katharine Hepburn were her godparents. Tracy was named after Katherine Hepburn's character, Tracy Lord, in the classic film, The Philadelphia Story. These stylish showbiz people were role models for Tracy, who became a clotheshorse at a young age.

Tracy's father, Kenneth Tynan, was a powerful theater critic and writer for the Evening Standard, The Observer, and The New Yorker. Her mother was Elaine Dundy, a successful novelist and biographer, whose works have recently been revived by The New York Review of Books. Both of Tracy's parents, particularly her father, were known as much for what they wore as what they wrote.

In the Tynans' social circles, style was essential, and Tracy had firm ideas about her own clothing for as long as she can remember. Shopping was an art passed down through the family; though shopping trips with her mother were so traumatic that Tracy started shopping on her own when she was fourteen.

When Tracy started writing about her life she found that clothing was the focus of many of her stories. She recalls her father's dandy attire and her mother's Pucci dresses, as well as her parents' rancorous marriage and divorce, her father's prodigious talents and celebrity lifestyle, and her mother's lifelong struggle with addiction. She tackles issues big and small using clothes as an entrée—relationships, marriage, children, stepchildren, blended families, her parent's decline and deaths, and her work as a costume designer are all recounted with humor, with insight, and with the special joy that can only come from finding the perfect outfit.
About the Author
Tracy Tynan is a costume designer and writer living in Los Angeles. Her credits include the movies The Big Easy, Blind Date, Great Balls of Fire, and Tuesdays with Morrie. Wear and Tear is her first book.
Praise For Wear and Tear: The Threads of My Life…
"Tracy Tynan uses the universal medium of clothing to tell the highly specific story of her Bohemian British upbringing, and she does so with wit, candor and yes-- style. For anyone obsessed with the intellectual gossip of yesteryear- or just obsessed with the language of fashion- this book will be a cozy bedfellow."
— Lena Dunham

"Tracy Tynan's memoir is a wolf in sheep's clothing...Rich in humor and observation, its stylish tone belies the often harrowing nature of her formative years, and details with bravery and precision exactly who she was and what she wore."
— Anjelica Huston - Author of A Story Lately Told and Watch Me

Tracy Peacock Tynan grew up in a tornado of glamorous, stylish eccentricity. So jealous!!!"
— Simon Doonan -Author of The Asylum: True Tales of Madness from a Life in Fashion

"Tracy Tynan takes on the paradox of style with unique flair in Wear and Tear, by hanging her book on the clothes she wore at key moments in her life. But the life of the exceptionally stylish, charming and resilient Ms. Tynan is like no other — a brilliant, famous father, a titan of culture addicted to S+M, an equally brilliant but alcoholic mother who's become a cult writer, the promises and delusions of a life among the famous, a career as the go-to movie costume designer.

"Wear and Tear is poignant, surprising, and an enchanting inner view of what it is to come into oneself among the sacred monsters of the 20th century."
— Joan Juliet Buck

"A page-turning memoir that affords an astonishing glimpse into rarified lives in the now-extinct Anglo-American literary jet set. Tracy Tynan inherited both her parents' sartorial flair, and their skill with words."
— Matt Tyrnauer - Director, Valentino: The Last Emperor

"Wear and Tear is a riveting account of life growing up as the only child of two famous and famously complicated personalities: theater critic Kenneth Tynan and writer, Elaine Dundy. Tracy Tynan recalls her fascinating and difficult childhood during the Swinging Sixties in London and New York, and the legendary actors and artists who frequented her parent's life. She chronicles her growth as an artist, taking on myriad roles as lover, costume designer, step-mother, mother, and wife, with honesty and insights that make for can't- put- down reading. Her independence and original style weave through the pages of her book just as they have always done in her life."
— Wendy Goodman - Design Editor, New York Magazine

"In this wonderfully observed, elegiac, and least judgmental of memoirs, esteemed costume designer Tracy Tynan describes a society and personalities defined by style, and the ever shifting self-perception that characterizes out sized lives--and talent. Moving effortlessly between the world where post war American and British literature and cinema, theatre and politics, converge, Tynan details a now vanished golden age with wit, honesty, and that rarest of qualities—empathy."
— Hilton Als

Wear and Tear is the first book that reveals style as a successful survival strategy. Tracy's familial chaos required much dancing backwards in heels and looking good in the part. Written with compassion, she pulls no punches, her observations are not casual chic. A fascinating read about a creative clan.
— Deborah Landis -Author of Filmcraft and Hollywood Costume

"The daughter of celebrities reflects on fame, parenthood, andstyle. Costume designer Tynan makes her literary debut in a candid andentertaining memoir featuring her alcoholic, combative parents, theater criticKenneth Tynan and novelist Elaine Dundy, and their assorted glamorous friends.Her vivid descriptions reflect her love of clothes, designers, fabrics, and,not least, shopping. Star-studded, gossipy, and engaging."
— Kirkus

"Captivating...Tynan has written a moving, candid, and often hilarious account of her tumultous childhood in England and New York in the 1950s and '60s."
— Wall Street Journal

"Each of the three-dozen gemlike chapters cover an episode built around a specific piece of clothing, from a designer crepe de chine gown to a maroon plaid dress….The sum total is an absorbing memoir well-told from a singular perspective. Master storyteller Tynan presents universal insight and wit in this striking volume that will have a wide appeal."
— Library Journal, starred review

"Despite auspicious beginnings, Tynan's success didn't fall in her lap, and readers will appreciate the depth of her belief in the power of clothes to transform films and sets but also attitudes and impressions. Many worlds collide in this well-written, stranger-than-fiction, London and Hollywood who's who of a memoir, making it appropriate for a broad range of readers."
— Booklist

"As you read, you marvel at the author's resilience; the girl with the apple-green shoes acceded to a bigger role than she had ever expected, and found that she knew how to dress the part."
— New York Times

"A powerful concoction of famous names, famous fashions and famous psychiatric disorders. Just the thing for a weekend in the Hamptons."
— New York Post

"Tynan looks back at a childhood lived among bold-faced names in London and New York…but that was above all dominated by her mother and father -- tempestuous, irresponsible, frequently inebriated, and staggeringly unqualified for parenthood. And yet they were brilliant and, at times, loving. How Tynan made her way through this minefield, not only to grow up to be a successful artist (a costume designer in the movies) but also to make a far happier family of her own, is a powerful story. In telling it, she gives her impossible parents their due, despite everything, and never loses her senses of perspective and humor… Tracy Tynan's account of how she survived and flourished despite all the heartaches and obstacles along the way, though set in rarefied circumstances, will speak to anyone who's been there and gotten out alive."
— Frank Rich

"Tracy Tynan has allowed us a glimpse into a world both fascinating and heartbreaking. It's an engrossing tale that I won't soon forget."
— The L.A. Explorer

"Clothes may make the man but in Tynan's Wear and Tear, they tell the story of finding one's place in the world and creating a family with grace and, yes, restraint."
— Forbes.com
or
Not Currently Available for Direct Purchase