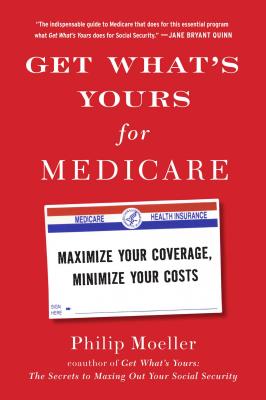 Get What's Yours for Medicare (Hardcover)
Maximize Your Coverage, Minimize Your Costs (The Get What's Yours Series)
Simon & Schuster, 9781501124006, 304pp.
Publication Date: October 4, 2016
Other Editions of This Title:
MP3 CD (10/4/2016)
Hardcover, Large Print (10/19/2016)
Compact Disc (10/4/2016)
* Individual store prices may vary.
Description
A coauthor of the New York Times bestselling guide to Social Security Get What's Yours authors an essential companion to explain Medicare, the nation's other major benefit for older Americans. Learn how to maximize your health coverage and save money.

Social Security provides the bulk of most retirees' income and Medicare guarantees them affordable health insurance. But few people know what Medicare covers and what it doesn't, what it costs, and when to sign up. Nor do they understand which parts of Medicare are provided by the government and how these work with private insurance plans—Medicare Advantage, drug insurance, and Medicare supplement insurance.

Do you understand Medicare's parts A, B, C, D? Which Part D drug plan is right and how do you decide? Which is better, Medigap or Medicare Advantage? What do you do if Medicare denies payment for a procedure that your doctor says you need? How do you navigate the appeals process for denied claims? If you're still working or have a retiree health plan, how do those benefits work with Medicare? Do you know about the annual enrollment period for Medicare, or about lifetime penalties for late enrollment, or any number of other key Medicare rules?

Health costs are the biggest unknown expense for older Americans, who are turning sixty-five at the rate of 10,000 a day. Understanding and navigating Medicare is the best way to save health care dollars and use them wisely. In Get What's Yours for Medicare, retirement expert Philip Moeller explains how to understand all these important choices and make the right decisions for your health and wealth now—and for the future.
About the Author
Journalist Philip Moeller writes about retirement for Money and authors the Ask Phil Medicare column for PBS. He also is a Research Fellow at the Center on Aging & Work at Boston College and the founder of Insure.com, a leading site for insurance information.
Praise For Get What's Yours for Medicare: Maximize Your Coverage, Minimize Your Costs (The Get What's Yours Series)…
"The indispensable guide to Medicare that does for this essential program what Get What's Yours does for Social Security."
— Jane Bryant Quinn, author of How to Make Your Money Last and Making the Most of Your Money Now

"Medicare, like Social Security, has become ridiculously complicated. Which makes a new book about the health-insurance program all the more valuable. . . . [Get What's Yours for Medicare] should be required reading for everyone approaching age 65."
— Glenn Ruffenach

"Phil Moeller is my pick as travel guide for smarties who had no idea how many potholes we could encounter in the back roads and highways of elder care."

— Ellen Goodman