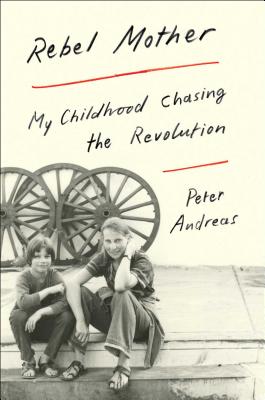 Rebel Mother (Hardcover)
My Childhood Chasing the Revolution
Simon & Schuster, 9781501124396, 336pp.
Publication Date: April 4, 2017
* Individual store prices may vary.
Description
"Thoroughly engrossing" —The New York Times Book Review
"Luminous" —Publishers Weekly (starred review)
"Those who enjoyed Jeannette Walls's The Glass Castle will find much to admire here." —Booklist (starred review)

The intimate true story of a boy on the run with his mother, as she abducts him to South America in search of the revolution.

Carol Andreas was a traditional 1950s housewife from a small Mennonite town in central Kansas who became a radical feminist and Marxist revolutionary. From the late sixties to the early eighties, she went through multiple husbands and countless lovers while living in three states and five countries. She took her youngest son, Peter, with her wherever she went, even kidnapping him and running off to South America after his straitlaced father won a long and bitter custody fight.

They were chasing the revolution together, though the more they chased it the more distant it became. They battled the bad "isms" (sexism, imperialism, capitalism, fascism, consumerism), and fought for the good "isms" (feminism, socialism, communism, egalitarianism). They were constantly running, moving, hiding. Between the ages of five and eleven, Peter attended more than a dozen schools and lived in more than a dozen homes, moving from the comfortably bland suburbs of Detroit to a hippie commune in Berkeley to a socialist collective farm in pre-military coup Chile to highland villages and coastal shantytowns in Peru. When they secretly returned to America they settled down clandestinely in Denver, where his mother changed her name to hide from his father.

This is an extraordinary account of a deep mother-son bond and the joy and toll of growing up with a radical mother in a radical age. Andreas is an insightful and candid narrator whose unforgettable memoir gives new meaning to the old saying, "the personal is political."
About the Author
Peter Andreas is the John Hay Professor of International Studies at Brown University, where he holds a joint appointment between the Department of Political Science and the Watson Institute for International and Public Affairs. Andreas has published ten books, including Rebel Mother: My Childhood Chasing the Revolution and Smuggler Nation: How Illicit Trade Made America. He has also written for a range of publications, including Foreign Affairs, Foreign Policy, The Guardian, Harpers, The Nation, The New Republic, Slate, and The Washington Post. A graduate of Swarthmore College and Cornell University, he lives with his family in Providence, Rhode Island.
Praise For Rebel Mother: My Childhood Chasing the Revolution…
"Thoroughly engrossing"
—The New York Times Book Review

"Moving … poignant … Rebel Mother makes the case for a mother-son bond powerful enough to transcend economic hardship, emotional missteps, intermittent absences and, ultimately, differences in values and politics. … Compelling and unusual."
—Boston Globe

"A remarkable memoir … Rebel Mother relates an incredible childhood of communes and coups across the US and Latin America."
—Vice

"This is a riveting story, compellingly told by an accomplished writer. Peter had his own radical turn when, defying his mother, he moved away from radicalism. His academic work in political science and writing about Latin America, however, show he is still very much the son of his beloved mother."
—The Baffler

"[A] luminous memoir … vivid, picaresque … Andreas's exuberant but clear-eyed memoir paints an indelible portrait of his charismatic mother, the era's expansive pursuit of freedom and idealistic commitment, and the toll of exhausted dreams and frayed relationships the idealists left behind."
—Publishers Weekly, Starred Review

"Enthralling … Writing with candor and sincerity, Andreas—now an international studies professor at Brown University—creates an unforgettable portrait of a remarkable woman. … Rebel Mother offers a sympathetic and fascinating glimpse into the life of a radical woman, a tumultuous era and a sensitive young man's coming of age."
—BookPage, Top Pick in Nonfiction for April 2017

"Those who enjoyed Jeannette Walls' The Glass Castle will find much to admire here. … This is both a story of a mother and son's fierce devotion to one another, and a fascinating portrait of a woman's life spent committed to radical ideas and politics, and how this affected her closest ally and confidant."
—Booklist, Starred Review

"A profound and enlightening book that will open readers up to different ideas about love, acceptance, and the bond between mother and son."
—Library Journal, Starred Review

"A warm, tender tale of protective love and codependency in a mother-son pair living in extreme circumstances."
—Foreign Affairs

"[Andreas'] life is rich with the gift of a woman who let herself truly be known by her son, warts and all. … Rebel Mother traces Carol Andreas' transformation from a traditional 1950s housewife into a Marxist traveling the globe in search of the revolution."
—Dallas Morning News

"An illuminating portrait of a childhood of excitement, adventure, and love positioned against the backdrop of 1970s-era South America. … Andreas fully immerses readers in his experiences."
—Kirkus Reviews

"An astonishing story of love and life within a family at war."
—Tim Weiner, author of Legacy of Ashes and Enemies

"Peter Andreas's memoir is a tender portrayal of a revolutionary era; of an infuriating, fascinating, contradictory, loving and much-beloved woman; and of a childhood like no other."
—Tina Rosenberg, author of The Haunted Land and Children of Cain

"An incredible journey into bandit country—the heartbreaking terrain between mother and son. A gorgeous, big-hearted book."
—Brando Skyhorse, author of Take This Man and The Madonnas of Echo Park

"This is a beautiful book that recalls a radical period of Latin America history, written through the eyes of a child but with the perspective of a true scholar of international affairs."
—Ricardo Lagos, Former President of Chile

"Just when we thought we had heard all the most amazing stories of American life during the wild 1960s and 70s, this astonishing memoir appears. It's the classic story of a boy's coming of age, but with a dazzling overlay of fleeing to South America and becoming caught up in a mother's radical dreams. Young Peter had a unique boyhood, and grown-up Peter Andreas tells his story with a compassion that places it among the most moving memoirs of that turbulent era."
—Stephen Kinzer, author of The Brothers and Bitter Fruit

"This is a truly captivating account of an extraordinary childhood on the run with an errant mother who preached free love and revolution from Colorado to Peru. A startlingly revealing memoir of one American family's torn-apart life, Rebel Mother is an unforgettable read."
—Jon Lee Anderson, author of Che: A Revolutionary Life

"Rebel Mother is highly compelling and a rewarding read—as well as a resonant reminder of what, for many, is one of life's most formative relationships."
—Swarthmore College Bulletin