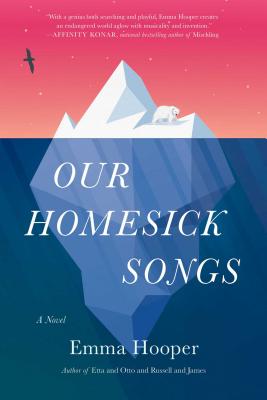 Our Homesick Songs
Hardcover

* Individual store prices may vary.
Other Editions of This Title:
Digital Audiobook (8/13/2018)
Paperback (8/20/2019)
Library Binding, Large Print (10/3/2018)
Description
**LONGLISTED FOR THE GILLER PRIZE**

From Emma Hooper, critically acclaimed author of Etta and Otto and Russell and James, a People magazine "Pick of the Week," comes a lyrical, charming, and mystical story of a family on the edge of extinction, and the different way each of them fights to keep hope, memory, and love alive.

The Connor family is one of the few that is still left in their idyllic fishing village, Big Running; after the fish mysteriously disappeared, most families had no choice but to relocate and find work elsewhere. Aidan and Martha Connor now spend alternate months of the year working at an energy site up north to support their children, Cora and Finn. But soon the family fears they'll have to leave Big Running for good. And as the months go on, plagued by romantic temptations new and old, the emotional distance between the once blissful Aidan and Martha only widens.

Between his accordion lessons and reading up on Big Running's local flora and fauna, eleven-year-old Finn Connor develops an obsession with solving the mystery of the missing fish. Aided by his reclusive music instructor Mrs. Callaghan, Finn thinks he may have discovered a way to find the fish, and in turn, save the only home he's ever known. While Finn schemes, his sister Cora spends her days decorating the abandoned houses in Big Running with global flair—the baker's home becomes Italy; the mailman's, Britain. But it's clear she's desperate for a bigger life beyond the shores of her small town. As the streets of Big Running continue to empty Cora takes matters—and her family's shared destinies—into her own hands.

In Our Homesick Songs, Emma Hooper paints a gorgeous portrait of the Connor family, brilliantly weaving together four different stories and two generations of Connors, full of wonder and hope. Told in Hooper's signature ethereal style, each page of this incandescent novel glows with mythical, musical wonder.
Praise For Our Homesick Songs…
PRAISE FOR OUR HOMESICK SONGS by EMMA HOOPER

"Lyrical…the town is filled with magic, and so is Hooper's writing…Our Homesick Songs is a eulogy not just to a town but a lifestyle – one built on waves, and winds, and fish, and folklore."—NEW YORK TIMES BOOK REVIEW

"[A] haunting fable about the transformative power of hope."—BOOKLIST (starred review)

"With stark prose, Hooper captures the desperation and difficulty of life on the edge of civilization while maintaining the foundation of tenderness as her characters take care of one another in the face of near-insurmountable struggle. Heartbreaking and empathetic, Hooper's fine novel is a haunting evocation of changing times and the power of place." —PUBLISHERS WEEKLY

"This delicate elegy for a dying way of life crescendos into a love song binding family members across the waters."—KIRKUS REVIEWS

"Hooper has graced us readers once again with another beautifully moving story... a lyrical, charming, and mystical story of a family on the edge of extinction, and the different way each of them fights to keep hope, memory, and love alive."—CHECK IT OUT, KWIT

"A layered and affecting novel that is a stunning literary achievement...Hooper writes in a sparse prose that seems borne of the cold and landscape of Newfoundland. But she writes with a depth of feeling that imbues her tale with love and, at its laid-bare soul, "Our Homesick Songs" is a love story and a love song."—FREE LANCE STAR

"With a genius both searching and playful, Emma Hooper creates an endangered world aglow with musicality and invention, and a family who braces against loss with charm, humor, and hope. Our Homesick Songs is a brilliant and tender dream—a book with that rare ability to strike notes that are at once otherworldly, wholly human, and entirely unforgettable."—AFFINITY KONAR, national bestselling author of MISCHLING

PRAISE FOR ETTA AND OTTO AND RUSSELL AND JAMES by EMMA HOOPER

"[A] sweet, disarming story of lasting love… Hooper's steady hand creates the perfect setup for the unexpected." —The New York Times Book Review

"The pages do turn quickly in this book...in Etta and Otto and Russell and James — a first novel by Emma Hooper — you're very interested in the characters. And you want to find out more about them. So as you turn the pages, you delve deeper into their hopes and where they are at the moment in their life. So it's a much different page-turner in a sense, but this is a lovely, lovely book."—Nancy Pearl, NPR's "Morning Edition"

"Quirky, offbeat... Modern life is full of people spouting rubbish about spurious emotional and spiritual 'journeys.' Etta's trek as she comes to the end of her life and reckons with the past, has, in contrast, a real and worthwhile dignity to it."—The Financial Times

"In this haunting debut, set in a starkly beautiful landscape, Hooper delineates the stories of Etta and the men she loved (Otto and Russell) as they intertwine through youth and wartime and into old age. It's a lovely book you'll want to linger over." —People (Book of the Week)

"Heartfelt… In simple, graceful prose, Hooper has woven a tale of deep longing, for reinvention and self-discovery, as well as for the past and for love and for the boundless unknown."—San Francisco Chronicle

"[Hooper's] crisp, unadorned prose beautifully captures her characters' sentiments, and conveys with compassion but also a degree of distance their experiences of love and pain, longing and loss… this novel pulsates with an energy that can best be described as raw but also highly restrained. "—Chicago Tribune

"Hooper's debut is a novel of memory and longing and desires too long denied…To a Cormac McCarthy–like narrative—sans quotation marks, featuring crisp, concise conversations—Hooper adds magical realism…. The book ends with sheer poetry…A masterful near homage to Pilgrim's Progress: souls redeemed through struggle." —Kirkus Reviews (starred review)

"Hooper's spare, evocative prose dips in and out of reality and travels between past and present creating what Etta tells Otto is "just a long loop." This is a quietly powerful story whose dreamlike quality lingers long after the last page is turned."—Library Journal (starred review)

"Hooper, with great insight, explores the interactions and connections between spouses and friends—the rivalries, the camaraderie, the joys and tragedies—and reveals the extraordinary lengths to which people will go in the name of love."—Publishers Weekly (starred review)

"Drawing on wisdom and whimsy of astonishing grace and maturity, Hooper has written an irresistibly enchanting debut novel that explores mysteries of love old and new, the loyalty of animals and dependency of humans, the horrors of war and perils of loneliness, and the tenacity of time and fragility of memory."—Booklist (starred review)

"Hooper has conjured a character who is a gift… As the lines blur between Etta's and Otto's memories, and even between their physical bodies, readers emerge with a deeper appreciation for life and for its suffering against its backdrop of majesty."—Dallas Morning News

"A bit like a fairy tale, Etta and Otto and Russell and James is whimsical, even magical. A bit like the Canadian prairie, it is spare, yet beautiful."—Fort Worth Star-Telegram

"A poetic, poignant tale."—US Weekly

"Fictional journeys toward enlightenment and self-discovery fill miles of book shelves, but few are as freshly told as the road trip traced in Etta and Otto and Russell and James…It's filled with magical realism, whimsy and the idea that you're never too old to take risks."—Minneapolis Star-Tribune

"Etta and Otto and Russell and James is incredibly moving, beautifully written and luminous with wisdom. It is a book that restores one's faith in life even as it deepens its mystery. Wonderful!" —Chris Cleave, #1 New York Times Bestselling author of Little Bee
Simon & Schuster, 9781501124488, 336pp.
Publication Date: August 14, 2018
About the Author
Raised in Alberta, Canada, Emma Hooper brought her love of music and literature to the UK, where she received a doctorate in Musico-Literary studies at the University of East-Anglia and currently lectures at Bath Spa University. A musician, Emma performs as the solo artist Waitress for the Bees and plays with a number of bands. She lives in Bath, UK, but goes home to Canada to cross-country ski whenever she can. She is the author of Etta and Otto and Russell and James and Our Homesick Songs.
or
Not Currently Available for Direct Purchase