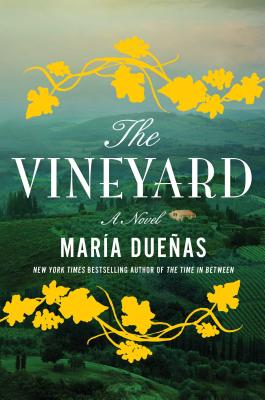 The Vineyard (Hardcover)
A Novel
Atria Books, 9781501124532, 544pp.
Publication Date: October 3, 2017
* Individual store prices may vary.
Description
New York Times bestselling author Maria Dueñas returns with The Vineyard, a magnificent story of ambition, heartbreak, and desire set in the 1860s Mexico, Cuba, and Spain—perfect for fans of Kate Morton and Kristin Hannah.

Mauro Larrea's fortune, the result of years of hardship and toil, comes crashing down on the heels of a calamitous event. Swamped by debt and uncertainty, he gambles the last of his money in a daring play that wins him an abandoned house and a vineyard an ocean away. Mauro travels to Andalusia de Jerez in Spain with every intention of selling the property and returning to Mexico. That is, until he meets the unsettling Soledad Montalvo, the wife of a London wine merchant, who bursts into his life unannounced, determined to protect her family's legacy. Before long, Larrea finds himself immersed in the rich culture of the sherry trade. As his feelings for Soledad ripen into a consuming passion, he seeks to restore the vineyard to its former glory.

From the turbulent young Mexican republic to flourishing Havana, and onward to the fertile vineyards of Jerez in the second half of the nineteenth century, María Dueñas's new novel takes place on both sides of the Atlantic, the New World and the Old. This story of family intrigue vividly conjures the noise and grit of silver mines, and the earthier lure of ancient vineyards and magnificent cities whose splendor has faded. Here is a story of courage in the face of adversity and of a destiny forever altered by the force of passion.
About the Author
María Dueñas holds a PhD in English philology. After two decades in academia, she broke onto the literary scene in 2009 with the publication of the New York Times bestselling novel The Time in Between, followed by The Heart Has Its Reasons in 2012. Both novels became international bestsellers and have been translated into thirty-five languages. The television adaptation of The Time in Between earned critical and international acclaim. The Vineyard is her third novel.
Praise For The Vineyard: A Novel…
"It beams readers with pinpoint accuracy to the heart and soul of 1860s Mexico, Cuba, and Spain on a magic carpet ride that they will be sorry to have end."
— Leila Meacham, New York Times bestselling author of Roses

"Dueñas is a gifted writer. The Vineyard is destined to become a classic."
— Armando Lucas Correa, international bestselling author of The German Girl

"Breezy and entertaining, María Dueñas delivers a good old-fashioned yarn."
— The Washington Post

"This sprawling tale will charm fans of historical romance."
— Kirkus

"Dueñas capably reveals the grace of second chances, as Larrea's hard work overcomes a cruel twist of fate. There is despair; there is betrayal; there is romance and triumph. Dueñas's many fans as well as readers who appreciate well-researched historical fiction will find The Vineyard appealing."
— Booklist

"This sprawling family saga is filled with romance, intrigue, adventure, and a bit of melodrama. It's a leisurely yet always entertaining read that will appeal to lovers of Isabel Allende's Zorro."
— Library Journal

"Here's an all-encompassing saga of one man's sacrifice, tragedy, courage, and passion. Dueñas builds her tale carefully and sets the stage with lush descriptions of Mexico, Cuba, and the glorious vineyards of Andalusia, Spain. It is the pictures that Dueñas paints that draw readers into the heart of her character's journey through three stages. Heartwrenching yet uplifting, this beautifully rendered story will linger in readers' minds."
— RT Book Reviews

Praise for María Dueñas

"A wonderful novel, in the old and good tradition, with intrigue, love, mystery and tender, audacious and clean-cut characters."
— Mario Vargas Llosa, recipient of the 2010 Nobel Prize in Literature

"Evocative, tender, and lush; a wonderful experience of times and lives in turmoil."
— Diana Gabaldon, #1 New York Times bestselling author

"María Dueñas is a true storyteller. She weaves a spell, conjuring the heat and the glamour, the hardship and the thrill of Morocco and Spain in the late 1930s."
— Kate Morton, New York Times bestselling author of The Lake House
or
Not Currently Available for Direct Purchase