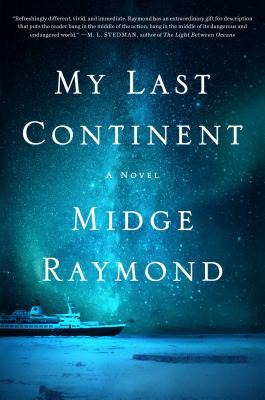 My Last Continent
A Novel
Hardcover

* Individual store prices may vary.
Other Editions of This Title:
Digital Audiobook (6/20/2016)
Paperback (6/6/2017)
Description
An unforgettable debut with an irresistible love story, My Last Continent is a big-hearted, propulsive novel set against the dramatic Antarctic landscape—"original and entirely authentic love story" (Graeme Simsion, author of The Rosie Project).

It is only at the end of the world—among the glacial mountains, cleaving icebergs, and frigid waters of Antarctica—where Deb Gardner and Keller Sullivan feel at home. For the few blissful weeks they spend each year studying the habits of emperor and Adélie penguins, Deb and Keller can escape the frustrations and sorrows of their separate lives and find solace in their work and in each other. But Antarctica, like their fleeting romance, is tenuous, imperiled by the world to the north.

A new travel and research season has just begun, and Deb and Keller are ready to play tour guide to the passengers on the small expedition ship that ferries them to their research destination. But this year, Keller fails to appear on board. Then, shortly into the journey, Deb's ship receives an emergency signal from the Australis, a cruise liner that has hit desperate trouble in the ice-choked waters of the Southern Ocean. Soon Deb's role will change from researcher to rescuer; among the crew of that sinking ship, Deb learns, is Keller.

As Deb and Keller's troubled histories collide with this catastrophic present, Midge Raymond's phenomenal novel takes us on a voyage deep into the wonders of the Antarctic and the mysteries of the human heart. My Last Continent is packed with emotional intelligence and high stakes—a harrowing, searching novel of love and loss in one of the most remote places on earth, a land of harsh beauty where even the smallest missteps have tragic consequences—"Half adventure, half elegy, and wholly recommended" (Karen Joy Fowler, author of We Are All Completely Beside Ourselves).
Praise For My Last Continent: A Novel…
"My Last Continent feels refreshingly different, vivid and immediate. Midge Raymond has an extraordinary gift for description that puts the reader bang in the middle of the action, bang in the middle of its dangerous and endangered world. Her clean, spare prose pulls us irresistibly into the story and the wider issues it raises. She is clearly a writer in command of her craft."

— M.L. Stedman, author of The Light Between Oceans

"[A] meditative romance…. Raymond has shown us a continent worth visiting."
— New York Times Book Review

"There is a romance about faraway, desperate places, about isolation, about ice and snow. Add penguins and you have Midge Raymond's elegant My Last Continent, a love story about the Antarctic and the creatures, humans included, who are at home there. Half adventure, half elegy, and wholly recommended."
— Karen Joy Fowler, author of We Are All Completely Beside Ourselves

"My Last Continent is an original and entirely authentic love story. It is a love triangle with Antarctica as the third party, literally and metaphorically. Midge Raymond takes us, physically and emotionally, into an unfamiliar world—a world that has much to teach us. She deftly interweaves a compelling drama with a gentle and subtle love story. It's a mature novel, one that recognizes that love is seldom simple or exclusive, and that the things that bring us together can also keep us apart."
— Graeme Simsion, author of The Rosie Project and The Rosie Effect

"You turn the pages quickly, caught up in the not-of-this-world drama of it all: Despite the heat of the central duo's connection, this is a world of ice, where warm hearts struggle to thrive. … Raymond shines in capturing a shivery sense of place, in taking us somewhere most of us will never go. … Romantic? Absolutely. Ominous? That, too."
— The Seattle Times

"A sensitive explorarion of how ever the smallest action can ripple through an ecosystem--seemingly impenetrable, but as fragile as the human heart."
— The Minneapolis Star-Tribune

"At once a high-stakes romance and a cautionary tale about the precariousness of this pristine polar world, Raymond's masterful debut contemplates the ecological and emotional dangers that lurk within and without uncharted waters."
— Booklist

"A luminescent, double-layered love story: It's a love story about nature, in which a woman is drawn repeatedly to Antarctica and the vulnerable creatures who make their lives there. And it's a love story about two people who have found in the remote ice the perfect numbing refuge from their pain."
— The Oregonian

"An atmospheric tale of love discovered, and losses endured, in Antarctica. …The unpredictability of the splendors and terrors of life at the southern pole creates a backdrop of foreboding entirely appropriate for the story's cinematic resolution [and] the authentic rendering of the setting distinguishes Raymond's novel from other stories of love in perilous times and places."
— Kirkus Reviews

"My Last Continent is a complicated love story and an education in the plight of penguins in Antarctica, showcasing the beauty and terror unique to one of the world's most remote terrains…Raymond skillfully captures the stunning and singular landscape and its special inhabitants."
— Publishers Weekly

"Atmospheric and adventurous...The story and vivid writing will keep readers glued to the pages."
— Library Journal

"Gorgeously written, suspenseful literary fiction."
— Swapna Krishna, Book Riot
Scribner, 9781501124709, 320pp.
Publication Date: June 21, 2016
About the Author
Midge Raymond is the author of the short story collection Forgetting English, which received the Spokane Prize for Short Fiction, and a novel, My Last Continent. Her work has appeared in Poets & Writers, the Los Angeles Times magazine, TriQuarterly, and Bellevue Literary Review, among other places. Learn more at MidgeRaymond.com.
or
Not Currently Available for Direct Purchase