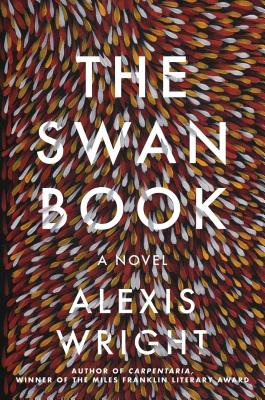 The Swan Book
A Novel
Hardcover

* Individual store prices may vary.
Other Editions of This Title:
Paperback (1/16/2018)
MP3 CD (6/1/2017)
Description
An inventive, cacophonous novel about an Aboriginal girl living in a future world turned upside down—where ancient myths exist side-by-side with present-day realities.

Oblivia Ethelyne was given her name by an old woman who found her deep in the bowels of a gum tree, tattered and fragile, the victim of a brutal assault by wayward local youths. These are the years leading up to Australia's third centenary, and the woman who finds her, Bella Donna of the Champions, is a refugee from climate change wars that devastated her country in the northern hemisphere. Bella Donna takes Oblivia to live with her on an old warship in a polluted dry swamp and there she fills Oblivia's head with story upon story of swans. Fenced off from the rest of Australia by the Army, its traditional custodians left destitute, the swamp has become "the world's most unknown detention camp" for Indigenous Australians. When Warren Finch, the first Aboriginal president of Australia invades the swamp with his charismatic persona and the promise of salvation, Oblivia agrees to marry him, becoming First Lady, a role that has her confined to a tower in a flooded and lawless southern city.

In this multilayered novel, winnter of the Australian Literature Society's Gold Medal, Wright toys with the edges of the world we live in to offer us an intimate portrait of the realities facing Aboriginal people. We meet talking monkeys, genies with doctorates, spirit-guiding swans, and a whole cast of characters drawn from myth and legend and fairy tales. Through symbolism and a dazzling linguistic dexterity—the blending of words and phrases from high and low culture, from English, Aboriginal languages, French, and Latin—Wright beautifully demonstrates how the power of the human imagination can set us free.
Praise For The Swan Book: A Novel…
"Told in dense prose full of evocative imagery, Wright's book deftly highlights the racial and cultural politics facing Australia's indigenous people in a story that defies genre. It is a challenging and heartbreaking story that illuminates the culture and struggles of an often overlooked people."


— Publishers Weekly

"Astonishingly inventive."
— O Magazine

"Rich with allegory and symbolism, this wild, explosive story blends the myths and legends of numerous cultures in a dystopian near future…significant and contemporary, in the style of Gloria Naylor's Mama Day (1988)."


— Booklist (starred review)

"Alexis Wright's The Swan Book is hypnotic and disturbing…a very unusual book…This is definitely one of the books Sir Francis Bacon would recommend that we chew and digest."

— A Bookish Type

International Praise for The Swan Book:

"It is a bitter, lovely, and tragic book; and not only the author but also the publisher should be commended."
— Australian Book Review

"The Swan Book might be one of the most important Australian novels yet."
— Sydney Morning Herald

"Bears all the hallmarks of Wright's astonishing narrative powers: her linguistic dexterity, mashing words and phrases from high and low culture, from English, Aboriginal languages, French and Latin; her humour and scathing satire; her fierce political purpose; her genre bending; her virtuosic gift for interweaving stories on multiple levels, from the literal to the metaphoric, the folkloric and the mythic. But The Swan Book takes all these – especially the last – to new levels."
— Sydney Review of Books

Praise for Carpentaria:

"[A] magisterial yet colloquial voice which [transforms] the oral tradition of the country's indigenous people into a swirling narrative spiked with burlesque humor and featuring a huge cast of eccentric characters."
— The New York Times Book Review

"The novel opens with the implosive energy of the ancestral serpent denting-bending-creating the river and the land on which the story of the humans is to be set. It breathlessly moves ahead in time...for all the unassuming rhythm of Carpentaria, one would be foolish to not realize the literary sophistication involved."
— The Telegraph, India

"Her characters have a larger-than-life grotesquerie, silled with quirky density. Her dialogue has a vernacular rip and hook. Her imagination always wants to open a space to poetry. The history she deals with is huge and terrible, but it energises her in an almost loving way."
— Sydney Morning Herald

"This 2007 Miles Franklin award–winning novel is the latest masterpiece from Wright...Rarely does an author have such control of her words and her story: Wright's prose soars between the mythical and the colloquial."
— Publishers Weekly

"[A] stately epic."
— Kirkus Review
Atria Books, 9781501124785, 320pp.
Publication Date: June 28, 2016
About the Author
Alexis Wright, a member of the Waanyi nation of the southern highlands of the Gulf of Carpentaria, is one of Australia's most acclaimed and fearless writers. Her previous novel, Carpentaria, won the Miles Franklin Award, Australia's most prestigious literary prize.
or
Not Currently Available for Direct Purchase