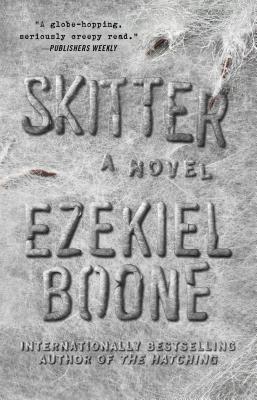 Skitter
A Novel (The Hatching Series #2)
Paperback

* Individual store prices may vary.
Other Editions of This Title:
Digital Audiobook (5/1/2017)
Hardcover (5/2/2017)
Description
"A globe-hopping, seriously creepy read." —Publishers Weekly

Ezekiel Boone follows up his terrifying debut thriller The Hatching with Skitter, where it is revealed that though the first phase of an attack by an ancient species is over, the second phase is about to begin; bigger carnivores are coming and they plan to colonize the earth.

First, there was the black swarm that swallowed a man whole, the suspicious seismic irregularities in India that confounded scientists, the nuclear bomb China dropped on its own territory without any explanation. Then, scientist Melanie Guyer's lab received a package containing a mysterious egg sac; little did Dr. Guyer know that, almost overnight, Earth would be consumed by previously dormant spiders that suddenly wanted out.

Now, tens of millions of people around the world are dead. Half of China is a nuclear wasteland. Mysterious flesh-eating spiders are marching through Los Angeles, Oslo, Delhi, Rio de Janeiro, and countless other cities. According to Dr. Guyer, the crisis may soon be over.

But in Japan, a giant, glowing egg sac gives a shocking preview of what is to come, even as survivors in Los Angeles panic and break the quarantine zone. Out in the desert, survivalists Gordo and Shotgun are trying to invent a weapon to fight back, but it may be too late, because President Stephanie Pilgrim has been forced to enact the plan of last resort.

America, you are on your own.
Praise For Skitter: A Novel (The Hatching Series #2)…
"Globe-hopping, seriously creepy read."
— Publishers Weekly

"Building on the success of The Hatching, Ezekiel Boone's Skitter is scary-good fun that sets the stage for at least one more epic showdown between mankind and the terrifying eight-legged beasts hellbent on destroying them. If you're not already reading this series, it's time to start!"
— The Real Book Spy

"The mark of a good series for me is that I'm ready for the next book as soon as I finish the current one, and sometimes even before I'm finished. As soon as I finished the last page of SKITTER, I hopped on Goodreads to see if book three had been listed yet."
— Michael Patrick Hicks Reviews

"Boone proves there's nothing to the notion of a 'sophomore slump' if you've got a great writer and a kick-ass story. Skitter is just as much gruesome, 'GET IT OFF ME' fun as The Hatching was, but this time the stakes are even higher...Sit back, dig in, and be prepared to read this in one sitting. It's that good. Grade: A."
— Atomic Fangirl

"This series is just so much FUN to read."
— The Pickle Paradox

"Spiders terrify me, but I absolutely loved this book just as much as I did the first. Now I just have one issue. Since this one isn't out yet, how will I wait so long for book three?"
— Angel Erin's Book Obsession

"This series is captivating, engaging, and completely terrifying."
— My Guilty Obsession

"WOW!! Skitter is pure pulp fun—campy, funny, scary, and most importantly, well written. I really couldn't stop reading it and just thinking about some of the scary parts of the book brings a smile to my face and a tingle to my spine . . . I read The Hatching, the first book in the sequence, and this one was even better. Looking forward to the next one."
— NetGalley, 5 Stars

"Never fear, this one is just as good as the last."
— Goodreads, 5 Stars
Atria/Emily Bestler Books, 9781501125089, 368pp.
Publication Date: November 7, 2017
About the Author
Ezekiel Boone lives in upstate New York with his wife and children. He is the internationally bestselling author of The Hatching, Skitter, and Zero Day.